Blind / Low Vision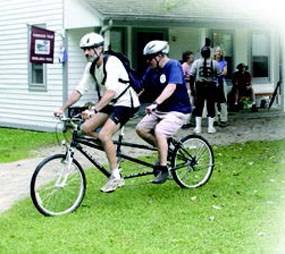 If You Have Visual Needs
Large-print versions of this bulletin, the park's Schedule of Events, and the Valley Volunteer newsletter are available upon request by calling 440-546-5991.
Winter activities and tandem bike programs are offered in conjunction with the Cleveland Sight Center throughout the year.
Cuyahoga Valley Scenic Railroad's audio tour, Voices of the Valley, allows you to experience the national park through storytelling.
Boston Store Visitor Center provides an audio description of its video about the national park. Request a listening device at the front desk.
Canal Exploration Center has audio described exhibits and a tactile floor plan. Request these at the front desk.
Audio stations with four educational messages are available at the Beaver Marsh and Station Road Bridge Trailhead.
We are piloting the use of tactile elements in various park exhibits.
Last updated: January 6, 2018