Place
Station Road Bridge Trailhead Information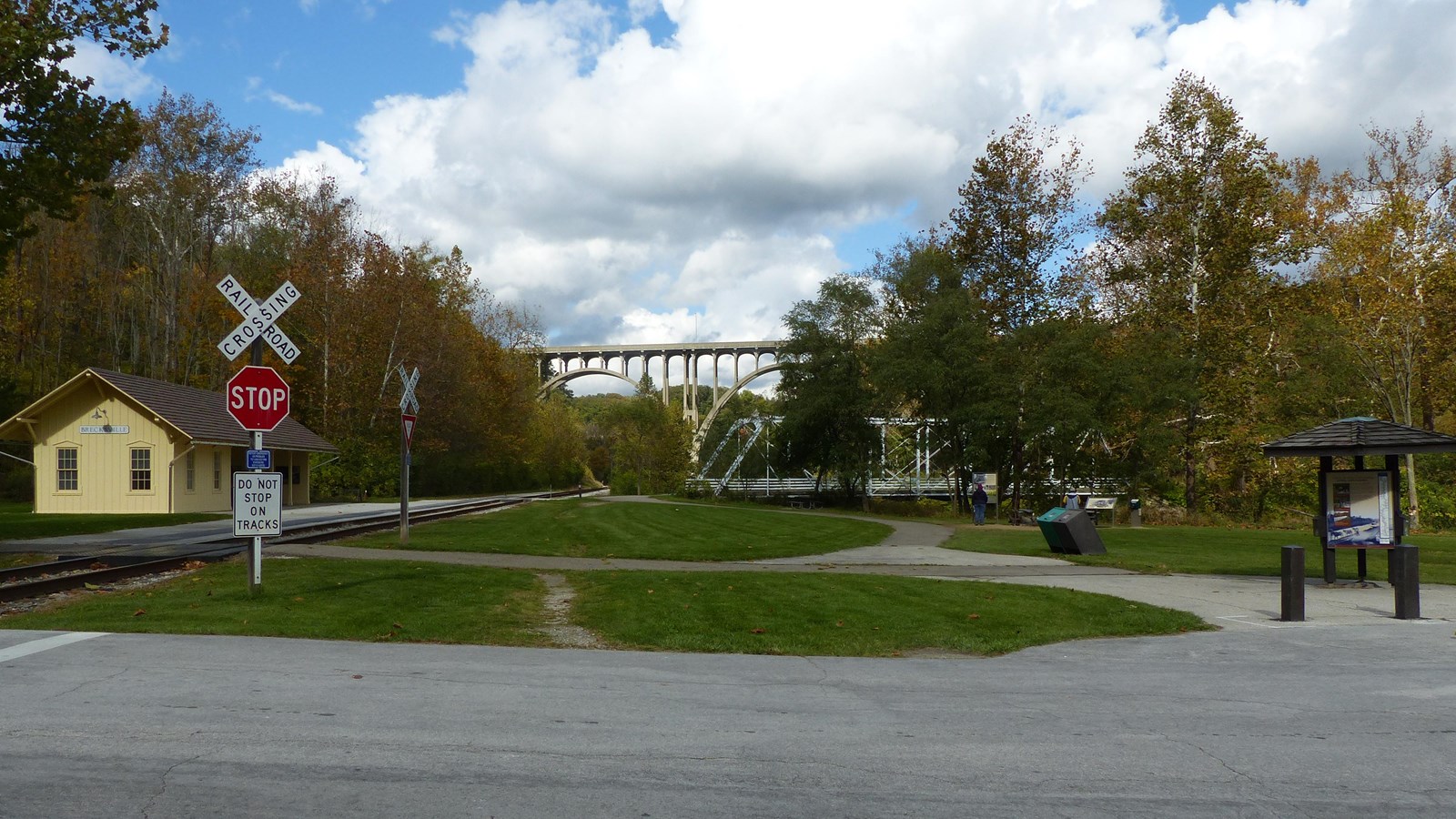 Location:
9141 Riverview Road, Brecksville, Ohio 44141
Significance:
The area is a major crossroads, both historically for commerce and today for recreation.
Designation:
Buckeye Trail; Ohio and Erie Canal District; Ohio and Erie Canalway National Heritage Area; Ohio to Erie Trail; Industrial Heartland Trail Network; National American Heritage River; Lake Erie Birding Trail
Accessible Sites, Audio Description, Baby Changing Station, Benches/Seating, Canoe/Kayak/Small Boat Launch, Historical/Interpretive Information/Exhibits, Information - Maps Available, Information Kiosk/Bulletin Board, Parking - Auto, Parking - Bus/RV, Restroom, Restroom - Accessible, Toilet - Flush, Trailhead, Water - Bottle-Filling Station, Water - Drinking/Potable, Wheelchair Accessible
The Station Road Bridge Trailhead has been a crossroads since the early 1880s. The Valley Railway opened in 1880 and included Brecksville Station as a stop in this location. Produce such as milk and cheese, lumber, and finished products could be shipped out from both Summit and Cuyahoga Counties on the train. By 1882, the wrought iron bridge crossed the Cuyahoga River and provided access to the Ohio & Erie Canal.

Now this area is a crossroads for rail passengers, hikers, cyclists, runners, paddlers, and horse riders. Here, Station Road Bridge Trailhead provides ample parking. People can access the Ohio & Erie Canal Towpath Trail, Cuyahoga River Water Trail, and Cuyahoga Valley Scenic Railroad. A connector trail along the entrance drive leads to Cleveland Metroparks' Brecksville Reservation. Two long-distance trails pass through Brecksville Reservation and use the Towpath Trail north of Station Road Bridge. They include the Buckeye Trail for hikers and the Valley Trail for hikers and horses.

The Station Road Bridge Trailhead is also a destination for people who enjoy nature, history, and scenery. In spring and summer, this is a hotspot for birders who flock to see cerulean and yellow-throated warblers. Cross the historic Station Road Bridge for scenic views of the Cuyahoga River. Follow the towpath north about a half-mile to see ruins of Ohio & Erie Canal Lock 36 and the Mudcatcher beyond.
Last updated: May 7, 2021