Place
Hunt House and Outdoor Exhibits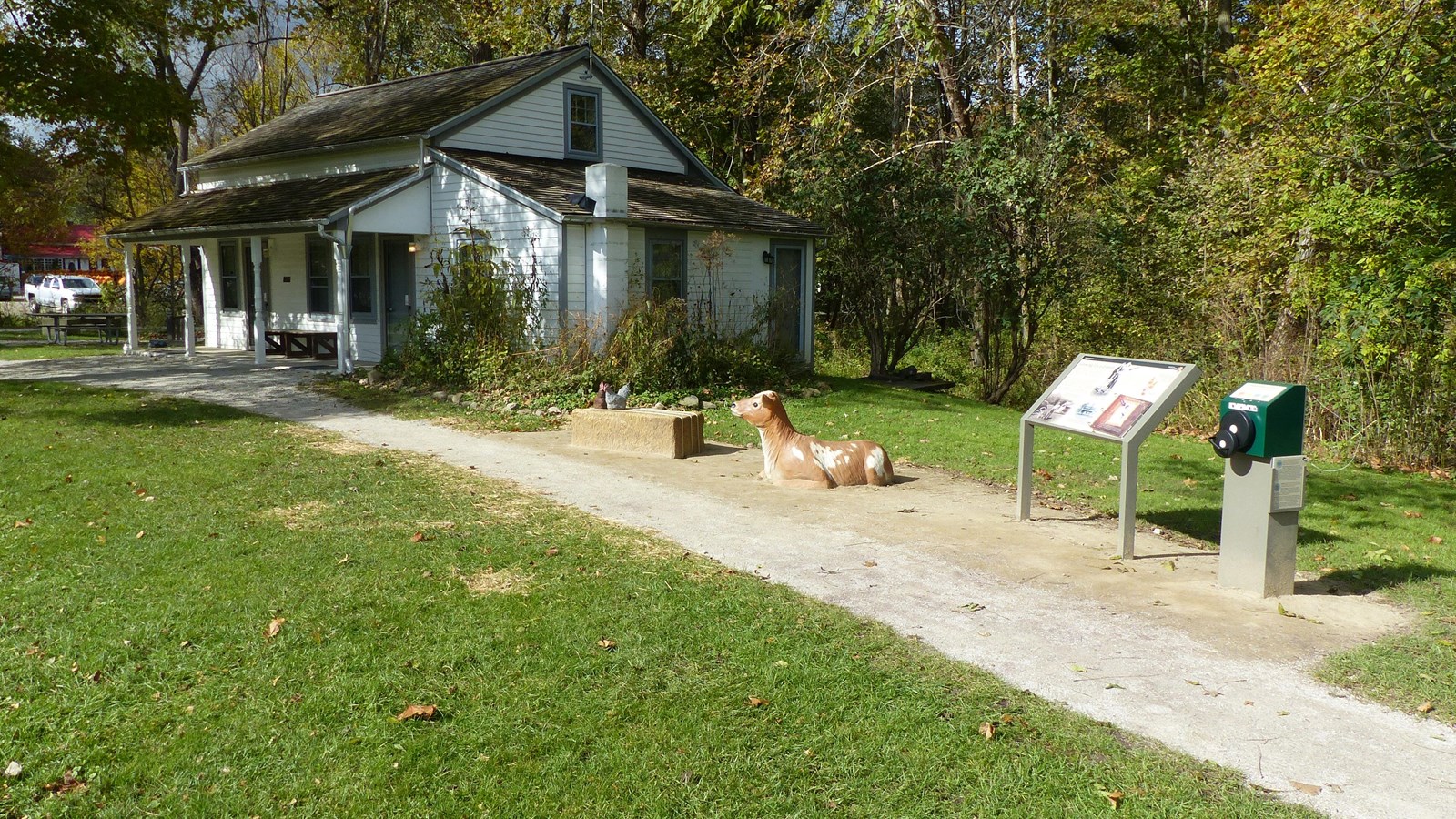 Location:
Full Address: Park at Hunt House Trailhead, 2054 Bolanz Road, Peninsula, Ohio 44264 and walk across the street.
Significance:
Hunt House and its farm buildings contribute to the Everett Historic District. Oral histories, family photos, and an autobiography shared by Helyn Fiedler Toth vividly describe life here from the 1920s to the 1940s.
Designation:
Ohio & Erie Canal District, Industrial Heartland Trail Network; Buckeye Trail; Ohio to Erie Trail; Ohio and Erie Canalway National Heritage Area, Everett Historic District, Valley Railway Historic District
Audio Description, Baby Changing Station, Bicycle - Rack, Historical/Interpretive Information/Exhibits, Information - Maps Available, Information Kiosk/Bulletin Board, Picnic Table, Restroom, Restroom - Accessible, Tactile Exhibit, Toilet - Flush, Water - Bottle-Filling Station, Water - Drinking/Potable, Wheelchair Accessible
Archeology tells us that Hunt House may not have been the first home at this site. At one time, a larger building stood in front of the one you see today. The property here changed hands a few times in the 1800s. Martha and Norman Hunt bought it in 1867. Sometime during their ownership, the larger house was lost, perhaps to fire. The Hunts quickly converted their backyard outbuilding into living space. During the Hunt years, this was mostly a grain farm, producing winter wheat, Indian corn, and oats.

William and Nelle Fiedler purchased the property in 1919. Although William held many jobs through the years, farming was his love. He ran a "truck" farm, selling produce from a stand along the road. In 1920, the Fiedlers welcomed a new baby girl, Helyn. Throughout her life, Helyn cherished the memories and friendships of her Everett childhood.

The exhibits outside Hunt House were developed from family photos and oral and written histories shared by Helyn and her school friends. Imagine being a young girl growing up in Cuyahoga Valley. Flip through her album, listen to their stories, and take your photo with her calf and chickens.

Hunt House has seasonal hours. When it is open, you can explore the hands-on nature exhibits inside and pick up park information. The restrooms are open all year. That barn between the restrooms and the house is a former schoolhouse that the Fiedlers relocated from Botzum.
Last updated: April 16, 2021