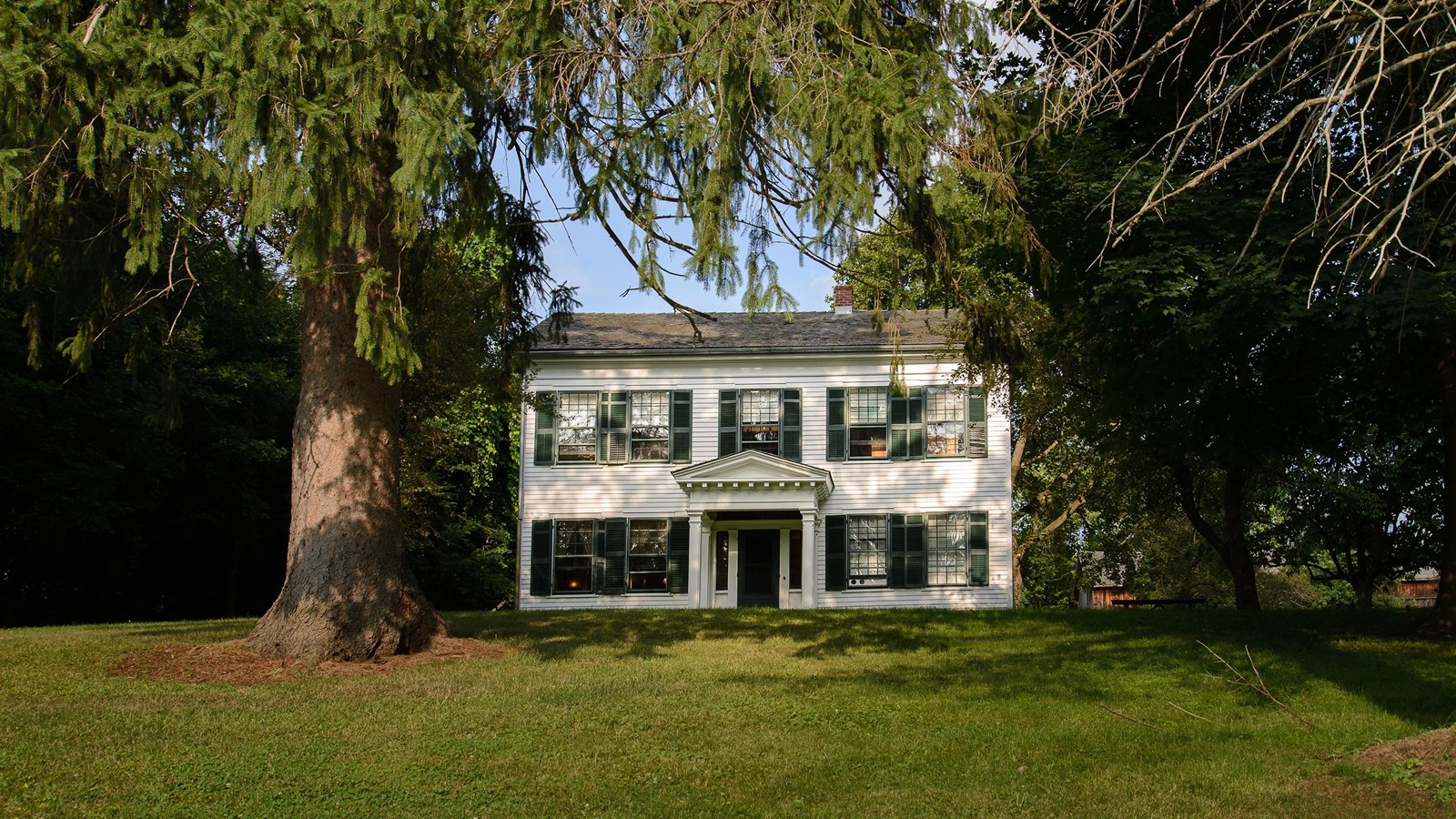 Location:
6093 Stanford Road, Peninsula, Ohio 44264 (limited parking)
Significance:
The Stanford House is on the National Register of Historic Places. The house was built during the heyday of the Canal Era, reflecting the wealth and resources the Ohio & Erie Canal both brought in and transported out of the valley.
Designation:
Ohio and Erie Canalway National Heritage Area; Ohio to Erie Trail; Industrial Heartland Trail Network
Audio Description, Historical/Interpretive Information/Exhibits, Information - Maps Available, Information Kiosk/Bulletin Board, Picnic Table, Wheelchair Accessible
James Stanford – one of the original settlers of the Western Reserve and surveyor for the Connecticut Land Company – claimed this land in 1806. Legend tells us that he suggested the name of Boston when the village decided to incorporate. Sadly, he didn't live to see Boston become a bustling canal town.

His oldest son, George, no doubt profited from the canal. He built this Greek Revival house in 1843 and expanded the family farm to 283 acres by 1853.  Over time, the family had sheep, dairy cattle, orchards, timber, and grain. Besides farming, George and his son ran a lumber business on the property.

Today, the Conservancy for Cuyahoga Valley National Park offers overnight accommodations for individuals and groups in a restored Stanford House. The building's interior reflects its historic character while also featuring furnishings crafted locally from sustainable and reclaimed materials. The house is normally closed to the public, except for lodging and for special programs.

The grounds of Stanford House have picnic tables for outdoor gatherings. Across Stanford Road from the house, the Stanford Connector leads to the Ohio & Erie Canal Towpath Trail. A 0.4-mile trail heads around the pond and to Hines Hill Conference Center. The 1.5-mile Stanford Trail starts behind the barn and leads to Brandywine Falls.
Last updated: March 16, 2022