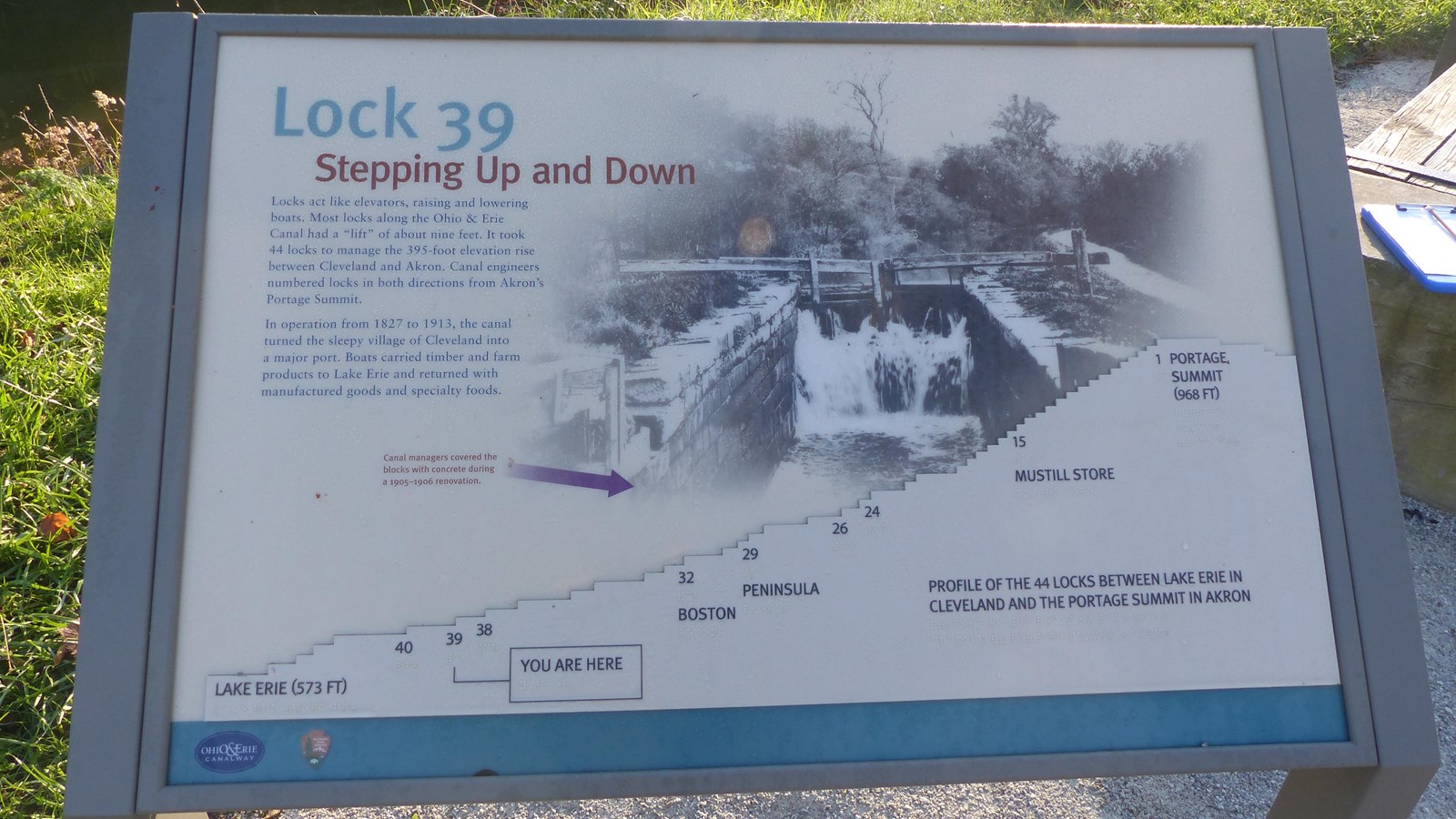 Location:
Park at Lock 39 Trailhead, 8000 Rockside Road, Independence, Ohio 44131 and hike south on the Towpath Trail.
Significance:
The Ohio & Erie Canal was once a vital transportation route, connecting Ohio to growing East Coast cities such as New York. Engineers built locks such as this one to manage water flow and to raise and lower boats.
Designation:
Ohio & Erie Canal District, Ohio & Erie Canalway National Heritage Area, Ohio to Erie Trail, Industrial Heartland Trail Network, National Register of Historic Places
Accessible Sites, Audio Description, Benches/Seating, Historical/Interpretive Information/Exhibits, Wheelchair Accessible
In operation from 1827 to 1913, the Ohio & Erie Canal turned the sleepy village of Cleveland into a major port. Boats carried timber and farm products to Lake Erie and returned with manufactured goods and specialty foods.

Unlike Ohio's rivers, canals offered a consistent depth for boats to travel and no current. Yet the land they travel through is not flat. Water is travelling north from a high point near Portage Lakes in Akron, down 395 feet to the level of Lake Erie at Cleveland. Whenever the drop of water or land was significant, a lock was installed to move boats up or down. In effect, locks acted as elevators for boats. Water would be let in from the higher side to raise the water level, or let out on the lower side to lower the boats.

Originally locks were made of carved sandstone, and often lined or "puddled" with clay to keep them from leaking. But water takes its toll. During 1905-1906 renovations, this sandstone lock was refaced with a new concrete surface, now also wearing away.

Along the Towpath Trail, a graphic panel describes the function of the locks. At the bottom of the panel is a touchable profile of the 44 stair-step locks between Akron and Cleveland.
Last updated: April 13, 2021