Place
Brecksville Station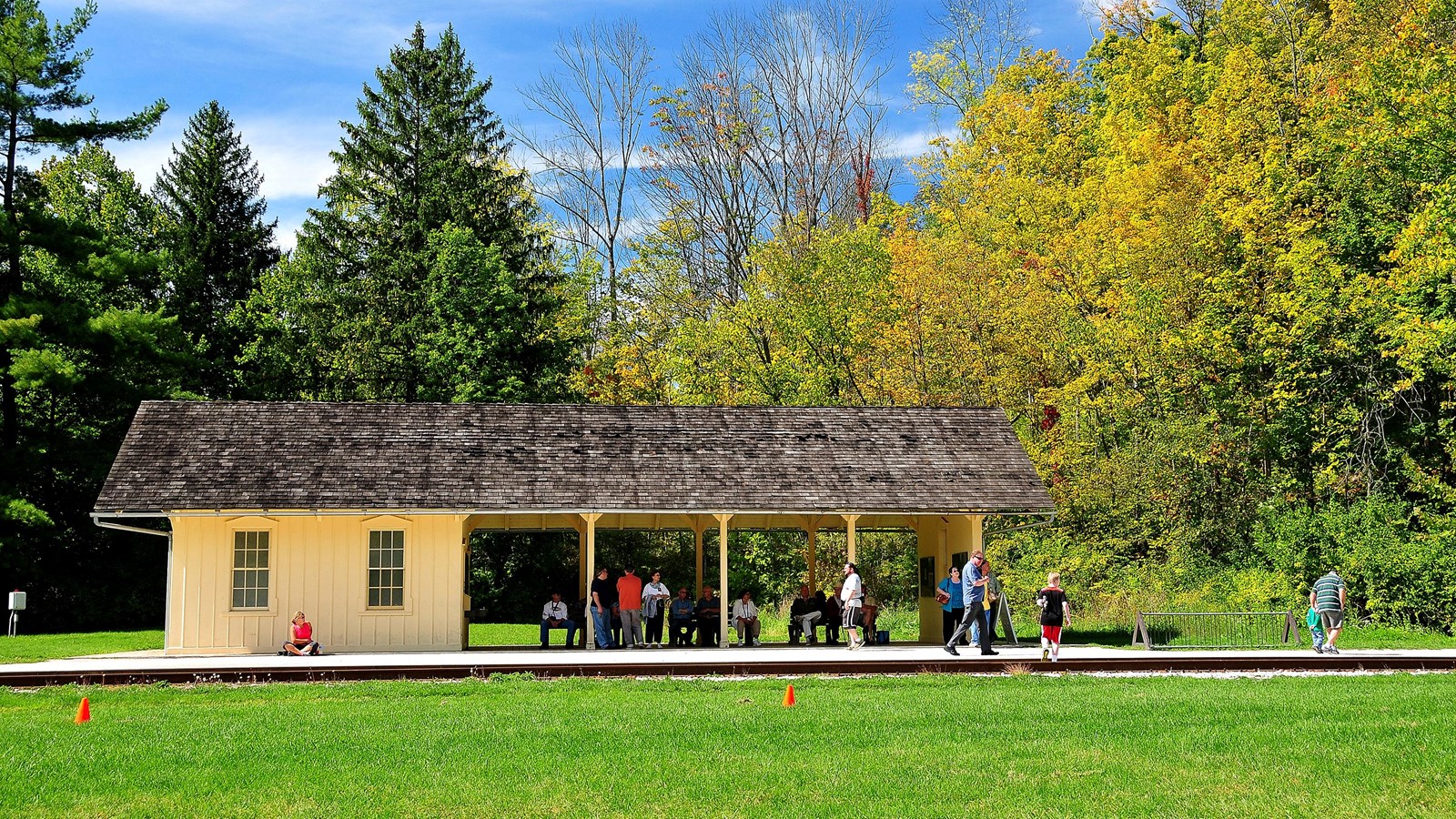 Location:
Station Road Bridge Trailhead, 9141 Riverview Road, Brecksville, Ohio 44141
Significance:
The view from the train is relatively unchanged from when the Valley Railway opened in 1880. Sightseeing passengers can still enjoy the pastoral scenery.
Designation:
Valley Railway Historic District; Ohio and Erie Canalway National Heritage Area; Ohio to Erie Trail; Industrial Heartland Trail Network
Accessible Sites, Audio Description, Baby Changing Station, Benches/Seating, Bicycle - Rack, Historical/Interpretive Information/Exhibits, Information - Maps Available, Information Kiosk/Bulletin Board, Parking - Auto, Parking - Bus/RV, Picnic Table, Restroom, Restroom - Accessible, Toilet - Flush, Trailhead, Water - Drinking/Potable, Wheelchair Accessible
Brecksville Station is a flag stop for Cuyahoga Valley Scenic Railroad. It is located at Station Road Bridge Trailhead, which offers ample parking.

Passengers can get on and off the train as part of combination trail-train adventure. The train provides a one-way shuttle service for bicyclists, runners, hikers, and paddlers using the Towpath, Buckeye, or Cuyahoga River Water trails. Train staff will load bicycles and kayaks on a baggage car. A connector trail also leads to the extensive trail system in Cleveland Metroparks' Brecksville Reservation.

When it opened in 1880, the Valley Railway provided a needed link between the coalfields of Tuscarawas County and industries of Cleveland. Along the way, it connected the hamlets of the Cuyahoga Valley to the outside world. The town of Brecksville had its depot here. Today, Cuyahoga Valley Scenic Railroad travels the historic rail line. While the original depot is gone, the National Park Service built Brecksville Station to link the train with recreational experiences in the valley.

As transportation routes like the Valley Railway fed Cleveland's industries, the city grew and changed. Cleveland became the 11th largest U.S. city by 1880. Many inhabitants resided in crowded neighborhoods near the billowing smokestacks. As in many of America's cities, people began to seek a break from modern life through rail travel into the countryside.

Along the Valley Railway, riders could enjoy long stretches of rural scenery between the cities of Cleveland, Akron, and Canton. The 1880 Guidebook for the Tourist and Traveler over the Valley Railway! described sights along the way. The tradition of coming to the valley for recreation had begun.
Last updated: November 7, 2021