Place
Frazee House Towpath Panel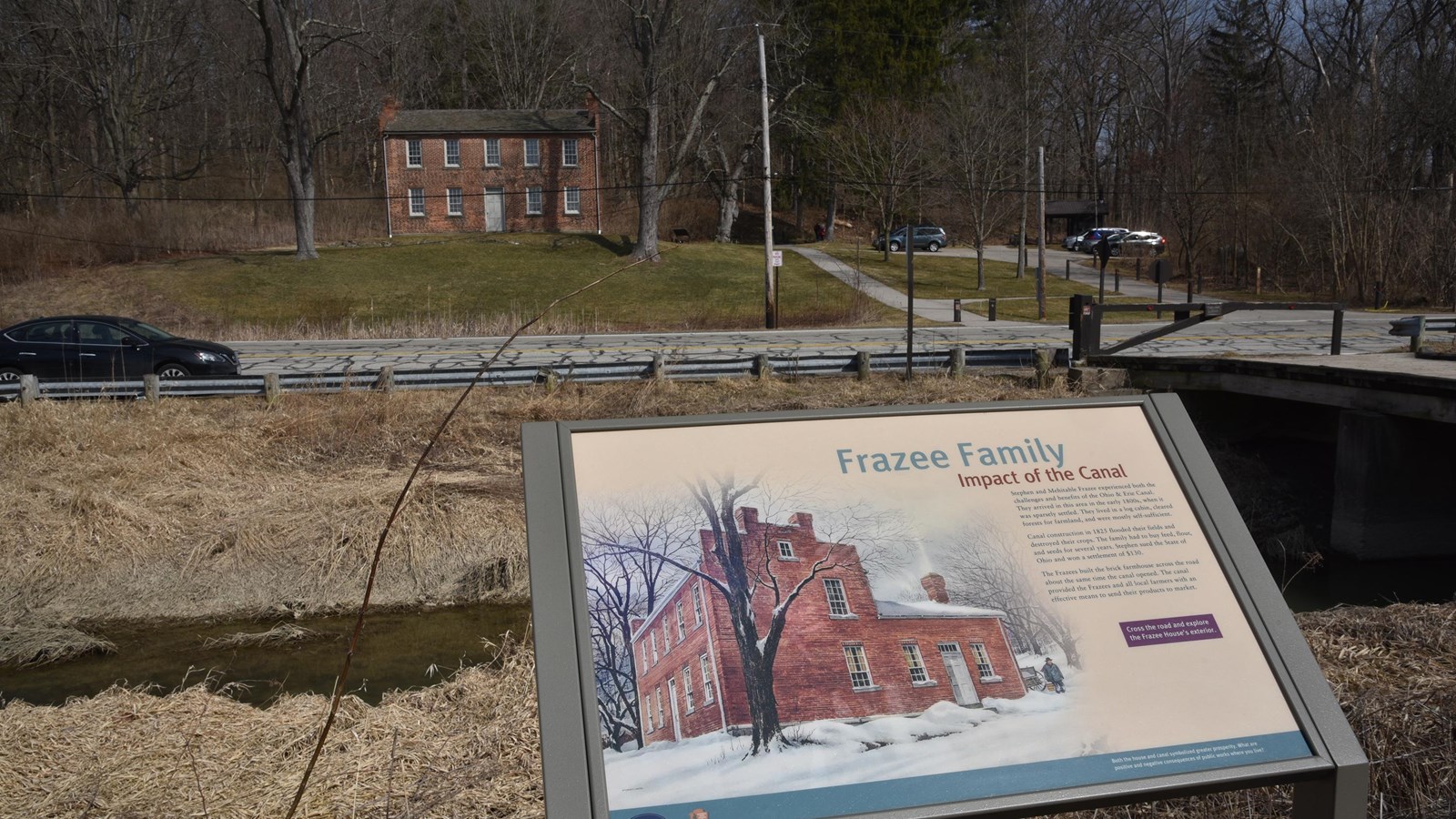 Location:
Park at Frazee House, 7733 Canal Road, Valley View, Ohio 44125 and cross the street to the Towpath Trail.
Significance:
Frazee House is one of the two oldest houses in Cuyahoga Valley. It has remained relatively unchanged since Steven and his family built it by hand in 1825-27 with little more than a style book. The house is a monument to the Frazees' transition from a subsistence Western Reserve family living on the frontier to a prosperous canal-era farming family.
Designation:
Ohio & Erie Canal District, Ohio and Erie Canalway National Heritage Area, Ohio to Erie Trail, Industrial Heartland Trail Network, National Register of Historic Places
Audio Description, Historical/Interpretive Information/Exhibits, Wheelchair Accessible
Stephen and Mehitable Frazee moved into the wilderness, perhaps as early as 1811 from further east in Ohio. Here they raised their family, farming to put food on the table. Initially they probably lived in a log-style cabin further up the hill along the former road. Early tax records indicate that the Frazee family had horses and a cow. After the Ohio & Erie Canal was built here in 1825, we see a shift in the Frazees' practices. Tax records after 1827 show Stephen Frazee had up to 8 "milch" (milk) cows—about 7 more than a subsistence family. They probably shipped out excess milk and dairy products on the canal, getting paid in cash. In time they became respected members of their community, raising children who would become teachers, ministers, and farmers.

The house has been a home to a farming family for most of its existence. Stephen Frazee sold it to John and Elizabeth Hynton. After John's passing in 1865, Elizabeth and a son-in-law nurtured and grew one of the more profitable farms in the area. After Elizabeth Hynton passed, the house only changed hands a couple of times before being purchased by the National Park Service. In the 1980s, preservationists and historical carpenters stabilized the house. Time is beginning to take its toll though, resulting in the temporary closure of the house in 2012. It waits again, for more work, as it stands guard over the valley.

Cross Canal Road to get a closer look at the architecture, use the vault toilet, and read a second graphic panel.
Last updated: August 7, 2023