Place
Happy Days Historic Sign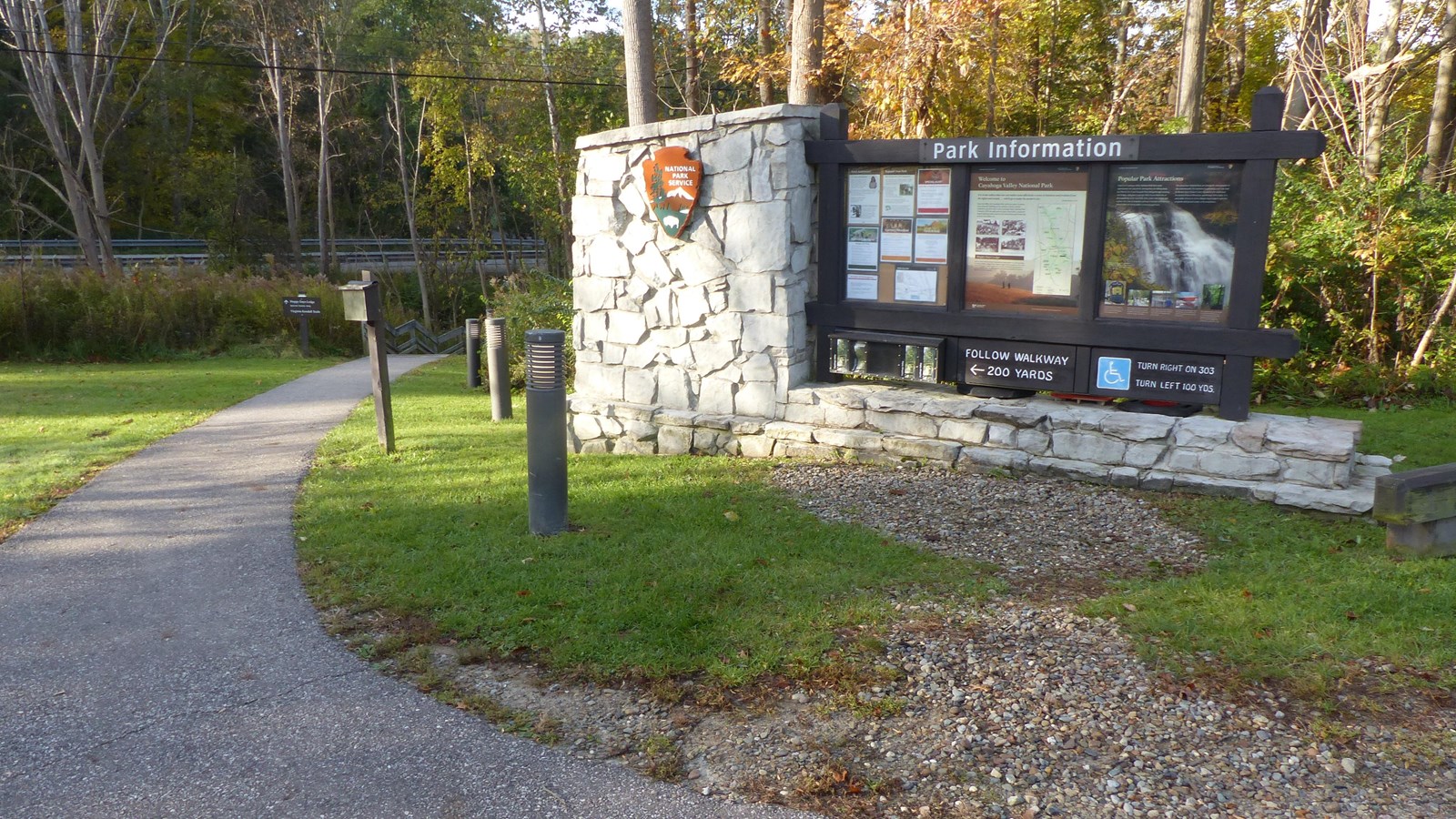 Location:
Park in the main lot for Happy Days Lodge, 500 West Streetsboro Road, Peninsula 44264.
Significance:
The sign marks the path into the Virginia Kendall State Park Historic District. It leads to Happy Days Lodge and a trail network built by the Civilian Conservation Corps during the Great Depression.
Designation:
Ohio and Erie Canalway National Heritage Area
Audio Description, Historical/Interpretive Information/Exhibits, Information - Maps Available, Information Kiosk/Bulletin Board, Parking - Auto, Parking - Bus/RV, Picnic Table, Wheelchair Accessible
A large sign marks the entrance to the path to Happy Days Lodge. The Civilian Conservation Corps built Happy Days Lodge during the Great Depression in the 1930s. It was part of their effort to develop park amenities for Virginia Kendall Park, now part of Cuyahoga Valley National Park.

Historically, Happy Days Lodge housed a summer camp for Akron children. Today, visitors come to enjoy concerts, participate in programs, or rent the facility for special occasions. The path to Happy Days Lodge includes stairs to a tunnel under State Route 303. A smaller lot adjacent to the building allows for drop-off and disabled parking.

Visitors can access Virginia Kendall Park's trail network from here. The 0.5-mile Haskell Run Trail starts behind Happy Days Lodge. A connector trail from Haskell Run links to the 1.8-mile Ledges Trail.

The sign also features some primary destinations in Cuyahoga Valley National Park. They include Brandywine Falls, Cuyahoga Valley Scenic Railroad, the Towpath Trail, Beaver Marsh, Canal Exploration Center. More information is available at Boston Mill Visitor Center.
Last updated: May 25, 2021