Current Conditions
Closure/Cancellation Hotline: 440-546-5960
Weather

Read about general weather trends and check the current forecast.

Water Quality

Cuyahoga River water quality is not always good. Check the current status to plan a safe visit.

Safety in the Park

Learn how to prevent injuries and who to contact in case of an emergency.
Road and Trail Conditions
Blue Hen Falls Parking
The parking lots on both sides of Boston Mills Road are closed. Parking is available at Boston Mill Visitor Center.

Boston Store
Parking is for limited mobility only. For Towpath access, park in the Boston Overflow lot or in the Boston Mill Visitor Center lot.

Oak Hill Road
Oak Hill Road from the northern corporate line of Cuyahoga Falls to the Everett Road connector is closed due to a failure of the embankment along Furnace Run. Posted detour routes are from Everett Road, to Riverview Road, to Ira Road. For updates on this project and others throughout the county, please see the Summit County Engineer's website at: http://summitengineer.net.

Dickerson Run Trail
This trail is closed until further notice.
Brandywine Falls Safety Alert
Do not climb Brandywine Falls or the fences and rocks in this area. Accidents in this area have led to serious injury and death.

Virginia Kendall Ledges
No rock climbing is permitted. Please follow the rules to protect your self and the organisms that grow on the rocks.

Ice Box Cave
Bat Population Threatened: Ice Box Cave, located at Ritchie Ledges, is closed in an effort to slow the spread of white-nose syndrome (WNS), a fungal disease that has killed millions of bats in the northeastern and eastern U.S. and threatens our bat population in Cuyahoga Valley National Park. WNS is spread by bat-to-bat transmission and by humans transporting fungal spores on their shoes, clothes, and other gear from contaminated sites. Help slow the spread of WNS and reduce disturbance to bats by staying out of the cave. Please report any unusual bat activity, such as bats flying outside during the day in cold winter months or bats clustering near the entrance to the cave. Contact Park Dispatch at 440-546-5945.
For the most up-to-date information contact Boston Mill Visitor Center at 440-717-3890.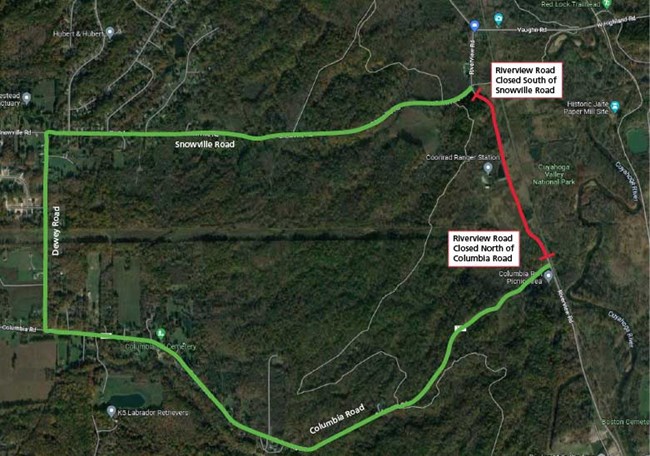 Riverview Road Closure
A portion of Riverview Road will be closed beginning April 2023 for 60 days for a culvert replacement. The road will be closed from south of Snowville Road to just north of Columbia Road. A detour is in place, the route is from Snowville Road to Dewey Road to Columbia Road.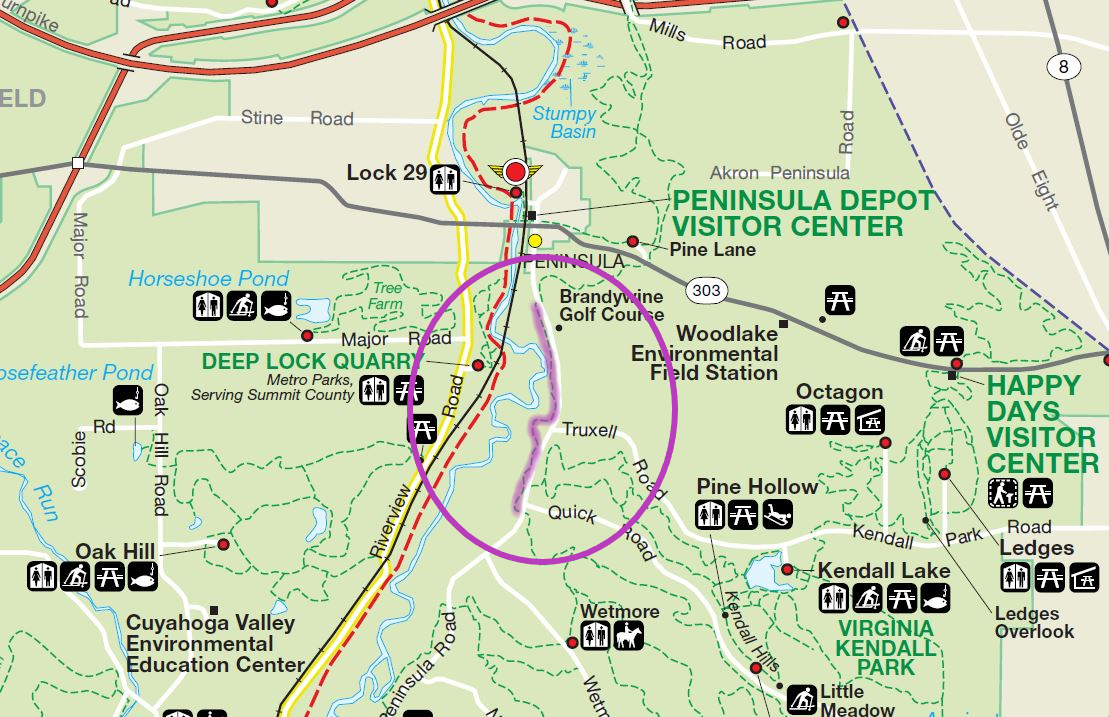 Valley Trail Closure
Due to the closure of the former Brandywine Golf Course for environmental remediation work, part of the Valley Trail will be closed. The trail will be closed from just south of Peninsula to Quick Road. For more information on the environmental remediation work read our
news release.
Last updated: March 22, 2023