Place
Ledges Trailhead Information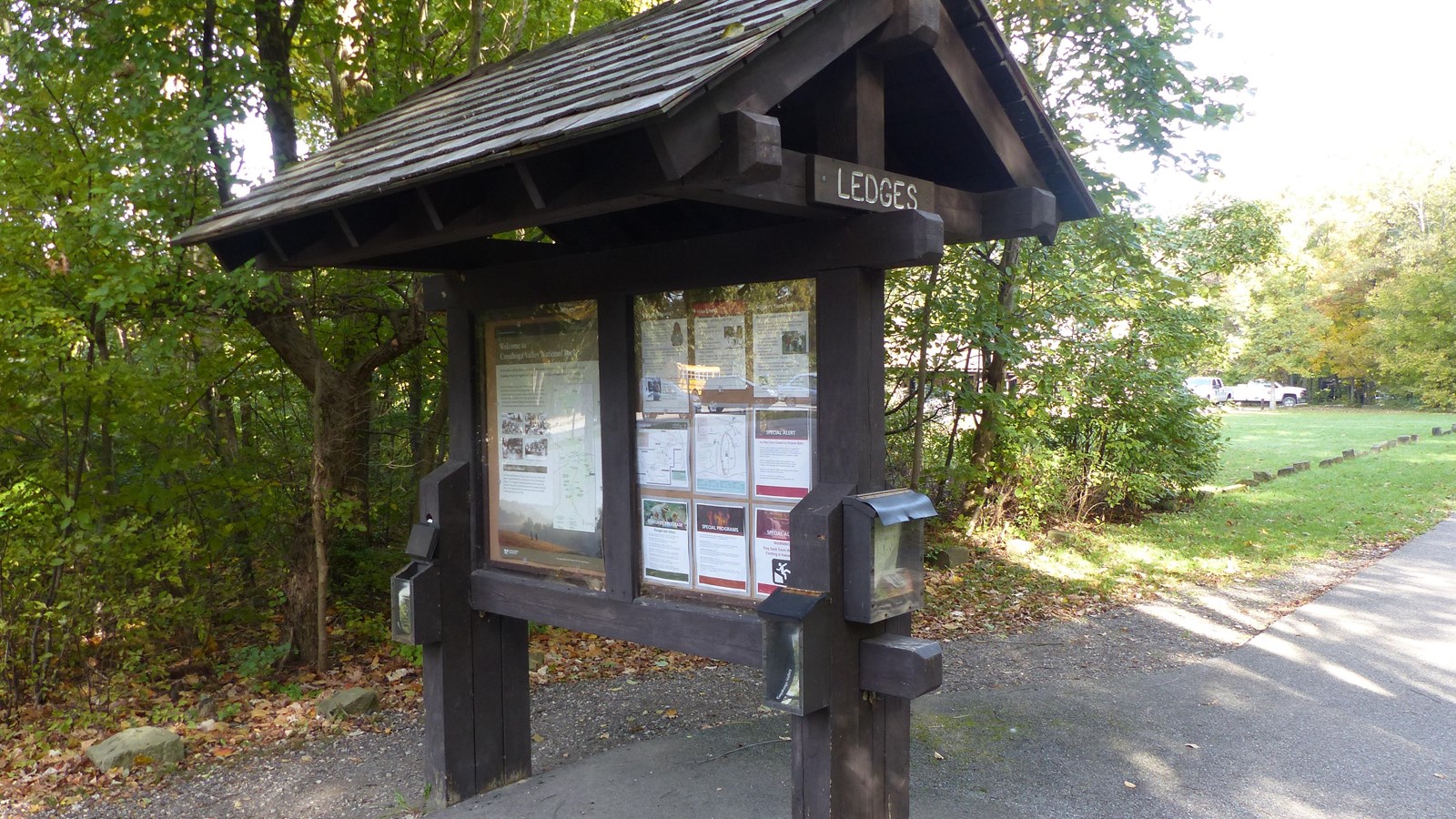 Location:
Park at Ledges Trailhead, 405 Truxell Road, Peninsula, Ohio 44264. Walk to the gated service drive by the shelter.
Significance:
Ledges Trailhead is a main access point within the Virginia Kendall State Park Historic District. The trail leads to the rocky cliffs of the Ledges, a striking outcropping of Sharon Sandstone and Conglomerate.
Designation:
Virginia Kendall State Park Historic District; Ohio and Erie Canalway National Heritage Area
Audio Description, Information - Maps Available, Information Kiosk/Bulletin Board, Parking - Auto, Parking - Bus/RV, Trailhead, Wheelchair Accessible
The striking rock Ledges create a plateau at a high point in the Cuyahoga Valley uplands. The Ledges Trailhead sits on the top of the plateau. The connector trail behind the bulletin board leads to the 1.8-mile Ledges Trail. It circles the plateau and provides stunning views of the Sharon Sandstone and Conglomerate rock formation.

This area was part of the Ritchie Farm in the 1800s. Cleveland industrialist Hayward Kendall purchased the farm for a private retreat. Upon his death in 1927, he willed it to the people as a place for outdoor recreation. It became a state park named for Hayward's mother, Virginia Kendall.

Akron Metropolitan Park District (now Summit Metro Parks) took over operation of the park during the Great Depression. The park district recruited the Civilian Conservation Corps to develop the park. Crews built the parking, trails, shelters, and large grassy playfield. It became part of Cuyahoga Valley National Park after 1974.

Today, visitors can walk the trails and then linger at the many wooded picnic sites. The Ledges Shelter is available to rent for family reunions and other events. The grassy playfield invites running, kite flying, and other fun.
Last updated: September 26, 2023