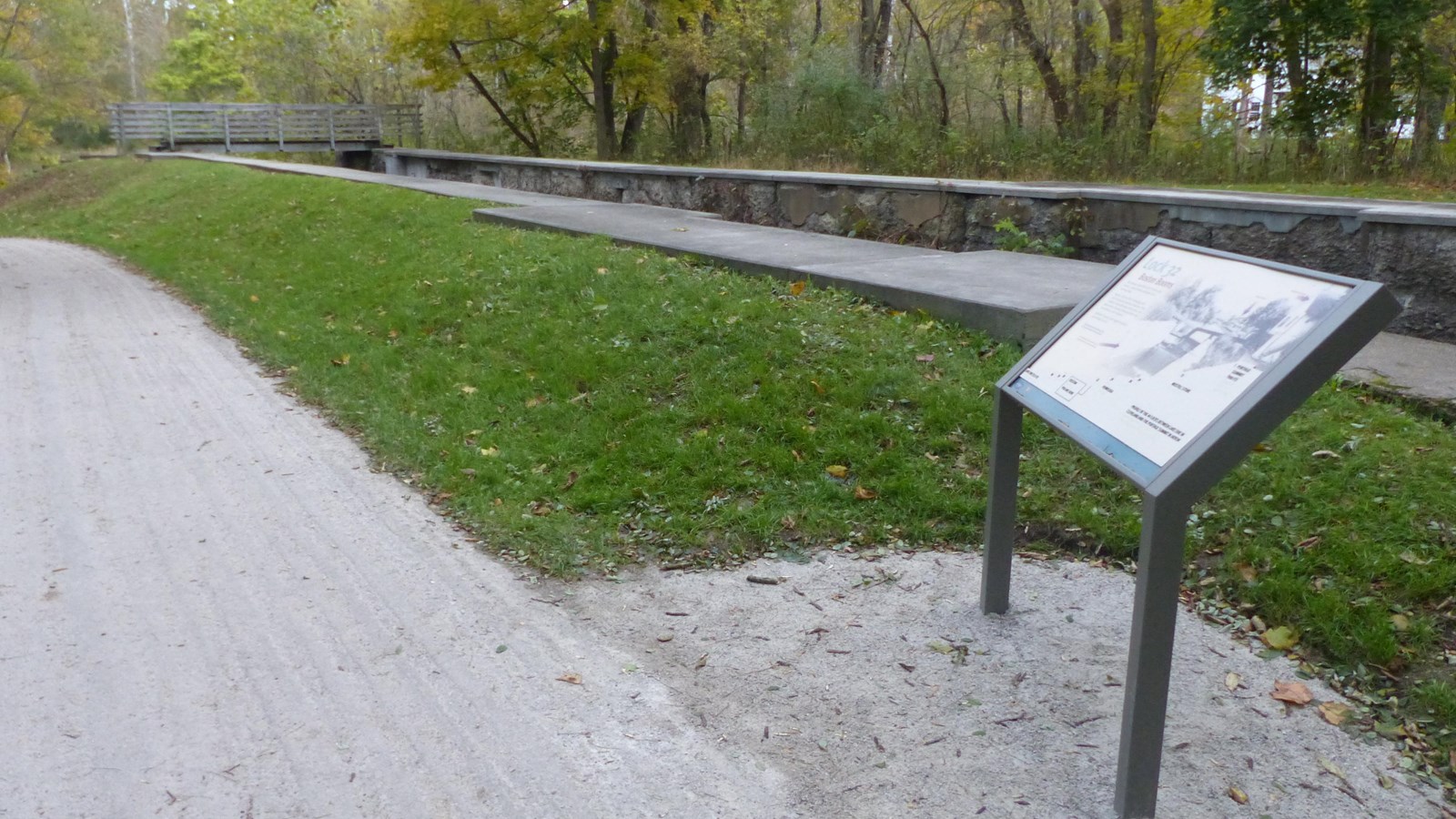 Location:
Park at Boston Trailhead, 1508 Boston Mills Road, Peninsula, Ohio 44264. (Accessible parking at Boston Store Trailhead.) Walk north on the Towpath Trail.
Significance:
Boston is typical of many small frontier hamlets that boomed because of the Ohio & Erie Canal. Businesses that concentrated at locks such as Lock 32 contributed to the bustling economy.
Designation:
Ohio and Erie Canal District; Ohio and Erie Canalway National Heritage Area; Ohio to Erie Trail; Industrial Heartland Trail Network, Boston Mills Historic District
Audio Description, Historical/Interpretive Information/Exhibits, Wheelchair Accessible
Locks were the highway interchanges of the Canal Era. While locks and highway interchanges have different functions, both help travelers through key transitions. Interchanges allow cars to enter and exit a highway. Locks allow boats to move up and down through changes in elevation. Lock 32 was one of 44 locks on the Ohio & Erie Canal between Lake Erie in Cleveland and the Portage Summit in Akron.

As with highway interchanges, locks became places where businesses concentrated. Locks forced travelers to pause for a minimum of 20 minutes while a boat locked through. This wait provided time to visit local businesses. McBride's Grocery served canallers at Lock 32.

With the opening of the canal, Boston boomed. It grew from a small frontier hamlet to a bustling canal town. In time, stores, a tavern, hotel, blacksmith shop, boatyard, brickyard, lumberyard, broom factory, and warehouses would grow in the village.

Boston is still a lived-in village, as evidenced by the houses to the west. Go up the steps and over the top of the lock to access the Valley Trail or continue exploring the Ohio & Erie Canal Towpath Trail to the north or south. The heart of the village of Boston lies less than a tenth of a mile to the south.
Last updated: June 21, 2021