Place
Boston Street View Panel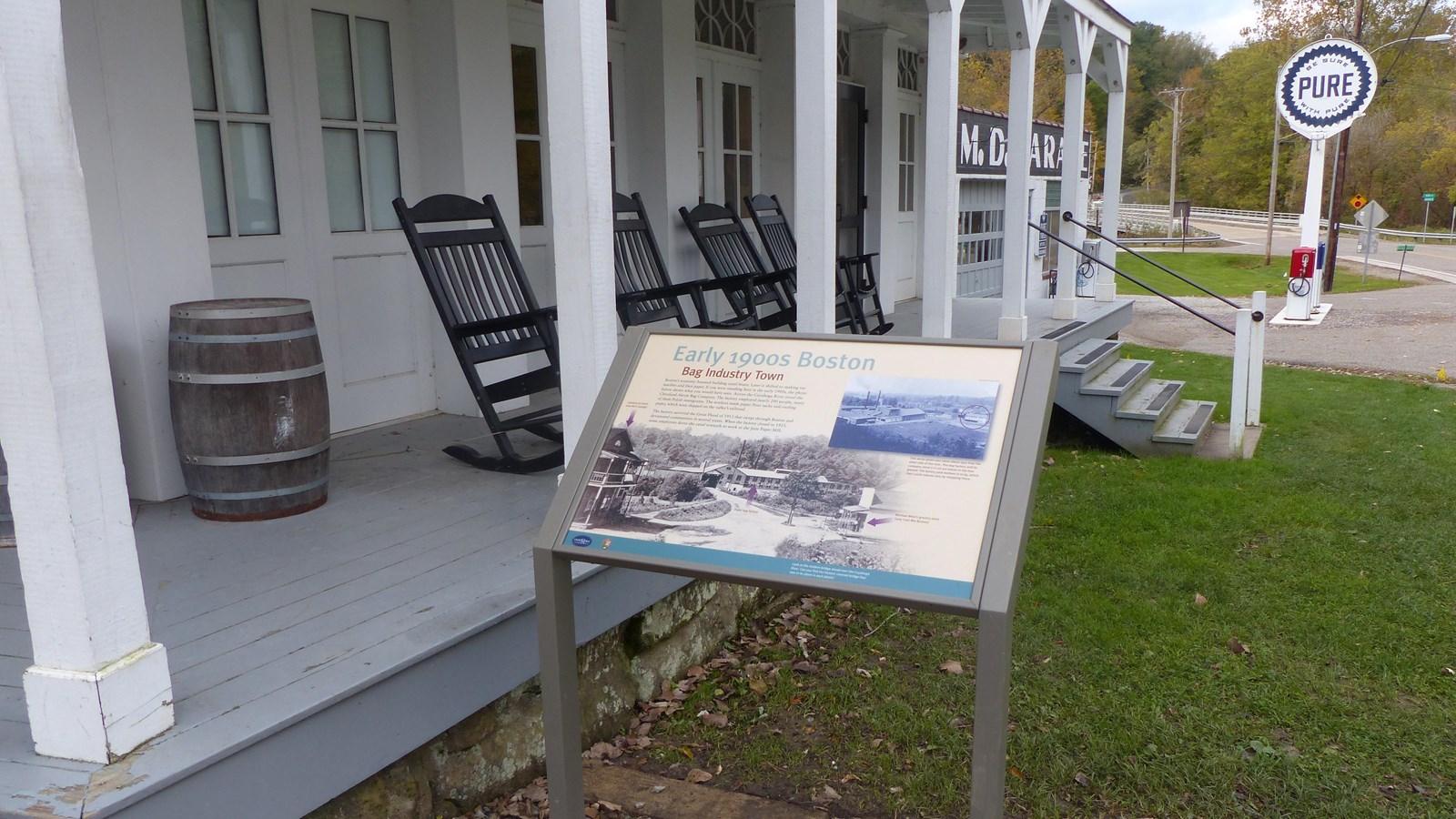 Location:
Park at Boston Trailhead, 1508 Boston Mills Road, Peninsula, Ohio 44264. (Accessible parking at Boston Store Trailhead.) Walk to the Towpath Trail at Boston Store.
Significance:
The exhibit explores a street view of Boston from the early 1900s when the community was a paper mill company town.
Designation:
Ohio and Erie Canal District; Ohio and Erie Canalway National Heritage Area; Ohio to Erie Trail; Industrial Heartland Trail Network; Boston Mill Historic District
Audio Description, Benches/Seating, Historical/Interpretive Information/Exhibits, Wheelchair Accessible
A wayside exhibit shows an early 1900s view of Boston Mills Road looking west from Boston Store. By this time, Boston was a paper mill town. Boston had first boomed in the canal era by making canal boats. Boston quieted down as canal traffic slowed with the expansion of railroads in the 1850s. It boomed again after a railroad came directly through town with the 1880 opening of the Valley Railway.

First, Samuel Dyke bought an existing mill on the west side of the Cuyahoga River adjacent to the tracks. He converted it into a toy marble factory. This business was short lived. Then the Cleveland Akron Bag Company opened in 1902, making roofing paper and paper bag liners. As the paper mill expanded, more workers were needed. Polish and other immigrants moved here from Cleveland to fill the need. Boston had become a mill company town. It stayed that way even after the bag company closed in 1923. Some workers drove the towpath to work at Jaite Paper Mill to the north.

The 1900s image shows the Commercial Hotel, which stood where the M.D. Garage is now located. Norman Wise's grocery store was across the street. A covered bridge crossed the river. Cleveland-Akron Bag Company and its smokestack are visible next to the railroad tracks.

Visitors can further explore the company town history by crossing the river to Boston Mill Visitor Center.
Last updated: June 28, 2021