Place
Lock 29 River Access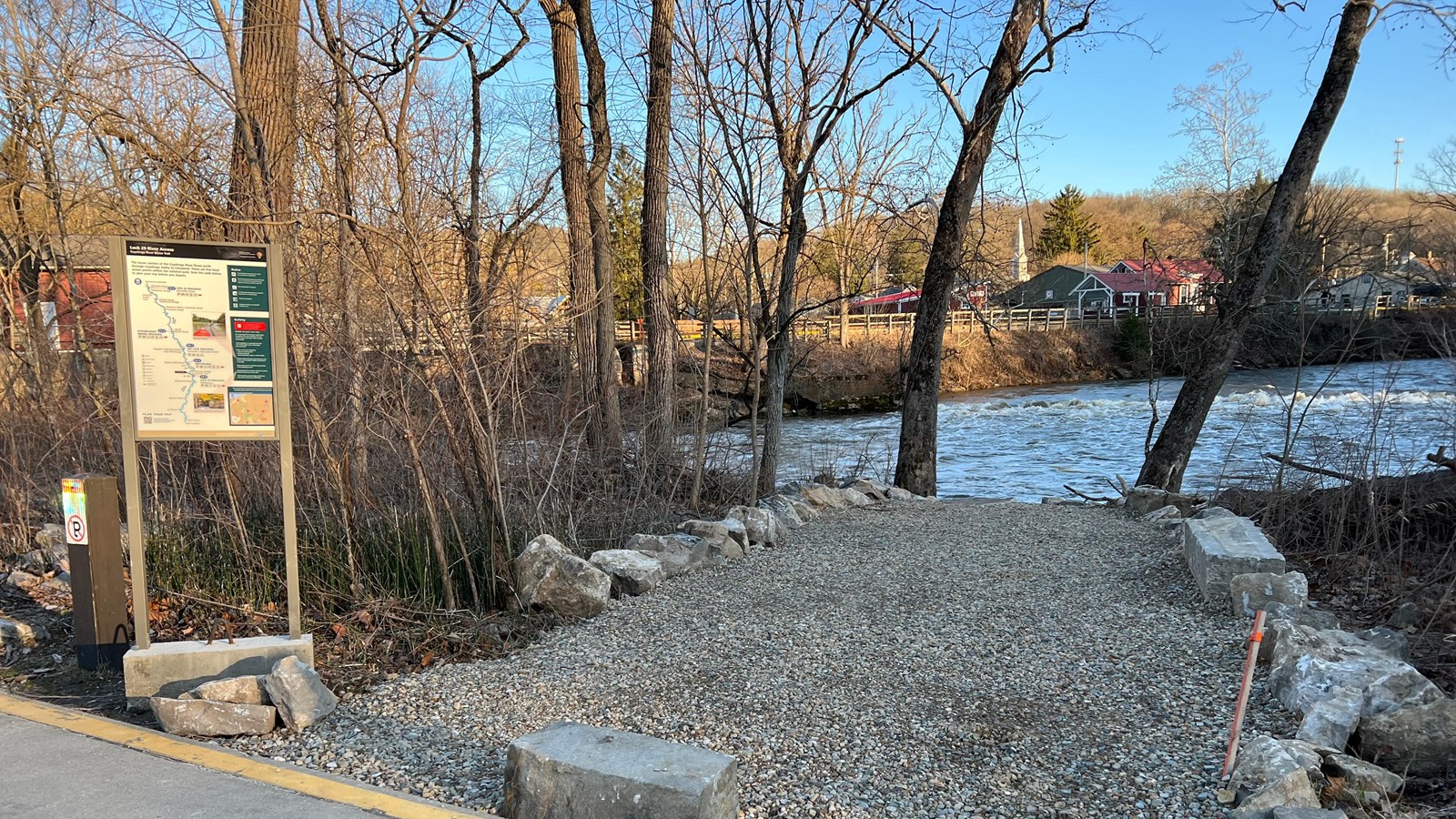 Location:
Park at Lock 29 Trailhead, 1648 Mill Street, Peninsula, Ohio 44264. Follow the marked path to the river.
Significance:
Provides paddlers with access to the Cuyahoga River Water Trail
Designation:
Cuyahoga River Water Trail
Canoe/Kayak/Small Boat Launch, Food/Drink - Restaurant/Table Service, Historical/Interpretive Information/Exhibits, Information, Parking - Auto, Restroom, Restroom - Accessible, Trailhead, Water - Drinking/Potable
Lock 29
Cuyahoga River access map
This site is downtown in the historic Village of Peninsula, a gateway to Cuyahoga Valley National Park. Put-in below the waterfall. More information is available at the Cuyahoga River Water Trail website.
Things to Know for Paddlers
Paved parking lot plus overflow gravel lot, restrooms, drinking water, restaurants and snacks within walking distance, hiking and biking trail, train station.
Parking is limited during peak hours.
Visitor information is at Trail Mix Peninsula.
Dropoff/pickup 50 feet from water's edge over rocky ground
Shuttle option on Cuyahoga Valley Scenic Railroad during Bike Aboard season. Fee. Board downstream at Brecksville Station (or Rockside Station), and ride to Peninsula Depot. Paddle back to Station Road Bridge Trailhead (or Lock 39 Trailhead).
Pedal/paddle option. Use the Towpath Trail to bike/run/walk back from trailheads as far downstream as Lock 39.
Initial Class II flow settles nicely into Class I after ½ mile with no permanent hazards to Boston Store Trailhead.
Known Hazards
Upstream:
Above the Lock 29 access site are the remains of a historic mill beside a natural waterfall. Do not paddle through the mill race on river left. At the waterfall, stay away from the dam remnant on river right. To avoid these hazards, portage left near the Main Street (SR 303) bridge.
Last updated: March 22, 2023