Place
Pine Hollow Trailhead Information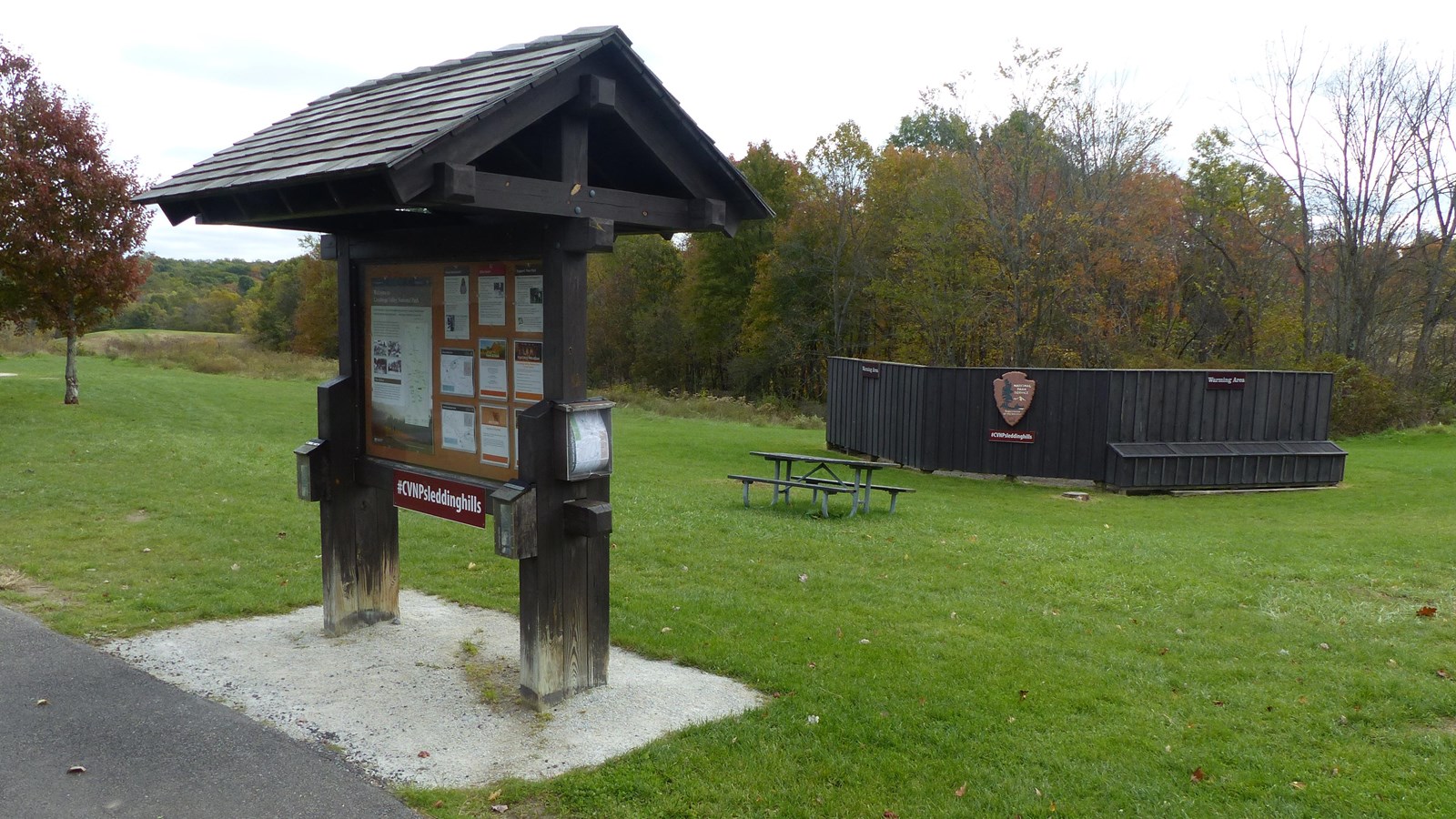 Location:
5465 Quick Road, Peninsula, Ohio 44264
Significance:
This area is a recreational hub that provides access to the Virginia Kendall Park Historic District.
Designation:
Ohio and Erie Canalway National Heritage Area, Virginia Kendall State Park Historic District
Audio Description, Baby Changing Station, Benches/Seating, Information - Maps Available, Information Kiosk/Bulletin Board, Parking - Auto, Parking - Bus/RV, Picnic Table, Restroom, Restroom - Accessible, Scenic View/Photo Spot, Toilet - Flush, Trash/Litter Receptacles, Water - Drinking/Potable, Wheelchair Accessible
The Pine Hollow Trailhead is a large parking area and outdoor recreation hub that sits at the top of the Kendall Hills. It is a place where you can set your own pace. Race down the hills on a sled on a snowy day. Slow down to enjoy the scenery and nearby trails.

In the 1800s, the Ritchie family farmed this area. As Cleveland and Akron became major industrial cities after the Civil War, business leaders began buying farmland for valley retreats. Cleveland industrialist Hayward Kendall purchased much of the area. He willed his property to the state for a park and asked that it be named for his mother, Virginia Kendall.

Kendall Hills was not part of the original Virginia Kendall Park. In 1936 the Akron Metropolitan Park District wrote to neighbor A.A. Stambaugh, vice-president of Standard Oil, offering to lease the property. Winter sports enthusiasts were spilling over from the Kendall Lake area for coasting and skiing whenever the toboggan chutes were crowded. Stambaugh said that wasn't necessary, he was happy to see the land used.

Today, the scenery is dominated by oak, hickory, and beech woodlands that have reclaimed the former farmland surrounding the hills. Dark green of stands of white and red pines dot the woodlands. They were planted by the Civilian Conservation Corps in the 1930s to hurry forest regeneration. The hills themselves are a mix of mowed grass and meadow. In late summer, meadow flowers attract butterflies and other pollinators.

Pine Hollow provides access to the park's interconnected trail system. The 3.3-mile Salt Run Trail starts to the left of the parking when facing the hills. The 4.5-mile Wetmore Trail is across Quick Road. Connector trails lead downhill to the 1-mile Lake and 2.3-mile Cross Country trails.
Last updated: May 25, 2021