Place
Octagon Shelter and Exhibits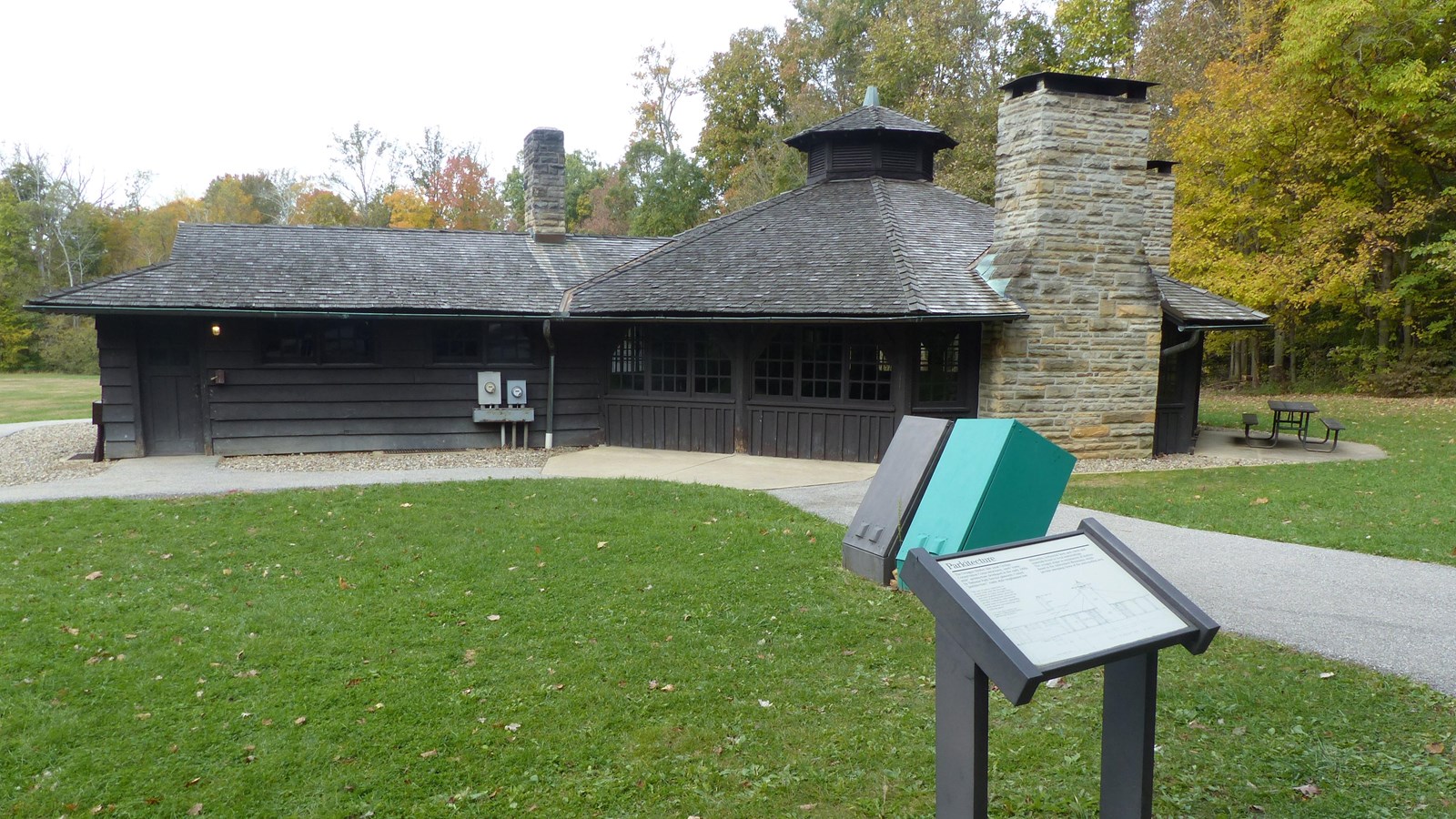 Location:
499 Truxell Road, Peninsula, Ohio 44264
Significance:
The Octagon Shelter is the best example of Civilian Conservation Corps parkitecture in the Virginia Kendall State Park Historic District.
Designation:
Virginia Kendall State Park Historic District; National Register of Historic Places; Ohio and Erie Canalway National Heritage Area
Accessible Sites, Audio Description, Baby Changing Station, Benches/Seating, Fire Extinguisher, Grill, Historical/Interpretive Information/Exhibits, Information Kiosk/Bulletin Board, Parking - Auto, Picnic Shelter/Pavilion, Picnic Table, Recycling, Restroom, Restroom - Accessible, Toilet - Flush, Trash/Litter Receptacles, Water - Drinking/Potable, Wheelchair Accessible
The National Park Service provided the planners and the Civilian Conservation Corps provided the labor to construct Octagon Shelter. The building's architecture is affectionately known as "parkitecture." The Civilian Conservation Corps commonly used this style in parks around the country.

Parkitecture is reminiscent of the craftsmanship of early carpenters. It includes the use of heavy beams, low silhouettes, horizontal lines, and colors and materials found in local surroundings. The Octagon shape here was more complicated, yet it still looks like a natural, almost native part of the landscape. A large grassy playfield sits next to and in harmony with the shelter.

Today, the Octagon Shelter may be reserved at recreation.gov by groups and families with up to 50 people for a fee. The shelter is an eight-sided pavilion with seven picnic tables, two fireplaces, and an outdoor grill. It is enclosed from October 15 – May 14 and open-sided the rest of the year. Electrical outlets for normal, two-pronged household appliances such as coffee pots and crock pots are available. It does not have centralized heat. Drinking water is available at a fountain from May 1 to September 15. Restrooms with flush toilets are available year-round.
Last updated: August 1, 2023