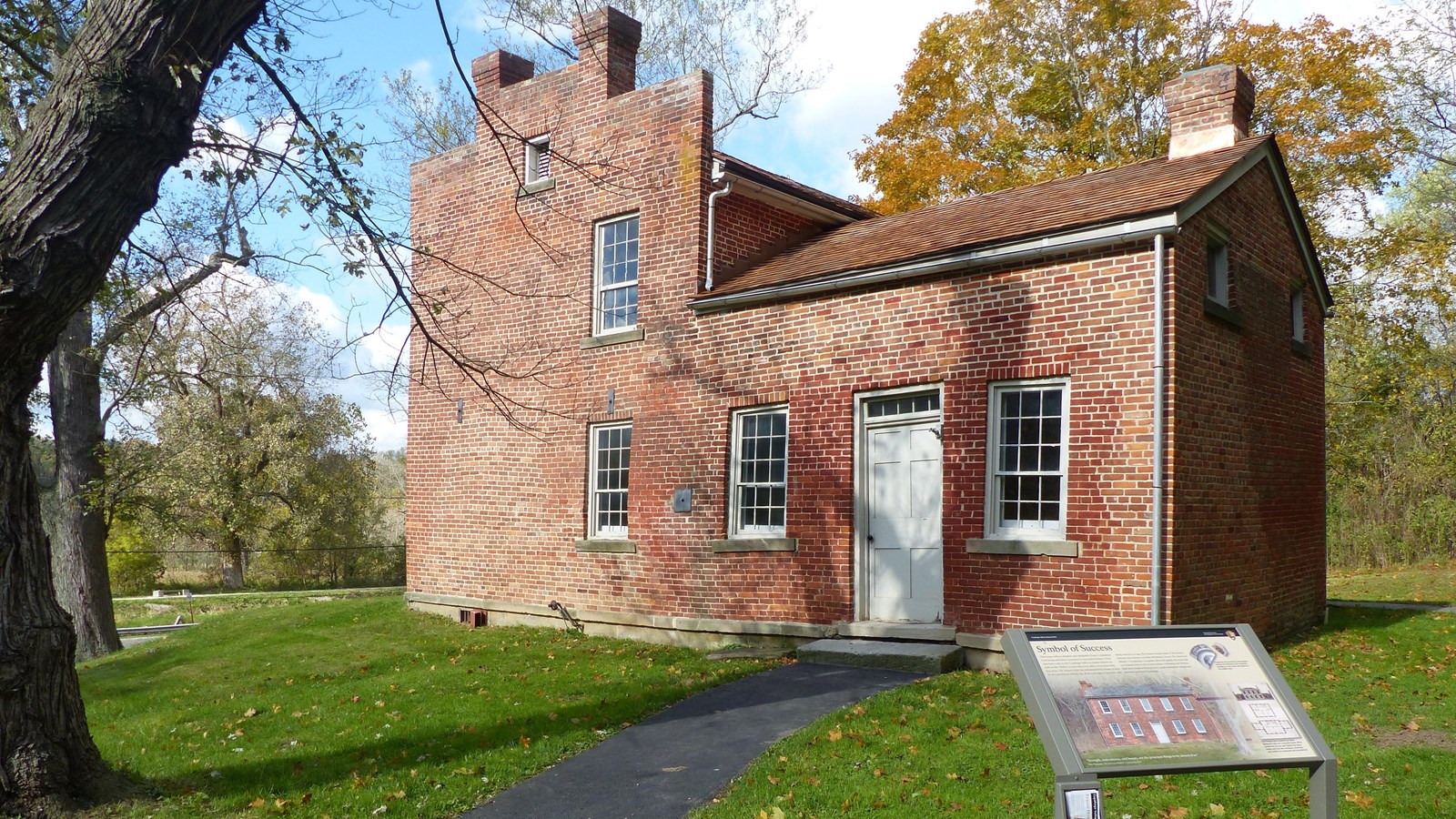 Location:
7733 Canal Road, Valley View, Ohio 44125
Significance:
Frazee House is one of the two oldest houses in Cuyahoga Valley. It has remained relatively unchanged since Steven and his family built it by hand in 1825-27 with little more than a style book. The house is a monument to the Frazees' transition from a subsistence Western Reserve family living on the frontier to a prosperous canal-era farming family.
Designation:
Ohio & Erie Canal District, Ohio and Erie Canalway National Heritage Area, Ohio to Erie Trail, Industrial Heartland Trail Network, National Register of Historic Places
Bicycle - Rack, Parking - Auto, Picnic Table, Restroom, Trash/Litter Receptacles
From 1825 to 1827 Stephen and Mehitable Frazee and their children built this brick house with their own hands and ingenuity. They dug the foundation, made the bricks, and framed in the building using local materials. The design was inspired by illustrations in Asher Benjamin's popular 1806 stylebook, The American Builder's Companion. The Frazees chose elements of the Federal style, something that was familiar to them. This style emphasizes balance and symmetry. For the Frazees, the house symbolized success. Although they initially had financial losses when the Ohio & Erie Canal cut through their property, this new transportation route ultimately was a benefit. They went from living in a wilderness outpost to being established farmers. They may have used part of their settlement from suing the state of Ohio to purchase the hardware and glass used inside.

Minor changes have been made to the house during the past two centuries. The second owner, John Hynton, added a kitchen "ell" in the back, with a woodburning stove. The Frazees had most likely cooked on the hearth. Later residents added electricity and a toilet. However, the room layout has changed very little, a testimony to the timeless Federal style.

More recently, the building has shown signs of shifting. In 2011 the National Park Service closed the Frazee House to monitor cracks in the foundation and assess damages. The building remains closed pending funding to stabilize and re-open the historic building.

To learn more, cross Canal Road to the Towpath Trail where there is a second graphic panel about the Frazee family. A short distance north, additional exhibits explore life at the nearby Alexander-Wilson Mill. For a more rugged hike, pick up the Sagamore Bridle Trail at the base of the driveway and turn left to follow it northward. To head south, go straight across the wooden bridge and beyond before veering off to the left.
Last updated: August 7, 2023