Place
Boston Mill Station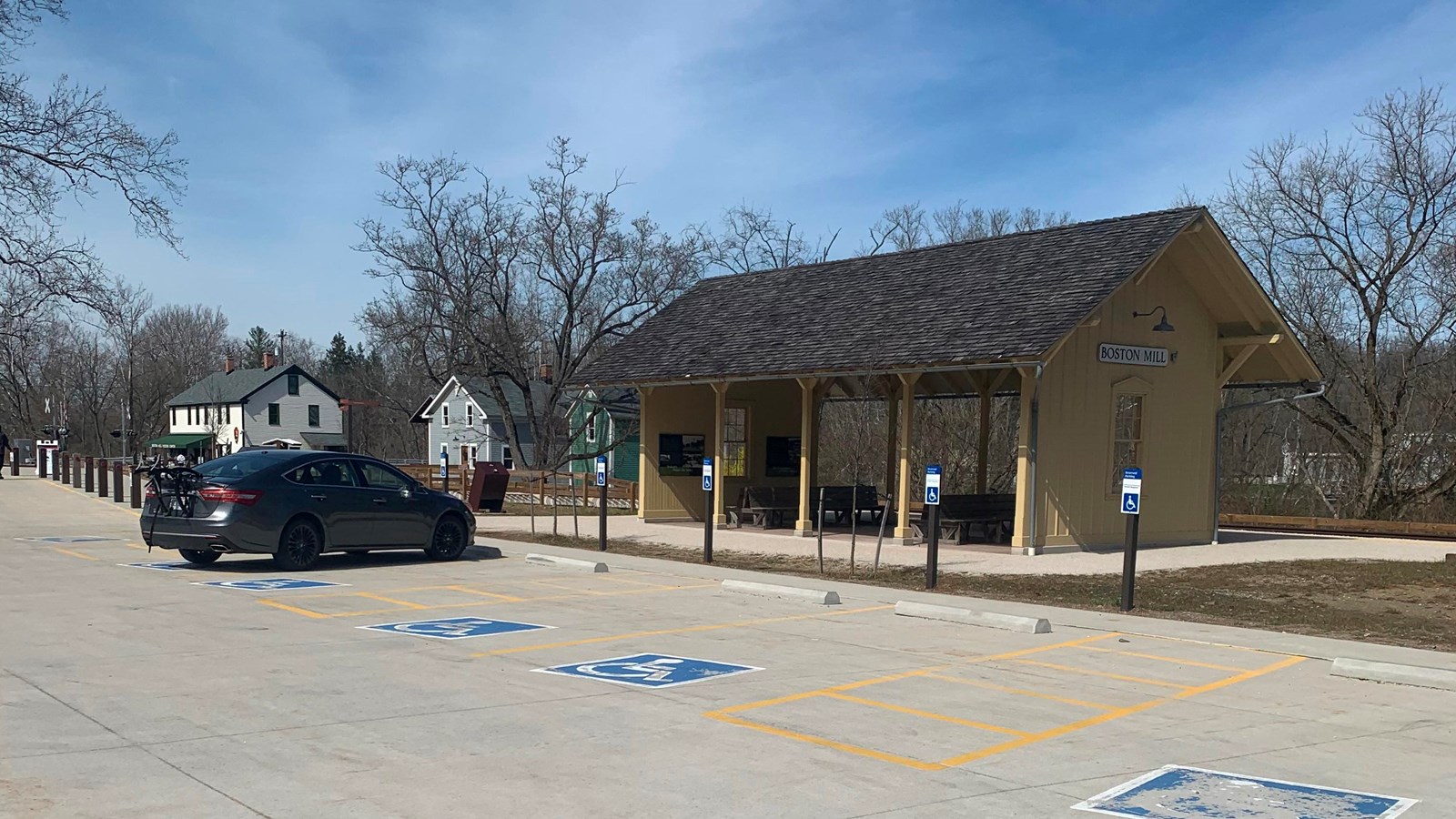 Location:
Boston Mill Visitor Center, 6947 Riverview Road, Peninsula, Ohio 44264
Significance:
Boston Mill Station is located near the site of a historic depot that served the Valley Railway. Today, the station serves passengers who arrive in Boston via Cuyahoga Valley Scenic Railroad or use its one-way shuttle service.
Designation:
Ohio and Erie Canal District; Ohio and Erie Canalway National Heritage Area; Ohio to Erie Trail; Industrial Heartland Trail Network, Boston Mills Historic District, Valley Railway Historic District
Accessible Sites, Audio Description, Baby Changing Station, Benches/Seating, Bicycle - Rack, Historical/Interpretive Information/Exhibits, Information - Maps Available, Parking - Auto, Restroom, Restroom - Accessible, Restroom - Family, Toilet - Flush, Trash/Litter Receptacles, Water - Bottle-Filling Station, Water - Drinking/Potable, Wheelchair Accessible
Arrive in the heart of the park by train. Boston Mill Station is a Cuyahoga Valley Scenic Railroad flag stop. Get off the train to visit Boston Mill Visitor Center, the village of Boston, and nearby trails. Then get back on the train to return to where you started. Alternatively, use the train's shuttle service to create a combination trail-train adventure.

As the main visitor center for Cuyahoga Valley National Park, Boston Mill Visitor Center is a great place to get information and learn more about the park. Boston is a pedestrian-friendly community that grew up on both sides of the Cuyahoga River. From Boston, steep and sometimes muddy trails lead to Blue Hen Falls (1.2 miles one-way) and Brandywine Falls (2.2 miles one-way).

The Ohio & Erie Canal Towpath, Buckeye, and Cuyahoga River Water trails all pass through the village and connect to other train stations in the valley. Bicyclists, runners, hikers, and paddlers can access the train's one-way shuttle service. Train staff will load your bicycle or kayak in a baggage car.

Cuyahoga Valley Scenic Railroad operates on a historic rail line that opened in 1880 as the Valley Railway. Before then, Boston had been a canal town. The Valley Railway ushered in a new period of growth. Around 1900, the Cleveland-Akron Bag Company located its factory next to the railroad tracks, shifting the orientation of the community. The company added a store and workers' residences. Boston Mill Visitor Center now operates in the company store.

The Valley Railway had a depot in every community along its route through the Cuyahoga Valley, including here in Boston. In 1968, Robert Hunker, a local designer and historic preservationist, purchased the depot. He moved it to Peninsula to replace one that had burned.

The National Park Service built the current boarding station near the site of the original depot. Its architecture is reminiscent of the historic design.

To reach the visitor center, accessible restrooms, and most locations within Boston, passengers will need to cross the railroad tracks. Walkways from the boarding station lead to the pedestrian crossing.
Last updated: December 17, 2021