Place
Ritchie Ledges Panel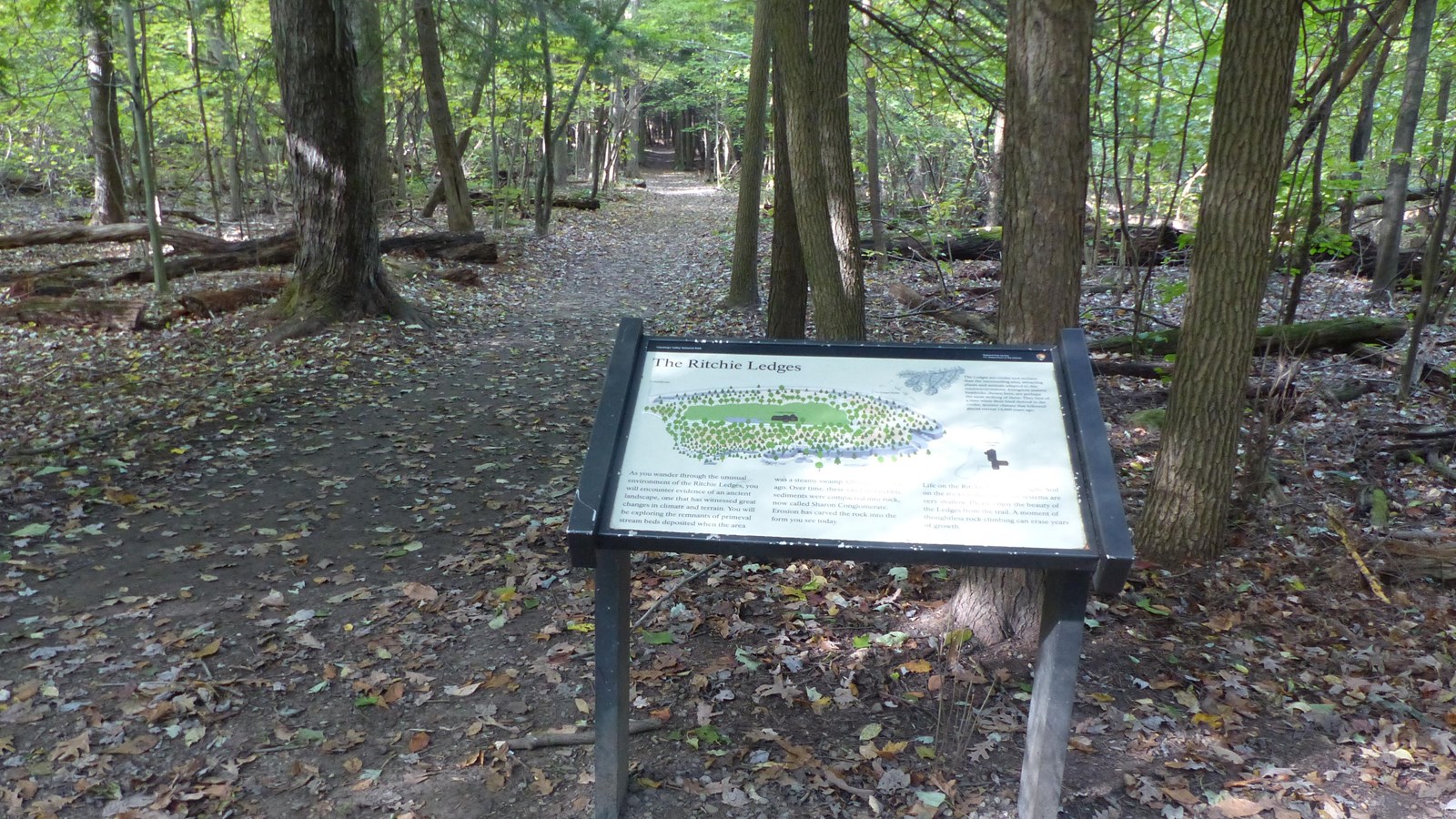 Location:
Park at Ledges Trailhead, 405 Truxell Road, Peninsula, Ohio 44264. Hike north past the shelter on the Ledges Trail.
Significance:
The Ledges are an outstanding outcropping of Sharon Sandstone and Conglomerate. Its geology influences the local environment and adds to the park's plant and animal diversity.
Designation:
Virginia Kendall State Park Historic District; Ohio and Erie Canalway National Heritage Area
Audio Description, Benches/Seating, Historical/Interpretive Information/Exhibits
The Ledges create a high point in the valley uplands. Discover the basic geology at the Ritchie Ledges graphic panel. It describes how water and weathering shaped the rock.

About 315-320 million years ago, the area was steamy swamp. Periodically fast-moving streams dropped sand and pebbles here. Over time, this material was compacted into rock called Sharon Sandstone and Conglomerate. Erosion has carved the rock into the forms you see today.

Like a sponge, the rock absorbs rainfall between the grains of sand and pebbles. This water makes the Ledges cooler and moister than its surroundings. More northern plants and animals can thrive here. Look for evergreen eastern hemlock trees and listen for the cheery, buzzy song of black-throated green warblers. Take a moment to enjoy the coolness and beauty of this microclimate.

Life on the Ledges is fragile. Mosses and ferns cling to sand and pebble crevices. Please help us protect this fragile life by enjoying the Ledges from the trail. A moment of rock climbing, which is not allowed, can erase years of growth.

Learn more about the geology of the Cuyahoga Valley.
Last updated: April 13, 2021