Place
Akron Northside Station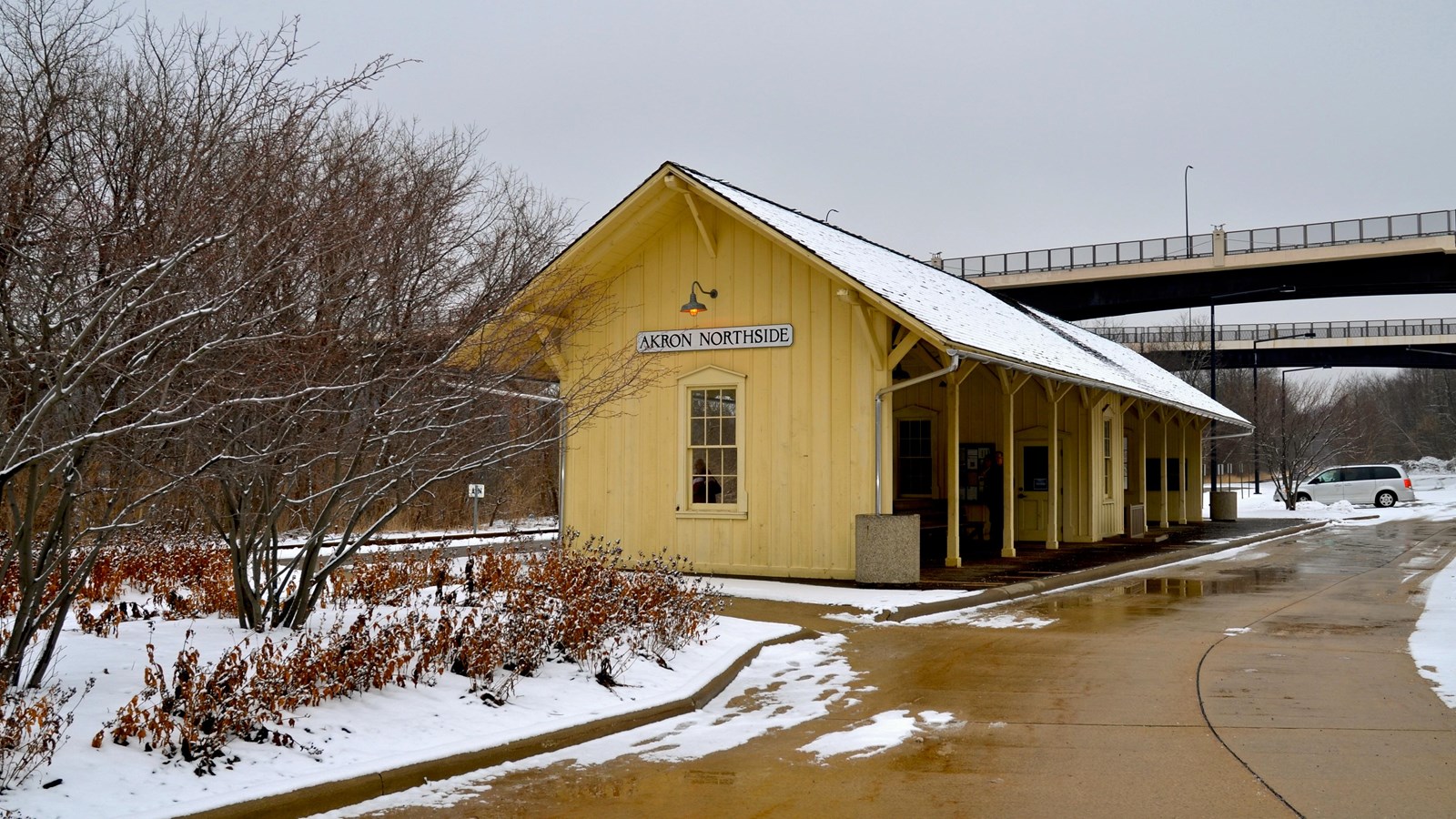 Location:
27 Ridge Street, Akron, Ohio 44236
Significance:
Akron Northside Station is a primary boarding site for Cuyahoga Valley Scenic Railroad excursion and events. The station is on a bus line and within walking distance of shopping, dining, and the Towpath Trail.
Designation:
Ohio and Erie Canalway National Heritage Area
Accessible Sites, Audio Description, Benches/Seating, Bicycle - Rack, Historical/Interpretive Information/Exhibits, Information Kiosk/Bulletin Board, Parking - Auto, Parking - Bus/RV, Restroom, Trash/Litter Receptacles, Wheelchair Accessible
Passengers in the Akron area can catch Cuyahoga Valley Scenic Railroad at Akron Northside Station. The station has ample parking and is a primary starting point for train excursions and events that head into the national park. The station is on a bus line and within walking distance of shopping and dining.

A connector trail leads from the station to the Ohio & Erie Canal Towpath Trail. Cuyahoga Valley National Park is 6.5 miles north. The towpath and railroad run parallel to each other in the park. Bicycles, runners, and hikers can use Cuyahoga Valley Scenic Railroad's shuttle service for a combination trail-train adventure. The Towpath Trail also continues south and heads through downtown Akron. However, Cuyahoga Valley Scenic Railroad ends at Akron Northside Station.

Cuyahoga Valley Scenic Railroad operates on tracks constructed by the Valley Railway. The railway opened in 1880 to connect the coal fields of central Ohio to the industrial centers of Canton, Akron, and Cleveland. Building the Valley Railway was a test of local perseverance. By the 1880s, railroads were some of the largest corporations in America. Yet, despite financial troubles and construction difficulties, the Valley Railway emerged independent of other roads. Shaped by the influence of David L. King, an Akron attorney and businessman, the Valley Railway became a partnership among the three cities it served.

Riders on the scenic railroad see a pastoral landscape similar to what passengers saw along the same route a century ago. Railroads were industrial giants and played an integral role in the history of this region. Nearby exhibits in the station tell more of their history.
Last updated: November 7, 2021