Place
Carved In Stone Panel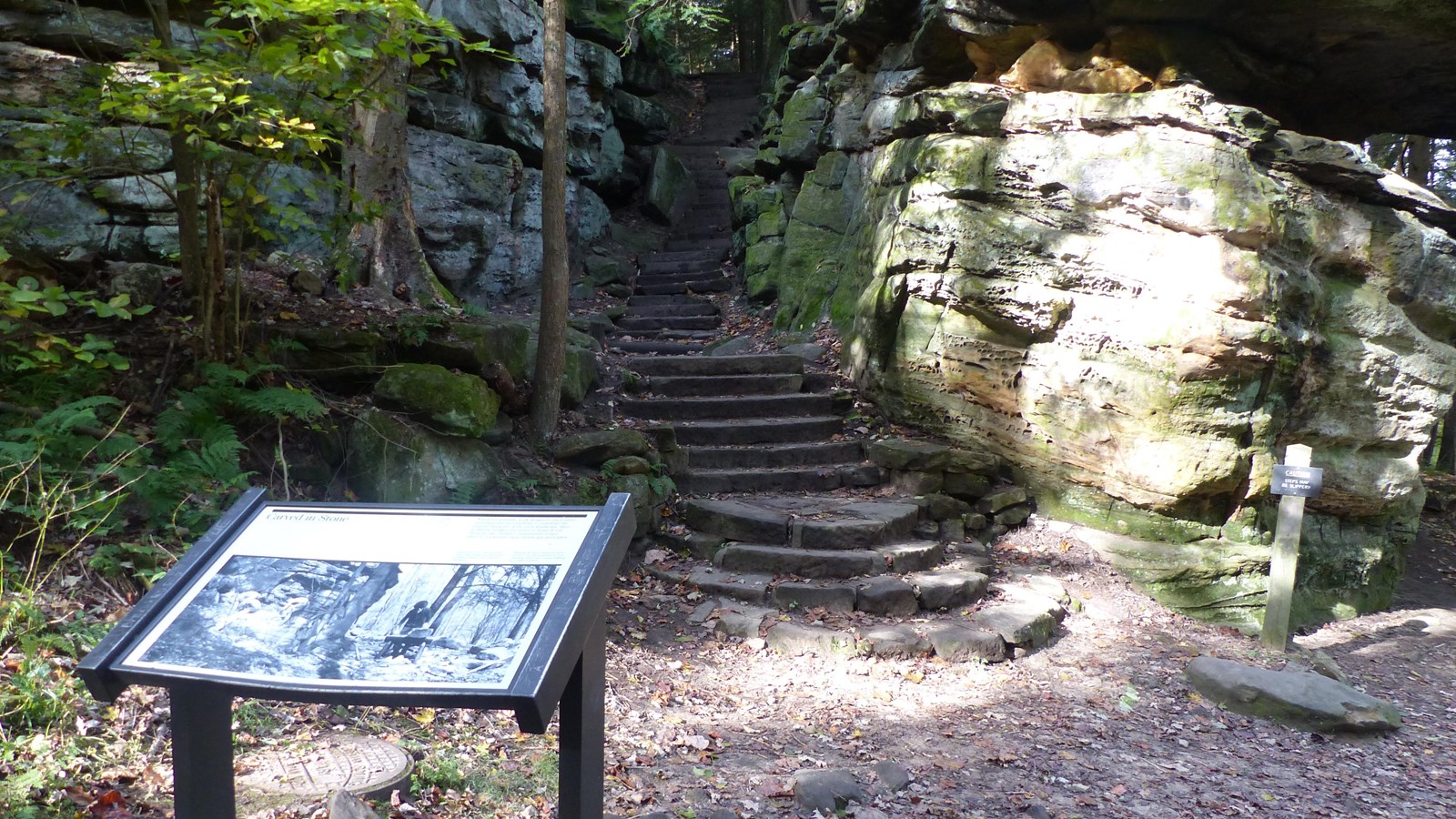 Location:
Park at Ledges Trailhead, 405 Truxell Road, Peninsula, Ohio 44264. Hike north past the shelter and turn right on the Ledges Trail loop.
Significance:
The Ledges stairs are one of the many amenities built to fit well into the natural landscape of Virginia Kendall State Park Historic District.
Designation:
Virginia Kendall State Park Historic District; Ohio and Erie Canalway National Heritage Area
Audio Description, Historical/Interpretive Information/Exhibits, Scenic View/Photo Spot
These stairs blend into the Ledges. The National Park Service has long credited the Civilian Conservation Corps (CCC) as their builder. The CCC famously used local resources and designed features to fit into the landscape. This stairway follows a natural break in the rocks. It uses sandstone quarried from Deep Lock Quarry and these Ledges.

Recently found evidence suggests that stairs existed prior to the CCC. The Plain Dealer published an article about the Ledges in 1906 called Forest Ledges – Place of Beauty and Romance. It includes a photo of very similar stairs. The caption reads, "Path to Cottage." Mr. Thompson owned a nearby farm. Future research might answer whether he built the original stairs.

Climbing the stairs feels like an adventure. They are uneven and sometimes slippery. Head up the stairs to gain access to the trail back to the Ledges Shelter.

If you decide not to take the stairs, continue on the Ledges Trail. Heading to the right will take you to a connector trail to either the Octagon Shelter or Pine Grove Trails. Continuing past those connector trails leads to the Ledges Overlook. Travelling to the left will lead to Ice Box Cave in about a half mile.
Last updated: April 2, 2021