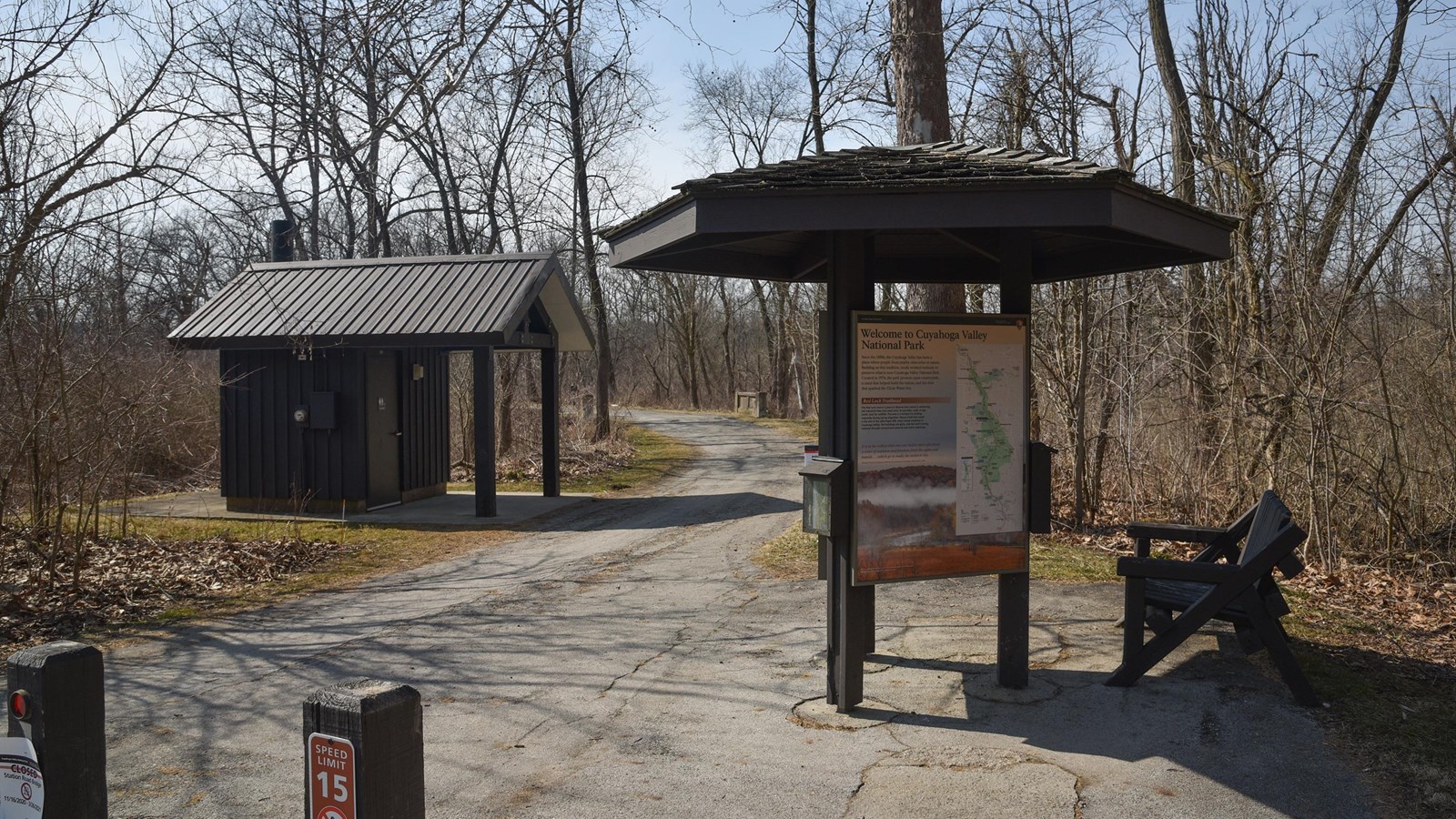 Location:
1175 Highland Road, Sagamore Hills, Ohio 44067
Significance:
Red Lock Trailhead provides access to Cuyahoga Valley National Park's interconnected trail system.
Designation:
Ohio and Erie Canal District; Ohio and Erie Canalway National Heritage Area; Ohio to Erie Trail; Industrial Heartland Trail Network; Lake Erie Birding Trail
Audio Description, Historical/Interpretive Information/Exhibits, Information - Maps Available, Information Kiosk/Bulletin Board, Parking - Auto, Restroom, Restroom - Accessible, Toilet - Vault/Composting, Trailhead, Trash/Litter Receptacles, Wheelchair Accessible
Red Lock Trailhead is a jumping off point to recreate, relax, exercise, and learn in Cuyahoga Valley National Park. The small trailhead has fifteen parking spaces and does not accommodate over-sized vehicles. It serves several trails in the park's interconnected trail system. Its name comes from a nearby lock on the Ohio & Erie Canal Towpath Trail.

Head out on the Towpath Trail to observe how nature is reclaiming old industrial sites and canal ruins. As you bike, walk, or jog north, look for wildlife. The area is a hotspot for birding, especially during spring migration. About a half-mile south is the site of the Jaite Paper Mill, once a large employer in Cuyahoga Valley. The mill made paper, provided jobs, and shaped local communities. The buildings are gone, and the land is being restored through contaminant removal and native plantings.

The Valley Trail offers a more secluded trail experience. This hiking and horse trail follows the towpath south before veering to the left beyond the former paper mill. To head north on the trail, cross the Cuyahoga River on Vaughn Road. The entrance to the trail is on your right.

Walk further along Vaughn Road to reach a 0.7-mile connector hiking trail. It leads to Jaite, once the company town for the paper mill and now National Park Service headquarters. From the connector, cross Riverview Road and walk briefly along Snowville Road to find the Buckeye Trail, a long-distance hiking trail that heads both north and south from Snowville.

Red Lock Trailhead also serves the Cuyahoga River Water Trail. A gravel access drive adjacent to the Vaughn Road bridge allows for equipment drop off close to the river. Learn more at Red Lock Trailhead River Access.
Last updated: December 13, 2021