Place
Wetmore Trailhead Information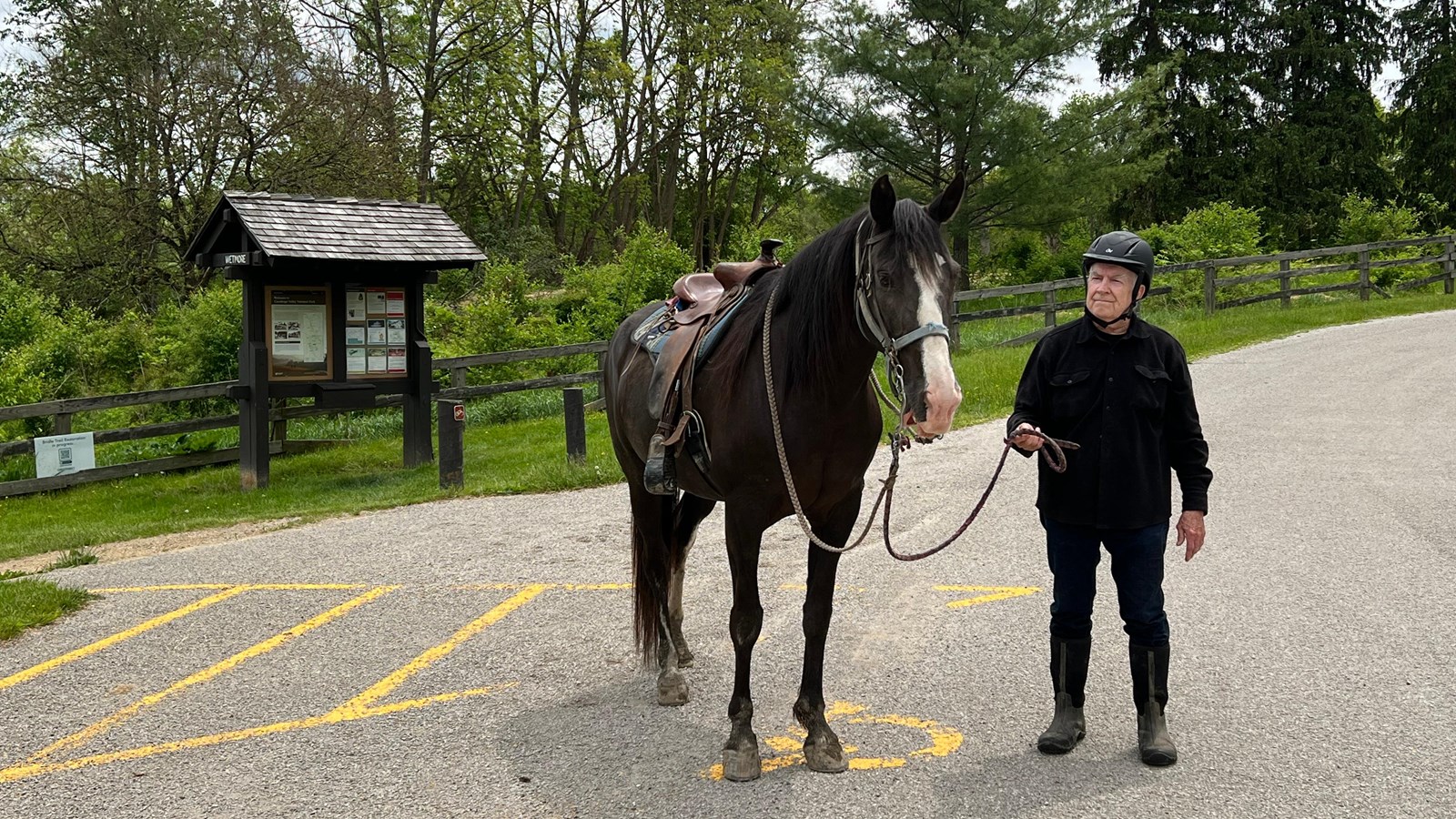 Location:
4653 Wetmore Road, Peninsula, Ohio 44264
Significance:
The former Blackacre Farm, nationally known for breeding horses, is gradually returning to nature. Resource management volunteers and staff have planted thousands of trees near Wetmore Trailhead. This reforestation project is part of a larger effort to restore the Cuyahoga River by reducing storm water runoff.
Audio Description, Information - Maps Available, Information Kiosk/Bulletin Board, Parking - Auto, Restroom, Restroom - Accessible, Toilet - Vault/Composting, Trailhead, Trash/Litter Receptacles
This trailhead got its name from Frederick and Emila Wetmore who farmed here in the late 1800s. In 1958, Tress and Peggy Pittenger bought the property and developed it as Blackacre Farm. Peggy was nationally known for breeding Morgans and Thoroughbreds and for writing books about raising horses. Today's trails in the Wetmore area follow old horse paths and logging roads established by past owners.

As you explore the area, you'll see fields of white tubes. Volunteers and staff have planted thousands of young trees here. These will help slow and filter water flowing downstream into the Cuyahoga River. In 2022, the Blackacre Farm buildings were removed as part of the habitat restoration.

In this network of shared trails, hikers and horseback riders can find creeks, woods, wildflowers, and fewer people. The trail surface is unpaved and the landscape is hilly. Trail conditions can be muddy in spring or after a heavy rain. For everyone's safety, hikers should always yield to horseback riders.

From the bulletin board information panels, you can head in two directions. To the right and across Wetmore Road are the Langes Run, Valley, and Butler's trails. The Valley Trail continues south to another shared trail network near Everett Covered Bridge. If you turn left at the information board, the downhill path leads to the Wetmore, Valley, and Tabletop trails. From the Wetmore loop, you can cross Quick Road into the Pine Hollow parking lot to link with the hiking trails in the Kendall Lake area. Be aware, this section of the Valley Trail currently ends at Riverview Road, about a mile north of where it branches off the Wetmore Trail.
Last updated: May 31, 2022