Place
Lock 29 Trailhead Information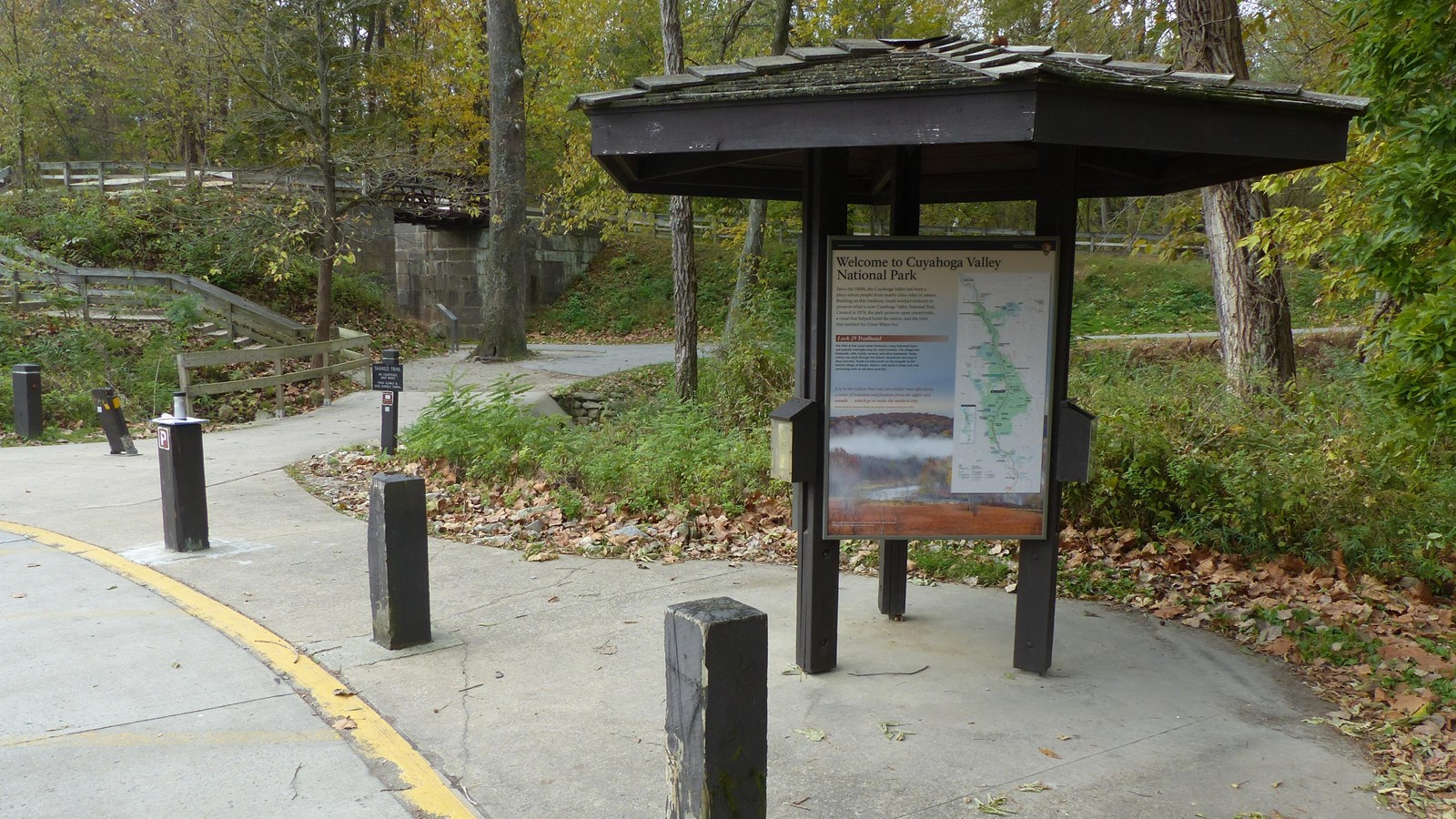 Location:
Lock 29 Trailhead, 1648 Mill Street, Peninsula, Ohio 44264
Significance:
The Ohio & Erie Canal made Peninsula a busy industrial town and popular overnight stop for canal travelers. Lock 29 continues to be a popular jumping-off point for exploring Cuyahoga Valley National Park and the Ohio & Erie Canalway.
Designation:
Peninsula Village Historic District; Ohio to Erie Trail; Ohio & Erie Canalway National Heritage Area; Ohio and Erie Canal District; Industrial Heartland Trail Network; National American Heritage River
Accessible Sites, Audio Description, Baby Changing Station, Canoe/Kayak/Small Boat Launch, Historical/Interpretive Information/Exhibits, Information - Maps Available, Information Kiosk/Bulletin Board, Parking - Auto, Restroom, Restroom - Accessible, Toilet - Flush, Trailhead, Trash/Litter Receptacles, Water - Bottle-Filling Station, Water - Drinking/Potable, Wheelchair Accessible
The Ohio & Erie Canal made Peninsula a busy industrial town and popular overnight stop for canal travelers. The village had boatyards, mills, hotels, taverns, and other businesses. Lock 29 Trailhead is a popular, often crowded access point for the village and Ohio & Erie Canal Towpath Trail. It also provides parking for Cuyahoga Valley Scenic Railroad and the Cuyahoga River Water Trail.

The trailhead is named for canal Lock 29. The path beyond the kiosk lets you walk into the lock. Exhibits explain the lock and an aqueduct that once carried the canal over the Cuyahoga River. On the towpath, travel 2.3 miles north to the historic village of Boston. About a mile south is Deep Lock and connecting trails to old stone quarries.

The railroad arrived in 1880. Its construction removed one of the curves of the Cuyahoga River to reduce the need for bridges. Peninsula Depot now serves Cuyahoga Valley Scenic Railroad passengers. The walkway near the trailhead entrance drive leads to the depot.

The walkway also leads to Peninsula's restaurants and shops. The area was settled originally as Connecticut's Western Reserve. Stroll the village to enjoy New England-style architecture. As you browse, you might find yourself in a former bar, hotel, or immersed in a story of times past.

At the trailhead, paddlers can use a put-in for the Cuyahoga River Water Trail. The Buckeye Trail, a long-distance trail that circles Ohio, passes through the trailhead. Follow the blue blazes through town to go north or head south using the Towpath Trail.

Late in the late 1800s, residents of the cities of Cleveland and Akron discovered the valley as a place for respite and relaxation. Today, Peninsula is a haven for cyclists, hikers, runners, paddlers, birders, and history buffs.
Last updated: April 27, 2021