Place
Lock 38 at Canal Exploration Center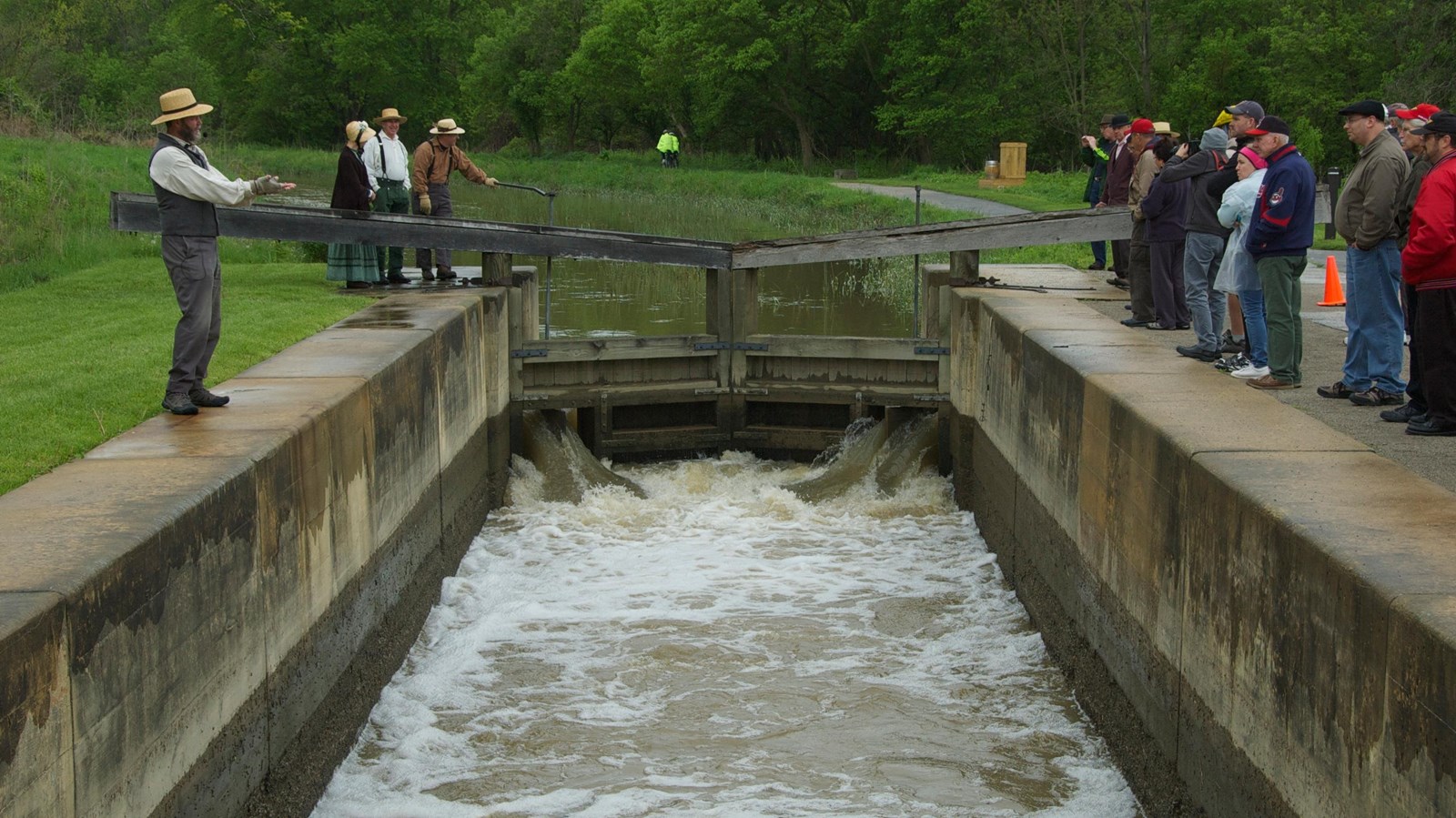 Location:
Canal Exploration Center, 7104 Canal Road, Valley View, Ohio 44125
Significance:
Lock 38 is a reconstruction of the original lock outside what is now Canal Exploration Center. Also called Twelve Mile Lock, this is the last functioning lock that remains on the Ohio & Erie Canal.
Designation:
Ohio & Erie Canal District, Ohio and Erie Canalway National Heritage Area, Ohio to Erie Trail, Industrial Heartland Trail Network, National Register of Historic Places
Accessible Rooms, Accessible Sites, Amphitheater, Assistive Listening Systems, Audio Description, Automated External Defibrillator (AED), Baby Changing Station, Benches/Seating, Bicycle - Rack, Cellular Signal, Electrical Outlet/Cell Phone Charging, Elevator, Fire Extinguisher, First Aid Kit Available, Gifts/Souvenirs/Books, Grill, Historical/Interpretive Information/Exhibits, Information, Information - Maps Available, Information - Park Newspaper Available, Information - Ranger/Staff Member Present, Information Kiosk/Bulletin Board, Parking - Auto, Parking - Bus/RV, Picnic Table, Restroom, Restroom - Accessible, Restroom - Family, Scenic View/Photo Spot, Tactile Exhibit, Toilet - Flush, Toilet - Vault/Composting, Trailhead, Water - Bottle-Filling Station, Water - Drinking/Potable, Wheelchair Accessible, Wheelchairs Available
Outside of Canal Exploration Center is a reconstruction of Lock 38. On summer weekends when conditions allow, volunteers demonstrate how a lock operates. Canals were designed as waterways without waterfalls or a current. Locks were built to raise or lower canal boats wherever there was a significant change in elevation. A lock works much like a toy in a bathtub. If a boat needs to go up, water is let in through butterfly valves in the upstream gate. The chamber is filled until it is level with the upstream water. If the boat needs to go down, water is let out through butterfly valves in the downstream gate. When the water is low enough to match the downstream level, the downstream gates can be opened. To fit inside the locks on the Ohio & Erie Canal, boats could be no more than 75 feet long.
Last updated: April 13, 2021