Place
Haskell Run Trailhead Information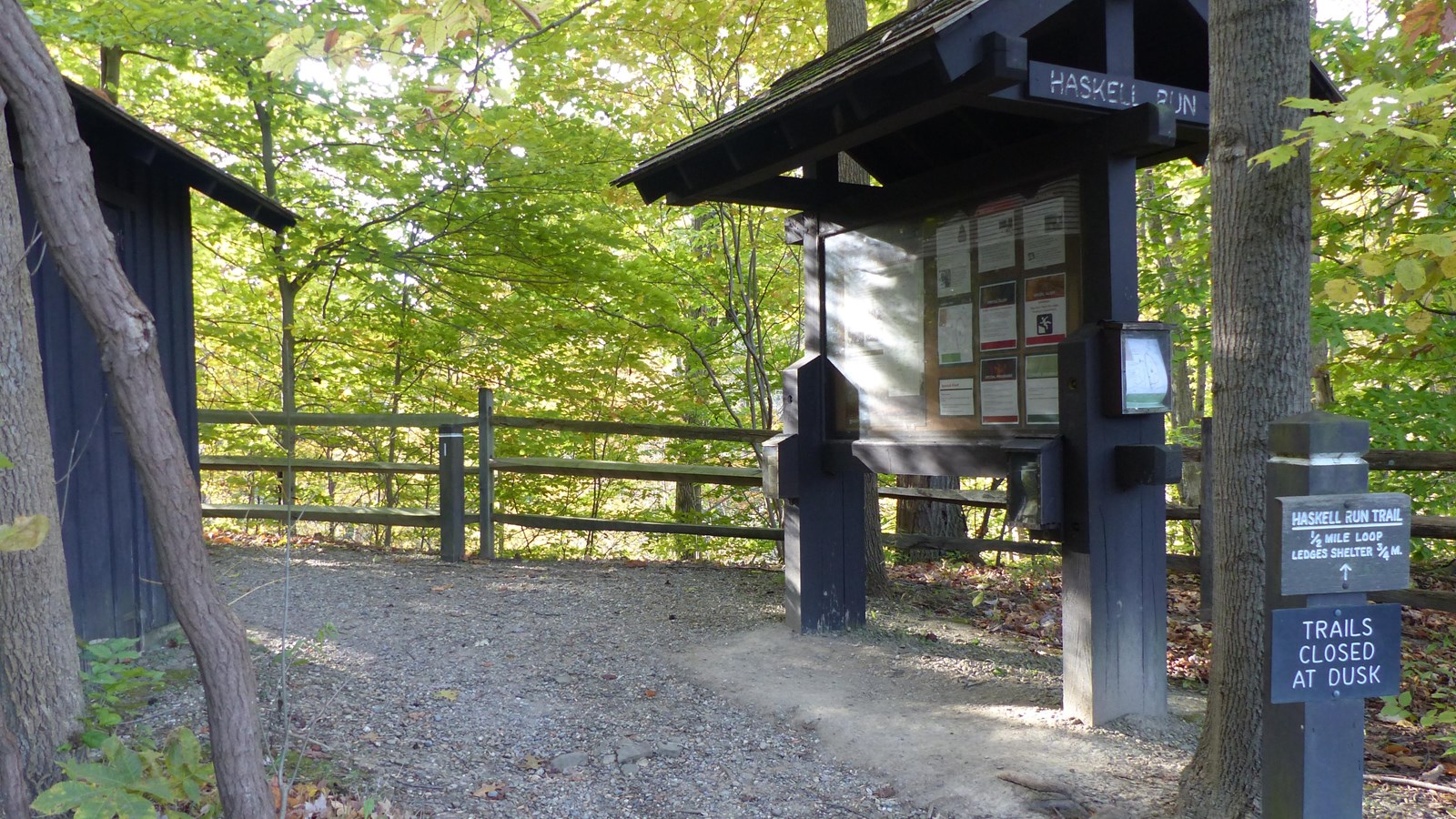 Location:
Park in the main lot for Happy Days Lodge, 500 West Streetsboro Road, Peninsula 44264. Follow the walkway through the tunnel under the road. Trailhead information is by the accessible parking lot at the lodge.
Significance:
This short walk explores a scenic, deep ravine created by Haskell Run, a tributary of the Cuyahoga River. This area is part of the Virginia Kendall State Park Historic District.
Designation:
Virginia Kendall State Park Historic District; Ohio and Erie Canalway National Heritage Area
Audio Description, Information - Maps Available, Information Kiosk/Bulletin Board, Parking - Auto, Trailhead
Take a few minutes to walk a world away. Haskell Run Trail starts at the corner of the accessible parking lot behind Happy Days Lodge. This 0.5-mile loop trail explores Haskell Run, one of the healthiest streams in Cuyahoga Valley National Park. Spring offers abundant wildflowers. Summer is flush with birdsong. Scenery from fall colors and winter snow make the trail a year-round destination.

You can also explore beyond Haskell Run. At the midpoint of the trail, a short connector leads to the Ledges. This rocky outcropping of Sharon Sandstone and Conglomerate is one of the most impressive geologic features in the park. A 1.8-mile trail circles the Ledges, offering up-close views of the rock.

Parking for the Haskell Run Trailhead is across the street, on the north side of State Route 303. A short pedestrian tunnel provides a safe route under the road. The parking behind Happy Days Lodge is for disabled and drop-off parking only.
Last updated: May 25, 2021