Fossil Park Highlights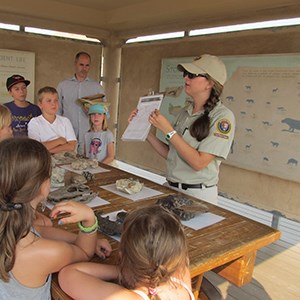 Many National Park units have made information about their fossils and paleontology programs available on the Internet. Follow these links to learn more about educational programs and fossil resources in the National Parks.
Search by Park Name:
Amistad National Recreation Area (AMIS), Texas
Aniakchak National Monument and Preserve (ANIA), Alaska
Bering Land Bridge National Preserve (BELA), Alaska
Big Bend National Park (BIBE), Texas
Bighorn Canyon National Recreation Area (BICA), Montana & Wyoming
Black Canyon of the Gunnison National Park (BLCA), Colorado
Boston Harbor Islands National Recreation Area (BOHA), Massachusetts
Bryce Canyon National Park (BRCA), Utah
Buffalo National River (BUFF), Arkansas
Canyonlands National Park (CANY), Utah
Cape Krusenstern National Monument (CAKR), Alaska
Capitol Reef National Park (CARE), Utah
Carlsbad Caverns National Park (CAVE), New Mexico
Chaco Culture National Historical Park (CHCU), New Mexico
Channel Islands National Park (CHIS), California
Chickasaw National Recreation Area (CHIC), Oklahoma
Coronado National Memorial (CORO), Arizona
Craters of the Moon National Monument and Preserve (CRMO), Idaho
Cuyahoga Valley National Park (CUVA), Ohio
Denali National Park and Preserve (DENA), Alaska
Dinosaur National Monument (DINO), Colorado & Utah
Fossil Butte National Monument (FOBU), Wyoming
Glacier National Park (GLAC), Montana
Glen Canyon National Recreation Area (GLCA), Arizona & Utah
Golden Gate National Recreation Area (GOGA), California
Grand Canyon National Park (GRCA), Arizona
Grand Teton National Park (GRTE), Wyoming
Guadalupe Mountains National Park (GUMO), Texas
Kobuk Valley National Park (KOVA), Alaska
Mesa Verde National Park (MEVE), Colorado
Mississippi National River and Recreation Area, Minnesota
Mojave National Preserve (MOJA), California
Montezuma Castle National Monument (MOCA), Arizona
National Capital Parks District of Columbia (NACE), Maryland, Virginia
Natural Bridges National Monument (NABR), Utah
New River Gorge National River (NERI), West Virginia
Niobrara National Scenic River (NIOB), Nebraska
Olympic National Park (OLYM), Washington
Oregon Caves National Monument (ORCA), Oregon
Pictured Rocks National Lakeshore (PIRO), Michigan
Pinnacles National Monument (PINN), California
Point Reyes National Seashore (PORE), California
Prince William Forest Park (PRWI), Virginia
Santa Monica Mountains National Recreation Area (SAMO), California
Scotts Bluff National Monument (SCBL), Nebraska
Springfield Armory National Historic Site (SPAR), Massachusetts
Theodore Roosevelt National Park (THRO), North Dakota
Timpanogos Cave National Monument (TICA), Utah
Tuzigoot National Monument (TUZI), Arizona
Vicksburg National Military Park (VICK), Mississippi & Louisiana
Wind Cave National Park (WICA), South Dakota
Wupatki National Monument (WUPA), Arizona
Yukon-Charley Rivers National Preserve (YUCH), Alaska



Send comments or corrections to email us.
Last updated: November 27, 2023