Fossil Park Highlights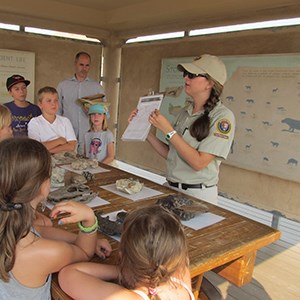 Many National Park units have made information about their fossils and paleontology programs available on the Internet. Follow these links to learn more about educational programs and fossil resources in the National Parks.
Search by Park Name:
Agate Fossil Beds National Monument, NE
Amistad National Recreation Area, TX
Aniakchak National Monument and Preserve, AK
Badlands National Park, SD
Bering Land Bridge National Preserve, AK
Big Bend National Park, TX
Bighorn Canyon National Recreation Area, MT &WY
Boston Harbor Islands National Recreation Area, MA
Bryce Canyon National Park, UT



Send comments or corrections to email us.
Last updated: February 27, 2022