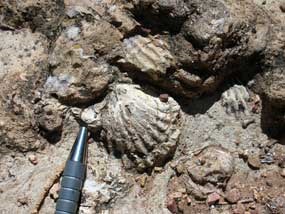 Go to:
Marine Fossils
Terrestrial Fossils
Recent Fossils
Grand Canyon has so much more than pretty scenery. It contains an amazing diversity of rock formations with an abundance of fossils hidden within. The sedimentary rocks exposed throughout the canyon are rich with marine fossils such as crinoids, brachiopods, and sponges with several layers containing terrestrial fossils such as leaf and dragonfly wing impressions, and footprints of scorpions, centipedes, and reptiles. Ancient fossils preserved in the rock layers range from algal mats and microfossils from Precambrian Time 1,200 million to 740 million years ago to a multitude of body and trace fossils from the Paleozoic Era 525-270 million years ago.
What about dinosaur fossils? Not at Grand Canyon! The rocks of the canyon are older than the oldest known dinosaurs. To see dinosaur fossils, the Triassic-aged Chinle Formation on the Navajo Reservation and at Petrified Forest National Park is the nearest place to go.
It is illegal to dig up, relocate, and/or remove fossils from Grand Canyon National Park. If you find a fossil, please leave it for others to discover and scientists to study. You are welcome to take a picture or make a drawing of the fossil, then go to one of the visitor centers to see if a park ranger can help you identify it.