Natural Features & Ecosystems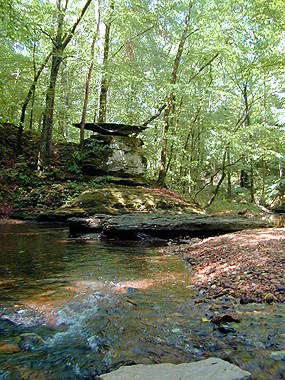 Biological diversity is dependent upon environmental diversity in time and space. As the environment changes over time and the landscape varies geographically, ecological niches are created that become filled by species adapted to each niche by natural selection. The Natchez Trace Parkway is a haven of biodiversity because it traverses a variety of ecosystems that possess an amazing array of natural features.
The southern portion of the park features bayous and swamps situated in the floodplains of meandering rivers. Man-made impoundments of flowing watercourses have created small ponds and massive lakes with miles of shoreline.
Toward the northern end, the park rises in elevation. Outcrops of limestone become apparent, some of which contain caves and fossils. Limestone is also the parent material underlying the park's remnant prairies. The natural feature most readily visible, however, are the vast tracts of eastern deciduous forest lining the parkway motor road.
Come back later, we are working on this page.
Visit our keyboard shortcuts docs for details
Duration:

56 seconds
Enjoy the sights and sounds of a rainy day on the Old Trace. The video has no dialogue. Sounds of rain, breezes blowing leaves, and a pickup truck driving by can be heard.
Last updated: October 3, 2022