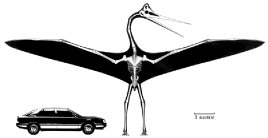 Pterosaur Lifeways
The earliest known pterosaurs lived about 220 million years ago in the Triassic period, and the last ones died about 65 million years ago at the end of the Cretaceous period. They ranged from pigeon-sized with a wingspan of 18 inches to ultralight-airplane-sized Quetzalcoatlus with a wingspan of 36–39 feet. Exceptionally well-preserved fossils have shown that pterosaurs were covered with hair.
Pterosaurs were the first vertebrates to adapt to a life of active flight. Only two other groups of vertebrates are active fliers, namely birds and bats. Despite the unavoidable comparison of pterosaurs with birds, it is important to note that they are very different animals that followed different evolutionary pathways. In fact, the early birds existed at the same time as some of the pterosaurs, but birds managed to survive the mass extinctions at the end of the Cretaceous period while pterosaurs did not.
Flight tests with models of
Quetzalcoatlus
suggest that it was primarily a soaring creature controlling its direction by turning its head, flexing the three fingers on the wing's leading edge, and warping the wing tip. These giants, the last of the flying reptiles, were able to climb or dive by changing the wing sweep, but were probably unstable in gusty winds.