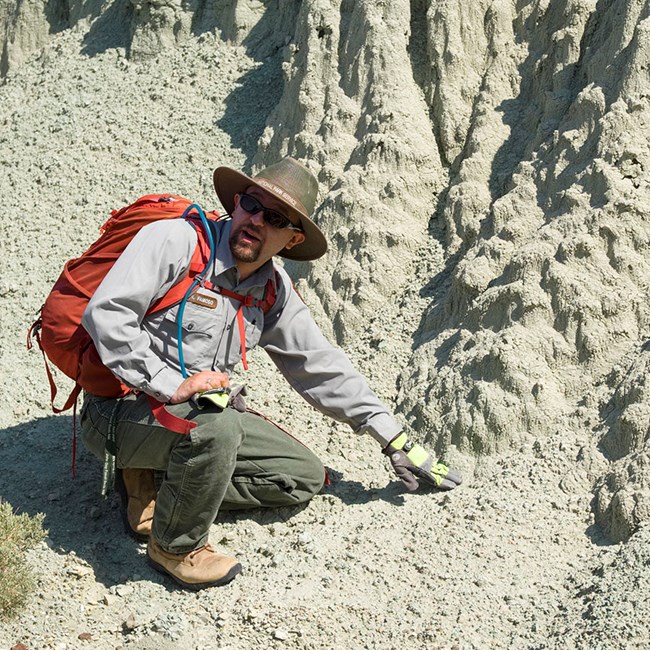 Nicholas A. Famoso, Chief of Paleontology/Museum Curator
Education:
Ph.D., Earth Sciences, University of Oregon, 2017
Dissertation: Mammalian Community Recovery from Volcanic Eruptions in the Cenozoic of North America
M.S., Geological Sciences, University of Oregon, 2013
Thesis: The Evolution of Occlusal Enamel Complexity in Middle Miocene to Recent Equids (Mammalia: Perissodactyla) of North America
B.S., Magna Cum Laude, Geology, South Dakota School of Mines and Technology, 2009
Research Website:
https://sites.google.com/site/nicholasfamosopaleo/
Research Interests:
I often use statistical methods to answer biological questions using data from the geologic record. I have been primarily interested in answering questions about the ecology of extinct mammals. As such, I like to think of myself as a paleoecologist and conservation paleobiologist that tends to think about big picture, process driven questions. Recently, I have been interested in understanding the processes which underlie mammalian community reconstruction after volcanic perturbations. I am especially interested in understanding the impact of large scale eruptions (supervolcanoes) on mammalian communities. As part of my dissertation, I focused on the recovery after the Picture Gorge ignimbrite in the Turtle Cove Member of the John Day Formation exposed at John Day Fossil Beds NM. I used modern data from the 1980 eruption of Mt. Saint Helens and the 1914-1916 eruption of Mt. Lassen as analogs to develop hypotheses of recovery and I plan to test these hypotheses in the fossil record of the Monument. Moving forward, I plan to continue investigating changes in the paleoecology of mammalian communities and variation in extinct species that once lived in eastern and central Oregon.
Disciplinary Expertise:
Vertebrate paleontology, evolutionary biology, morphology and systematics, phylogenetic comparative methods, biostratigraphy, and paleoecology.
Publications:
Liggett, G. A., T. Childs, N. A. Famoso, S. Floray, H. G. McDonald, A. L. Titus, & E. Varner. 2018. An overview of the contributions of federal land to paleontology, and a discussion of the U.S. Department of the Interior Museum Program. In Museums at the Forefront of the History of Philosophy of Geology, History Made, History in the Making. Geological Society of America Special Paper 535. p 311–334. DOI: 10.1130/2018.2535(21)
Famoso, N. A., S. S. B. Hopkins, E. B. Davis. 2018. How do diet and body mass drive reproductive strategies in mammals? Biological Journal of the Linnean Society 124(2):151-156. DOI:10.1093/biolinnean/bly038
Famoso, N.A. 2017. Statistical analysis of dental variation in the Oligocene Equid
Miohippus
(Mammalia, Perissodactyla) of Oregon. Journal of Paleontology. 91(5):1060-1068. DOI: 10.1017/jpa.2017.42
Famoso N. A., and E. B. Davis. 2016. On the relationship between enamel band complexity and occlusal surface area in Equids (Mammalia, Perissodactyla). PeerJ. 4:e2181 DOI: 10.7717/peerj.2181
Famoso, N. A., E. B. Davis, R. S. Feranec, S. S. B. Hopkins, & S. A. Price. 2016. Are Hypsodonty and Occlusal Enamel Complexity Evolutionarily Correlated in Ungulates? Journal of Mammalian Evolution. 23(1): 43-47. DOI: 10.1007/s10914-015-9296-7#
Famoso, N.A. & S.S.B. Hopkins. 2014. Correction to the holotype (AMNH FM 9394) of
Merychippus proparvulus
Osborn, 1918 (Perissodactyla, Equidae). Journal of Vertebrate Paleontology. 34(5): 1249-1250. DOI: 10.1080/02724634.2014.853073
Famoso, N.A. & E.B. Davis. 2014. Occlusal enamel complexity in middle Miocene to Holocene Equids (Equidae: Perissodactyla) of North America. PLoS One. 9(2): e90184. DOI: 10.1371/journal.pone.0090184
Famoso N.A., R.S. Feranec, & E. B. Davis. 2013. Occlusal enamel complexity and its implications for lophodonty, hypsodonty, body mass and diet in extinct and extant ungulates. Palaeogeography, Palaeoclimatology, Palaeoecology. 387: 211-216. DOI: 10.1016/j.palaeo.2013.07.006
Famoso, N.A. & D.C. Pagnac. 2011. A Comparison of the Clarendonian Equid Assemblages from the Mission Pit, South Dakota and Ashfall Fossil Beds, Nebraska. Transactions of the Nebraska Academy of Sciences and Affiliated Societies. 32: 98-107.