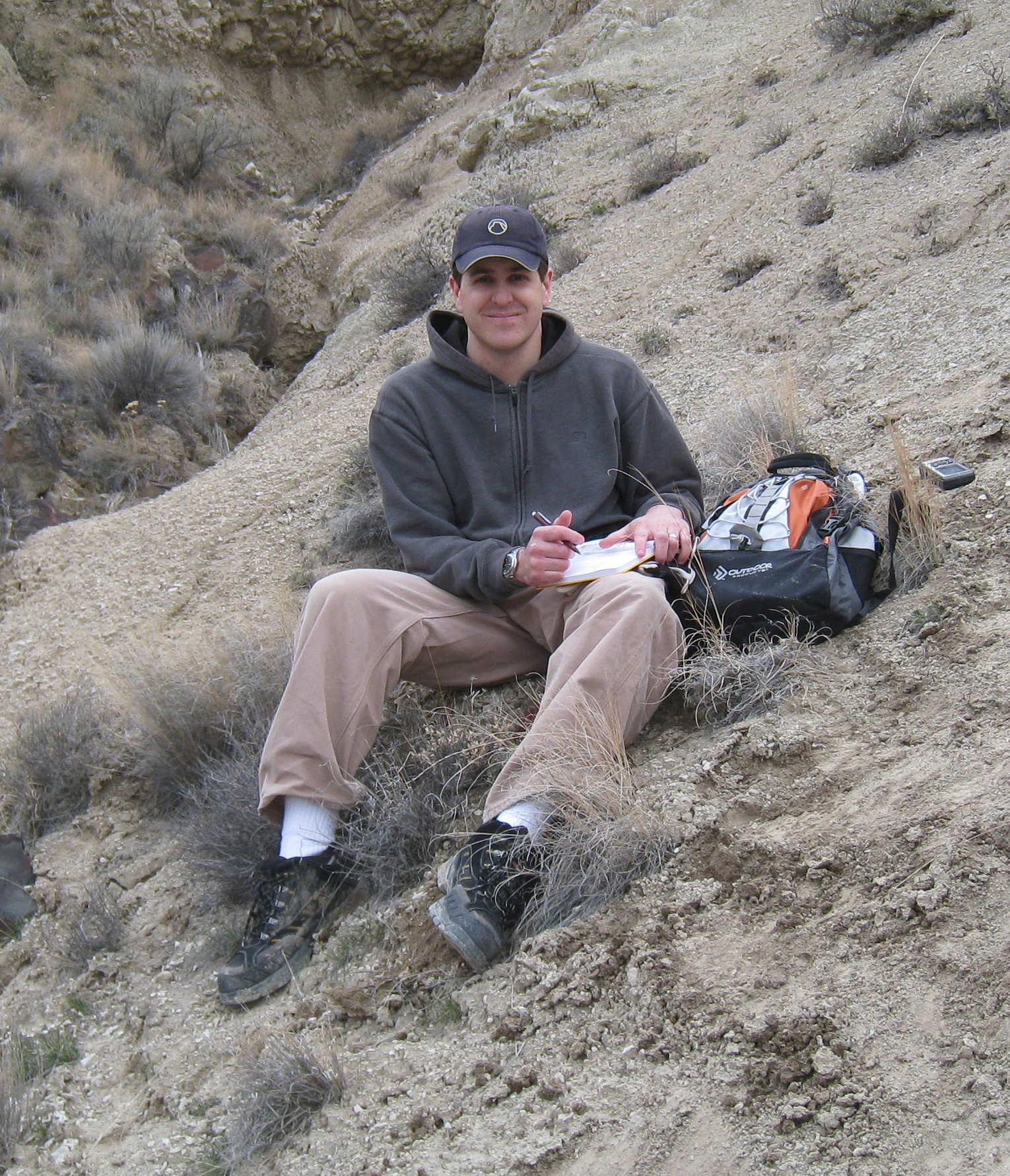 Joshua X. Samuels
Museum Curator/ Paleontologist
Education:
2001 B.Sc., Biology - College of Idaho
2007: Ph.D., Biology - University of California, Los Angeles
2007: Dissertation: Paleoecology and Functional Morphology of Beavers (Family Castoridae)
2007: Ph.D. Advisor: Dr. Blaire Van Valkenburgh
Research Interests: My primary research interests lie in the broad fields of vertebrate paleontology and evolution. My dissertation research was designed to aid in reconstruction of past ecosystems and in understanding of the evolution of rodents. Rodents are the most species rich group of mammals, live in nearly every terrestrial habitat on earth, and display diverse locomotor and dietary adaptations. Relative to larger mammals, rodents tend to have more localized populations, shorter dispersal distances, and shorter generation times. Consequently, rodents are likely to adapt more rapidly to changing conditions, making them very informative as to the timing and magnitude of environmental changes over the Cenozoic. Nevertheless, rodents have been largely overlooked in paleoecological reconstructions due to a lack of data on their ecomorphology.
Much of my research to date has focused on using morphometric techniques to infer the locomotor and dietary ecology of extinct rodents. Living rodents show a diverse array of locomotor types, including: swimming, climbing, digging, jumping, and gliding forms. Though most rodents are omnivores or generalist herbivores, some species have independently evolved highly specialized carnivorous, insectivorous, and herbivorous diets. Examination of skeletal and dental differences between rodents with different habits has revealed how their anatomy relates to functional characteristics. My results can be used by other researchers to easily infer the locomotor and dietary habits of extinct rodents, and to study their evolution over time.
I am currently working on several collaborative projects in the areas of evolution and paleoecology. These include: 1) the evolution of burrowing and semi-aquatic mammals, 2) the evolution of mammalian body size, and 3) the differing responses of large and small mammals to past and future climate change. I am also working on a revision of the lagomorphs (rabbits and pikas) and description of several new species from the John Day Formation.
Disciplinary Expertise: Vertebrate paleontology, evolutionary biology, functional morphology, and paleoecology.
Recent Publications:
Meachen, J.A., and J.X. Samuels. In Press. Evolution in coyotes (Canis latrans) in response to the megafaunal extinctions. Proceedings of the National Academy of Sciences.
Samuels, J.X., and J. Zancanella. 2011. An early Hemphillian occurrence of Castor (Castoridae) from the Rattlesnake Formation of Oregon. Journal of Paleontology, 85(5): 930-935.
Van Valkenburgh, B., A. Curtis, J.X. Samuels, D. Bird, B. Fulkerson, J. Meachen-Samuels, G.J. Slater. 2011. Aquatic adaptations in the nose of carnivorans: evidence from the turbinates. Journal of Anatomy, 218: 298-310.
Rybczynski, N., E.M. Ross, J.X. Samuels, and W. Korth. 2010. Re-Evaluation of Sinocastor (Rodentia: Castoridae) with Implications on the Origin of Modern Beavers. PLoS ONE 5(11): e13990. doi:10.1371/journal.pone.0013990
Samuels, J.X. 2009. Cranial morphology and dietary habits of rodents. Zoological Journal of the Linnaean Society, 156(4): 864-888.
Samuels, J.X., J.A. Meachen-Samuels, and P.A. Gensler. 2009. The first mid-Blancan occurrence of Agriotherium (Ursidae) in North America: a record from Hagerman Fossil Beds National Monument, Idaho. Journal of Paleontology, 83(4): 597-603.
Samuels, J.X. and B. Van Valkenburgh. 2009. Craniodental adaptations for digging in extinct burrowing beavers. Journal of Vertebrate Paleontology, 29(1): 254-268.
Samuels, J.X. and B. Van Valkenburgh. 2008. Skeletal indicators of locomotor adaptations in living and extinct rodents. Journal of Morphology, 269: 1387-1411.