Ancient Rhinoceros Fossil Discovered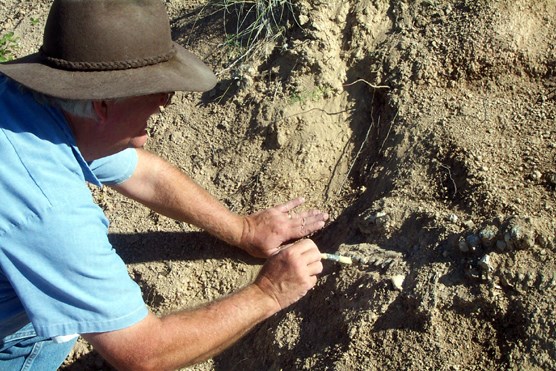 Date
September 08, 2003

Contact
Tom Farrell, 605-745-1130

An approximately 32 million-year-old rhinoceros fossil was recently found in Wind Cave National Park. This fossil, tentatively identified as a Subhyracodon sp., was found as part of a paleontological survey being conducted at the park in late July. The Subhyracodon sp. was a cow-sized rhinoceros that lived approximately 30 to 39 million years ago primarily in the central Great Plains region of North America.
National Park Service Paleontologist Dr. Greg McDonald and Cave Management Specialist Rod Horrocks were inventorying a section of the park's backcountry on July 23 when McDonald noticed a row of teeth lying on the surface. He stopped and then saw part of the skull with teeth of the rhinoceros protruding out of the nearby dirt. In honor of the park's one-hundredth anniversary, this paleontological site was named the Centennial Site.
When it later became apparent the teeth were rapidly eroding out of the bank and in danger of being lost, plans were made to recover the fossil. The crew was lead by McDonald and consisted of staff from Badlands National Park, the Mammoth Site of Hot Springs, and Wind Cave National Park. They worked for most of a week to stabilize the fossils and remove them. While excavating the skull and jaw, part of the animal's skeleton was encountered along with additional bones of a Mesohippus, a greyhound-sized horse; a Leptomeryx, a primitive deer; a Paleolagus, an early rabbit; and evidence of a primitive dog.
McDonald said, "This is a really extraordinary find. Oligocene fossils from the Black Hills are rare and most previous discoveries have been single bones and isolated teeth. To find not only a complete skull and jaws but part of the skeleton as well was totally unexpected. Finding remains from the other animals helps us reconstruct what the ancient ecosystem of the Wind Cave area was like approximately 32 million years ago."
Weighing nearly twelve hundred pounds, the fossil material, encased in sediment and plaster jackets for protection, was transported to the Mammoth Site in Hot Springs on August 30. Preliminary work has since begun at the Mammoth Site in preparing the specimen. Catherine Burgess, a Cambridge University Graduate student from England, will be working in the Mammoth Site laboratory for the next month on the teeth first seen by McDonald. Burgess was brought to this country on an internship paid for by the Mammoth Site and sponsored by Wind Cave National Park.
Dr. Larry Agenbroad, Mammoth Site Principal Investigator, said, "This is an exciting discovery which provides for cooperative ventures in the prehistory of the southern Black Hills. Within an approximate 20 mile transect, we have at least five localities providing paleontological 'windows' to view the animals that lived in this region around 32 million years ago; 263,000 years ago; 26,000 years ago; and 10,000 years ago."
Park Superintendent Linda L. Stoll said, "We are very excited about this discovery and hope people will stop by the park to view our display on the Subhyracodon and other fossils found at the Centennial Site, along with stopping at the Mammoth Site to view the work in progress."
Plans are underway to seek funding necessary to prepare the specimens for display and scientific study.
To learn more about the discovery, including watching video clips from the dig site, log onto Wind Cave's website at www.nps.gov/wica or stop by the Wind Cave Visitor Center that is open 8 a.m. to 6 p.m. To view actual specimens being prepared in their laboratory, visit the Mammoth Site in Hot Springs between 8 a.m. to 5 p.m.
Last updated: April 10, 2015