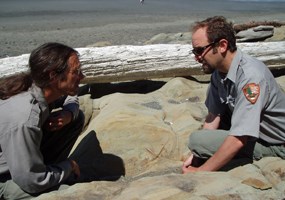 Ancient Sea Star Discovered on Olympic Coast
On what seemed to be an ordinary day at Kalaloch, one lucky visitor made an extraordinary find. Embedded in a sandstone bluff on Beach Four was a fossilized sea star, the likes of which have never before been seen on the Olympic coast.
"It's very unusual," said Gay Hunter, Olympic National Park's museum curator. "Once it's studied we'll know a lot more."
The visitor used a cell phone to take a picture of the fossil, and showed it to Interpreter Pat Shields, who in turn alerted other park staff. Curators at the University of Washington's Burke Museum and the Denver Museum of Nature and Science were then contacted for advice. They responded with enthusiasm, advising that the fossil be excavated from its site for safe long-term storage and study. In the words of one paleontologist, "This is indeed fabulous and beautiful and so amazingly unusual."
The sea star was removed from the beach about two weeks later, on July 16. On the advice of museum experts, park staff used a diamond-bladed rock saw to cut it from the rock, a six-hour process that was gingerly undertaken to protect the fragile fossil. The project piqued the interest of numerous passersby, and an interpreter was part of the team to help explain the process to Kalaloch visitors.
"It was a little unnerving," said Olympic National Park Coastal Ecologist Steve Fradkin, who headed the excavation project. "I've never actually used a rock saw to remove a fossil before."
Initial analysis of the sea star puts it at somewhere between 5 and 24 million years old. While the taxonomy is not apparent, the turbidite formation it was found in suggests it was a denizen of the deep seas. It was likely preserved in sediment by an underwater avalanche and like the peninsula's numerous other marine sediments, was later uplifted to form the Olympic Peninsula.
The sea star was sent to the Burke Museum, where it will be studied and put on display along with a discussion of the importance of national parks in preserving fossil resources. Fradkin, however, says that park visitors are just as vital to paleontology as the park itself.
"These fossils are out there," he said. "If a vigilant visitor hadn't noticed it, we would never have found it."
-- Matthew Connolly, Intern