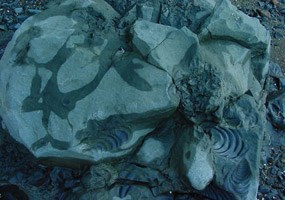 Coastal cliffs between Cook Inlet and the eastern side of Lake Clark National Park hold fossil remnants of 150 million years of sea life.
Please look at, touch, and enjoy these unique fossils! We ask you, however, to resist the temptation to take them home. Removing fossils from the park and preserve is illegal. Although Lake Clark seems remote, in fact many people visit the area. If visitors take fossils and other artifacts, eventually there will be no more left and our national heritage will be impoverished.
"Alaska's Jurassic Park"
Lake Clark National Park & Preserve contains marine sedimentary rocks containing fossils that span from the Permian (~260 million years ago) to the Cretaceous (~70 m.y.a.). Marine sedimentary rocks can be found throughout the park, but the eastern Cook Inlet coast holds one of the most complete and best preserved Jurassic (145-201 m.y.a.) sedimentary rock sections in the world.
These Jurassic rocks were formed offshore of the paleo-Alaskan coast as an island arc in the paleo-Pacific ocean, much like the modern Aleutian arc. The Lower Jurassic rocks of the coast are made up of volcanic and volcaniclastic sedimentary rocks of the Talkeetna Formation, which is the volcanic carapace of what is called the Talkeetna Arc.
Rocks of the Talkeetna Arc span across southern Alaska from Wrangell-St. Elias NP&P, through the Talkeetna Mountains (its namesake) and Lake Clark NP&P, to Katmai NP&P. Data from related rocks suggest that during the Lower Jurassic, the rocks of the Alaska Peninsula were far south of their current position relative to the North American continent. Overlying the Lower Jurassic volcanic rocks are Middle and Upper Jurassic marine sedimentary rocks that contain abundant marine fossils. These rocks also span across southern Alaska, but extend further southwest along the Alaskan Peninsula to Aniakchak NM&P.
The Middle Jurassic rocks contain a rich diversity of marine invertebrate fossils (ammonites, bivalves, and belemnites), which indicate that the rocks were formed in productive, warm waters. Whereas, the Late Jurassic rocks contain almost exclusively bivalves of the genus Buchia, which were cold water "Boreal" mussel like animals.
This change in biodiversity from the Middle to Late Jurassic also occurred on the North American continent, so it is not clear how much the change in fossil diversity was caused by plate tectonics moving the Talkeetna Arc northward, or global climate change. However, a recent discovery of glacial deposits in Late Jurassic marine sedimentary rocks near Lake Clark NP&P suggests that these rocks could have been farther north than their present position relative to the North American continent. In addition to the invertebrate fossils, the Late Jurassic marine sedimentary rocks also contain Ichthyosaur and Pliosaur fossil bones, and rare dinosaur tracks.