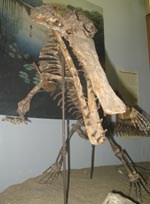 Note: Collecting fossils, petrified wood, rocks, or any other materials in Theodore Roosevelt National Park is prohibited by law.
If you have ever stood in the badlands on a hot, dry summer day or a freezing, blustery winter day, a warm, wet, and humid swamp might be the most opposite type of climate and environment you could imagine. Despite its stark contrast with today, fossil evidence in Theodore Roosevelt National Park strongly suggests that a swampy environment is exactly what used to be here in today's badlands. The fossil record shows that in the Paleocene Epoch, just after the time of the dinosaurs, this area was a vast swamp teeming with turtles, crocodilians, and bald cypress trees. A three-year cooperative paleontological survey conducted in Theodore Roosevelt National Park by the North Dakota Geological Survey shed light on this part of North Dakota's geologic history.
The fossilized remains of a crocodile-like reptile named Champsosaurus were excavated from a hillside in the South Unit in October 1995 by Dr. John Hoganson, paleontologist with the North Dakota Geological Survey, and his assistant, Jonathan Campbell. The ancient reptile once inhabited the fresh waters in what is now western North Dakota about 55 million years ago during the Paleocene epoch. At that time, the climate was subtropical, similar to that of present day Florida.