Recreation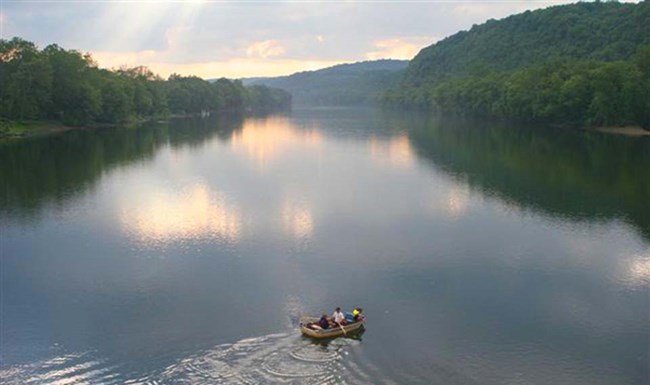 Recreational activities on rivers at national parks are as varied as the places themselves. Rivers offer places to walk along the bank, boat or paddle, wade in the current, fish, or just sit and relax. These parks provide ideal places to get out on the water, whether you prefer flat water or rapids. National parks provide countless ways to experience our country's great waterways and explore its heritage. Today, many of us lead fast-paced, high stress lives, making the need for places to relax, refresh, and renew that much more important. Our river parks are here for you to enjoy –whether you are seeking quiet contemplation or high adventure.
Paddle Sports and Boating
Boating or paddling a river can be a relaxing way to explore the scenery and see wildlife, or it can be an adrenaline-filled adventure –it's up to you! On a canoe, kayak, or paddleboard, you can access areas that are too narrow or shallow for larger boats and see wildlife that would be scared away by a motorized vessel. Paddling thus gives you the best of both worlds –you can enjoy the scenery above the waves and peer down through clear water at the marine world below.

You don't need to own a boat to experience these possibilities; many parks offer boat rentals and boat tours. If you do own a vessel, be sure to check with individual parks before heading out. Some parks require a permit to operate a vessel in certain areas. Certain parks restrict or prohibit personal watercrafts due to resource protection or safety concerns.

Safely Enjoy Your Parks
Swimming in open, natural waters is very different from swimming in pools. Natural waters can change in depth unexpectedly, going from shallow-to-deep in just a few steps. Natural waters can also have swift currents, waterfalls, cold temperatures, and underwater hazards such as trees and boulders. Distances between shorelines can also be very deceiving. Weather can change very quickly. Every park with natural water has set rules on swimming. In some parks, wading or swimming is allowed and in others it is prohibited, or not allowed, because of the hazards around, on, or in the water.
Swimming
Many national parks across the nation offer great opportunities for swimming, and safety is essential for all ages when enjoying this activity. If the park you are thinking about visiting has lifeguards, make sure you swim when and where the lifeguard is present. If you are at a park without lifeguards, be sure you are completely qualified to be swimming there, and use the buddy system. Some parks have swimming locations that are particularly susceptible to changing environmental and weather conditions –in places like this, use sound judgment before entering the water, and stay alert.
Boating
When you are boating, weather, water, and wind conditions can change quickly, so being prepared for these unstable weather conditions is essential. Safety is a top priority for boating in any national park. To learn more about safe boating, visit these resources:
In addition, most individual park sites offer more locally specific information on boating safety. To learn more about boating safety at a certain national park, visit that park's website or contact its staff for more information.
Paddling
If you are paddling, be aware of what conditions are expected in the park. In rivers with rapids, paddling can be a high-risk activity that should not be undertaken alone, or by any novice, first-time, or inexperienced paddler. Check the safety rules for any national park site you plan to visit and experience through paddling. Make sure to choose a form of paddling that is appropriate to your experience level –flat water vs the varied classed rapids –so that you can have the best possible experience exploring your national parks with rivers.

Read this before you go: Water Safety in National Parks
Discover interactive maps, paddling and access information, and local managers for rivers in the United States using the National Rivers Project Explorer developed by the River Management Society.

River Recreation in Your National Park
The images below provide the name of a national park and the river recreation activity(s) allowed in the park. Always check park rules, regulations and safety advisories before taking part in any river recreation activity.
River Recreation in National Parks
Acadia National Park

Boating, Fishing, Paddling, Stand-Up Paddleboarding, Swimming

Alagnak Wild River

Boating, Fishing, Paddling

Ala Kahakai National Historic Trail

Boating, Paddling, Stand-Up Paddleboarding

Amistad National Recreation Area

Boating, Fishing, Paddling, Swimming

Anacostia Park

Boating, Fishing, Paddling

Apostle Islands National Lakeshore

Boating, Fishing, Kayaking, Paddling, Sailing, Scuba Diving

Assateague Island National Seashore

Canoeing, Kayaking, Paddling, Shellfishing, Stand-Up Paddleboarding, Surf Fishing, Surfing, Swimming

Big Bend National Park

Paddling

Bighorn Canyon National Recreation Area

Boating, Fishing

Big Cypress National Park

Boating, Paddling

Biscayne National Park

Boating, Canoeing, Diving, Fishing, Kayaking, Paddling, Snorkeling

Big South Fork NRRA

Boating, Fishing, Paddling, Swimming

Big Thicket National Preserve

Canoeing, Kayaking, Paddling,

Blackstone River Valley NHP & NHC

Boating, Paddling, Stand-Up Paddleboarding

Bluestone National Scenic River

Boating, Fishing, Paddling

Buffalo National River

Canoeing, Floating, Kayaking, Fishing, Paddling

Cape Hatteras National Seashore

Canoeing, Crabbing, Fishing, Kayaking, Kiteboarding, Paddling, Snorkeling, Surfing, Swimming, Windsurfing

Captain John Smith Chesapeake Trail

Boating, Paddling

Cape Lookout National Seashore

Boating, Canoeing, Fishing, Kayaking, Paddling, Swimming, Windsurfing

Canaveral National Seashore

Fishing, Paddling

Canyonlands National Park

Boating, Paddling

Chattahoochee River NRA

Fishing, Floating, Paddling

Chickamauga and Chattanooga NMP

Paddling

Chicasaw National Recreation Area

Boating, Fishing, Paddling, Stand-Up Paddleboarding, Swimming

Channel Islands National Park

Boating, Diving, Fishing, Kayaking, Paddling, Snorkeling, Stand-Up Paddleboarding, Surfing

Chesapeake & Ohio Canal NHP

Boating, Fishing, Paddling

Congaree National Park

Canoeing, Fishing, Kayaking, Paddling

Crater Lake National Park

Boating, Paddling,

Curecanti National Recreation Area

Boating, Fishing, Paddling

Cuyahoga Valley National Park

Canoeing, Fishing, Kayaking, Paddling, Stand-Up Paddleboarding

De Soto National Monument

Boating, Fishing, Paddling

Delaware Water Gap NRA

Boating, Fishing, Swimming

Dinosaur National Monument

Paddling, River Rafting

Dry Tortugas National Park

Boating, Diving, Fishing, Paddling, Snorkeling, Swimming

Ebey's Landing NHR

Boating, Paddling, Stand-Up Paddleboarding

Everglades National Park

Boating, Canoeing, Fishing, Kayaking, Paddling, Slough Slogging

Fire Island National Seashore

Boating, Fishing, Swimming

Fort Sumter National Monument

Boating

Gates of the Arctic National Park

Paddling

Gauley River National Recreation Area

Boating, Fishing, Paddling, Whitewater Rafting

Glacier National Park

Boating, Fishing, Paddling, River Camping, Stand-Up Paddleboarding

Glacier Bay National Park

Boating, Fishing, Kayaking, Paddling

Glen Canyon National Recreation Area

Boating, Fishing, Kayaking, Paddling, Swimming

Grand Canyon National Park

Boating, Paddling, Smoothwater Rafting, Whitewater Rafting

Great Falls Park

Boating, Fishing, Kayaking, Paddling

Grand Tetons National Park

Boating, Fishing, Floating, Paddling

Hopewell Culture NHP

Canoeing, Kayaking, Paddling

Indiana Dunes National Lakeshore

Boating, Fishing, Paddling, Stand-Up Paddleboarding, Swimming

Isle Royale National Park

Boating, Canoeing, Fishing, Kayaking, Paddling, Scuba Diving

Katmia National Park & Preserve

Boating, Fishing

Katahdin Woods & Waters NM

Fishing, Paddling

Kenai Fjords National Park

Boating, Kayaking, Paddling

Knife River Indian Villages NHS

Paddling

Kobuk Valley National Park

Boating, Fishing, Floating, Paddling

Lake Clark National Park & Preserve

Boating, Canoeing, Fishing, Kayaking, Paddling, River Rafting, Stand-Up Paddleboarding

Lake Mead National Recreation Area

Boating, Canoeing, Fishing, Kayaking, Paddling, Stand-Up Paddleboarding, Scuba Diving, Swimming

Lake Meredith National Recreation Area

Boating, Canoeing, Fishing, Kayaking, Paddling

Lake Roosevelt National Recreation Area

Boating, Fishing

Lassen Volcano National Park

Boating, Fishing, Paddling, Stand-Up Paddleboarding, Swimming

Little River Canyon National Preserve

Fishing, Kayaking, Paddling

Lower Delaware Wild and Scenic River

Boating, Fishing

LBJ Memorial Grove on the Potomac

Canoeing, Kayaking, Paddling

Mammoth Cave National Park

Boating, Canoeing, Fishing, Kayaking, Paddling, Riverside Camping, Swimming

Mississippi River NRRA

Boating, Canoeing, Fishing, Paddling

Missouri National Recreational River

Boating, Canoeing, Fishing, Kayaking, Paddling

National Mall & Memorial Parks

Boating, Fishing

New River Gorge National River

Boating, Fishing, Paddling, Stand-UP Paddleboarding, Whitewater Rafting

Niobrara National Scenic River

Canoeing, Fishing, Kayaking, Paddling, Tubing

Noatak National Preserve

Boating, Fishing, Paddling, Rafting

Obed Wild & Scenic River

Canoeing, Fishing, Kayaking, Paddling, Rafting

Olympic National Park

Boating, Fishing, Paddling

Oregon Caves National Monument

Boating

Ozark National Scenic Riverways

Canoeing, Fishing, Paddling, Stand-Up Paddleboarding

Padre Island National Seashore

Boating, Canoeing, Fishing, Kayaking, Paddling,

Pictured Rocks National Lakeshore

Boating, Diving, Fishing, Kayaking, Paddling, Swimming

Piscataway Park

Boating, Fishing

Potomac Heritage National Scenic Trail

Boating, Paddling

Point Reyes National Seashore

Fishing, Kayaking, Paddling

Rainbow Bridge National Monument

Boating

Redwood National & State Parks

Kayaking. Paddling

Rio Grande Wild & Scenic River

Boating, Canoeing, Floating, Kayaking, Paddling

Rock Creek Park

Paddling, Stand-Up Paddleboarding

Saint Croix National Scenic Riverway

Boating, Fishing, Paddling

St. Croix Island Historic Site

Paddling

San Francisco Maritime NHP

Boating, Sailing

Sleeping Bear Dunes National Lakeshore

Canoeing, Fishing, Kayaking, Paddling, Scuba Diving, Swimming, Tubing

Theodore Roosevelt Island

Canoeing, Kayaking, Paddling

Timucuan Ecological Preserve

Boating, Canoeing, Fishing, Kayaking, Paddling

Upper Delaware River

Boating, Fishing, Paddling, Swimming

Virgin Islands Coral Reef NM

Boating, Paddling, Stand-Up Paddleboarding

Virgin Islands National Park

Boating, Fishing, Paddling, Snorkeling, Stand-Up Paddleboarding

Voyageurs National Park

Boating, Paddling

Whiskeytown National Recreation Area

Boating, Canoeing, Fishing, Kayaking, Paddling, Sailing, Scuba Diving, Stand-Up Paddleboarding, Swimming, Water Skiing

Wrangell - St Elias National Park

Boating, Fishing, Paddling, Sea Kayaking

Yellowstone National Park

Boating, Fishing, Paddling

Yosemite National Park

Boating, Fishing, Paddling, Rafting, Swimming

Yukon-Charley River National Preserve

Boating, Fishing, Floating, Paddling
Last updated: November 26, 2021