Things To Do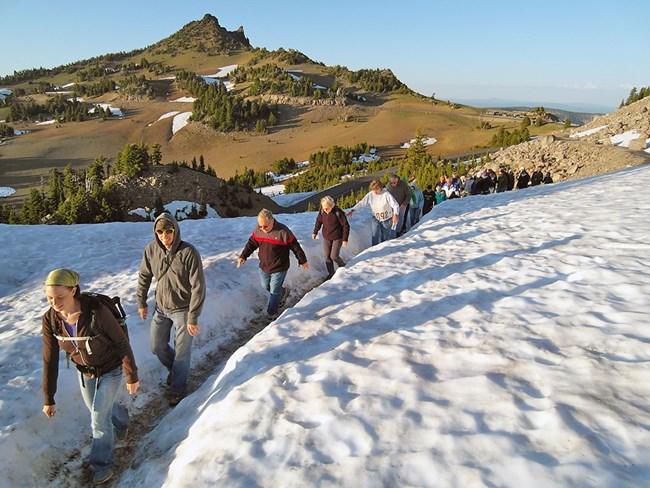 Visitors arrive at the park with anticipation of seeing Crater Lake, one of the world's deepest, clearest, and bluest lakes. Whether day-tripping or spending a week, there are many ways to explore the park and enjoy the lake.
Try this...
Discover Crater Lake's geology on a boat or trolley tour, or join a ranger program for another fascinating perspective on this 183,224-acre national park. Kids are encouraged to learn about the park by completing seven pages in the Junior Ranger book, and during the summer participate in daily Junior Ranger activities.
...And More
Ninety miles of trails meander through diverse forests, and rise to peaks with views of the lake. The historic 33-mile Rim Drive circles Crater Lake with views from 30 overlooks. Opportunities to photograph landscapes, the lake, and wildflowers are countless. Stargazing, camping, and with some advance planning fishing are also options for things to do.

Select one of the images below or download the park newspaper to learn more about the different activities available during summer and winter.
Weather
Activities may depend on the season and the weather. A late spring snowmelt or a summer thunderstorm could change your plans. Clouds that sink into the caldera, and sometimes smoke from area wildfires can obscure lake views. On the day of your visit check the weather and current conditions (includes road status and accommodations), and take a peek at the park webcams.


Last updated: May 12, 2021