Things To Do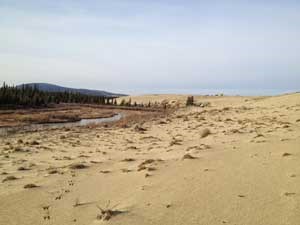 Activities
There are no developed facilities in Kobuk Valley National Park, but 1,795,280 acres of remote backcountry provides a lot of room for outdoor adventures. In summer, boating, camping, hiking, backpacking, flightseeing, wildlife watching, photography and fishing opportunities abound. For people with Arctic winter survival skills and personal equipment, snow machining, skiing and dog mushing are also possible. Permits are not required for independent travelers. Organized recreational groups do need to get a permit from the Chief Ranger. Contact the park at (907) 442-3890 for more information.
Access
Winter access is by plane, snowmachine or dogs. Plan to fly into the park, unless you have your own snowmachine or dogteam. Skiing, snowshoeing, dogsledding or skijoring through the mountains or on the frozen rivers are all possible adventures. Commercial businesses provide flights when the weather is good, but plan extra days to wait in case of bad weather. Bring all your own equipment. Currently there are no rentals or guided operations for snowmachining or running dogs. Any winter trip requires advanced knowledge of cold weather survival.
Kotzebue, AK
Community programs are available throughout the year at the Northwest Arctic Heritage Center. Topics include natural and cultural history of the park, local research, workshops and children's activities. The schedule vary, so please call (907) 442-3890 before your arrival or check the events calendar to learn about upcoming programs.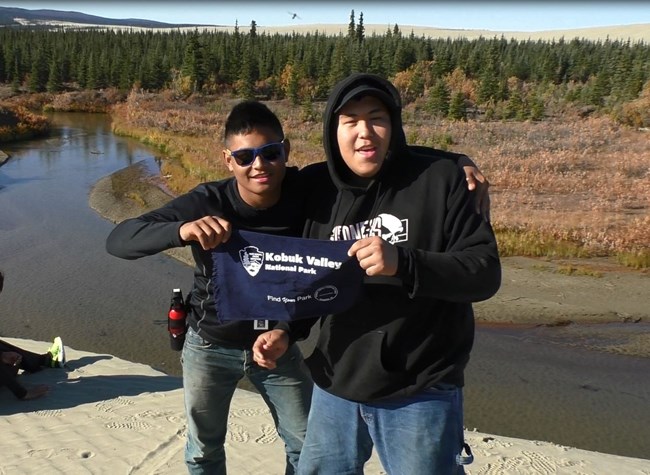 Video Postcards
At Kobuk Valley National Park, we encourage visitors to take their "mobile park sign" to their favorite place in the park and make a video postcard to commemorate their experience. Find out how to get your own park flag and watch video postcards from visitors like you!
Final Tips

Private land is common along the Kobuk River, so please detour around areas that show any signs of buildings, camps or residence. Remember to pack warm clothing for every trip, as winds may drop temperatures below freezing, even in summer.


Last updated: December 6, 2017