Things To Do
Discover the Possibilities at Assateague
First-time visitors should stop at the visitor centers to see exhibits and obtain information about the many recreational activities and natural features in the seashore. Seasonally, a wide variety of guided programs can be enjoyed to enhance your visit.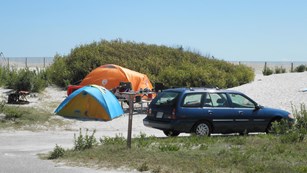 Camping At Assateague
Make some memories camping at the beach. Rest, relax, recreate and enjoy some time on the edge of the continent.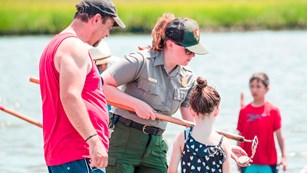 Ranger Guided Programs
Join us on a ranger guided program and learn more about the barrier island environment.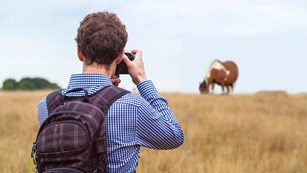 Take Amazing Wildlife Photos!
Get our tips for viewing wild horses and other wildlife and capturing amazing photos, even at a distance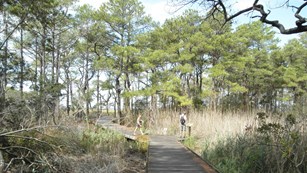 Take a Hike!
Experience life on a barrier island! Assateague has a variety of paved and unpaved trails and 37 miles of beach open for hiking.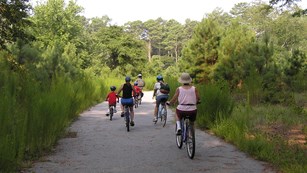 Take a Bike!
Explore Assateague Island by bike. Several miles of bike trails wind through the island in both Maryland and Virginia.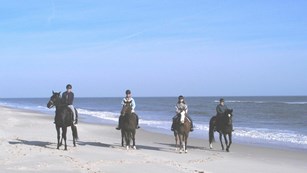 Horseback Riding
Horseback riding is allowed seasonally along the beach in the Over Sand Vehicle (OSV) zone.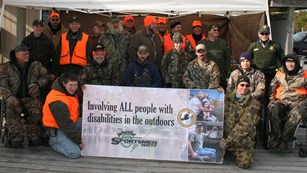 Hunting On Assateague
Find out more about hunting opportunities at Assateague Island National Seashore.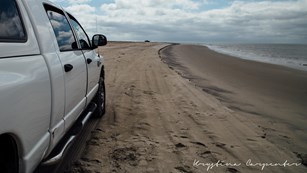 Over Sand Vehicles (OSV)
Get your permit for an adventurous getaway in the Over Sand Vehicle (OSV) zone.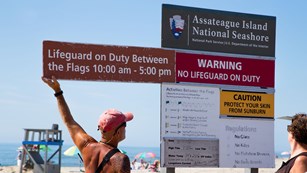 Safety: Protect Yourself in Your Park!
You'll enjoy your visit to Assateague more if you are prepared for beach & surf conditions, weather, sun, heat, biting insects and more.
Canoeing and Kayaking
Canoes and kayaks may be launched from designated areas on Assateague. Careful consideration should be given to weather conditions and tidal currents. Rentals are available seasonally in the Maryland District from Assateague Outfitters.
Shell Collecting
Limit collecting to a gallon or less of unoccupied shells to ensure a supply for beach dwelling organisms.
Shellfishing
Crabbing and clamming are great ways to discover the bays behind Assateague and sample some local seafood. Stop by a visitor center or the ranger station for current size limits and regulations.
Surf Fishing
Surf fishing has been a popular recreational activity for generations. With a few basic tips on seasons, conditions, equipment, species and regulations, anglers can have an enjoyable experience and create a few memories. Visit our Permits & Reservations page for information on fishing licenses.
Swimming and Surfing
During the summer, lifeguard protected beaches are provided in both Maryland and Virginia districts. Surfing, surf fishing, mats and floats are allowed outside the lifeguarded areas. More information on Beach and Surf Safety.
No Lifeguards on duty! Swim at your own risk. Strong currents may exist. We strongly recommend that visitors recreating in or near the water wear a U.S. Coast Guard approved life jacket.


Last updated: October 7, 2020