Things To Do
Discover the Possibilities at Assateague
First-time visitors should stop at the visitor centers to see exhibits and obtain information about the many recreational activities and natural features in the seashore. Seasonally, a wide variety of guided programs can be enjoyed to enhance your visit.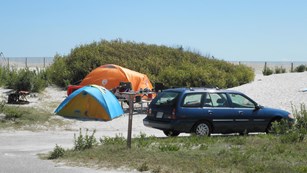 Camping At Assateague
Make some memories camping at the beach. Rest, relax, recreate and enjoy some time on the edge of the continent.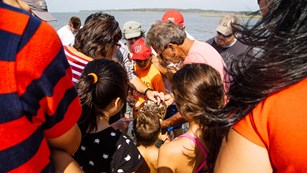 Ranger Guided Programs
Join us on a ranger guided program and learn more about the barrier island environment.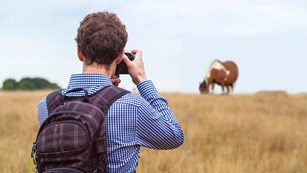 Take Amazing Wildlife Photos!
Get our tips for viewing wild horses and other wildlife and capturing amazing photos, even at a distance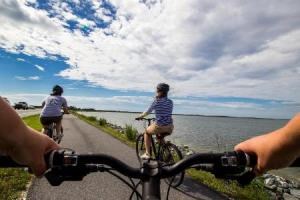 Biking
A great way to explore the island!
Maryland
Cyclists may travel to Assateague over a bicycle-pedstrian bridge and follow a paved bike path along Bayberry Drive through 4 miles of island habitat.
Virginia
A paved path leads bicycles from Chincoteague to Assateague. Enjoy these paths, too!
Wildlife Loop - 3 1/4 mile loop
Woodland Trail - 1 1/2 mile loop
Swan Cove Trail - 1/2 mile
Black Duck Marsh Trail - 1 mile
Service Road- 1 1/4 mile, Partial access of the service road was opened to bikers in mid-2016. This portion is UNPAVED and only open to bikers 1.25 miles, ending at D-dike
Camping
Camping at Assateague will be a pleasant experience if you plan ahead! The barrier island habitat can be harsh if you are not prepared. Camping is available only in the Maryland district of Assateague Island. Campers are reminded to bring firewood, sunscreen, insect repellent, screen tents for shade and insect protection, and long tent stakes to anchor tents in the sand and wind.
Canoeing and Kayaking
Canoes and kayaks may be launched from designated areas on Assateague. Careful consideration should be given to weather conditions and tidal currents. Rentals are available seasonally in the Maryland District from Assateague Outfitters.
Horseback Riding
Horseback riding is allowed along the beach in the Maryland District Over Sand Vehicle (OSV) Zone from October 9 through May 14. In the Virginia District it is allowed along the beachfront as well as along a limited section on the inside of Toms Cove hook, when the OSV zone is open. Please visit our horseback riding page for more information.
Over-Sand Vehicles (OSV)
There are 12 miles of beach in Maryland and a small section of beach in Virginia open to over-sand vehicles. An annual OSV permit may be purchased for $70 to $150 depending upon the type of access desired. Specific equipment is required.
Shell Collecting
Limit collecting to a gallon or less of unoccupied shells to ensure a supply for beach dwelling organisms.
Shellfishing
Crabbing and clamming are great ways to discover the bays behind Assateague and sample some local seafood. Stop by a visitor center or the ranger station for current size limits and regulations.
Surf Fishing
Surf fishing has been a popular recreational activity for generations. With a few basic tips on seasons, conditions, equipment, species and regulations, anglers can have an enjoyable experience and create a few memories. Visit our Permits & Reservations page for information on fishing licenses.
Swimming and Surfing
During the summer, lifeguard protected beaches are provided in both Maryland and Virginia districts. Surfing, surf fishing, mats and floats are allowed outside the lifeguarded areas. More information on Surf and Beach Safety (pdf 198kb)
2019 Tentative Lifeguarded Beach Schedule (subject to change)
For 2019, lifeguards will be on duty from 10 am to 5 pm:
June 1 & 2, 8 & 9
June 15 - September 30: Daily


Last updated: May 29, 2019