River Safety and Regulations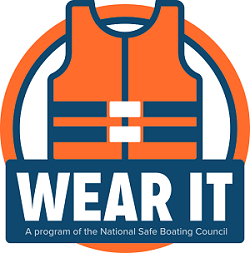 Always Wear a Life Jacket
Personal Flotation Devices (PFDs/life jacket) are required to be worn while on rivers inside of Mammoth Cave National Park at all times.  It is important that your PFD is properly fitted, and US Coast Guard approved. 
While on The River
Do not exceed your skill level. If you are new to canoeing and kayaking, choose a shorter trip to start out and paddle with an experienced friend.
The rivers in the park are dynamic systems which change constantly. Expect the unexpected; conditions can change quickly. Watch for these changes and take immediate action to reach safety.
River hazards exist. Be alert of motorized vessels, fallen trees, submerged trees and rocks, drifting debris and swift current.
Know the current conditions. Always check the river level and weather forecast before launching.
The river level can flash flood and/or rise very quickly (i.e. as much as 20-50 feet in the hours and days after a rain event). Be sure to store your canoes and gear on high ground. Secure canoes/watercraft to prevent being swept away while unattended or overnight.
More information on water vessel safety is available for you to review before your river trip.
Should an emergency arise, call 911. Be aware that cell phone service is limited inside Mammoth Cave National Park. Even if you can get a 911 call out, help can still be at least 45-90 minutes or longer away.
Knowing Your Paddling Skill Level
Little to no experience, but comfortable around water, and not afraid to swim with and recover your boat in the case of a capsize. Able to paddle and steer craft to avoid hazards including trees and rocks.

Recommended River Conditions

River gauge heights from 9 to 15 feet.

Warm air and river temperatures during late spring through summer, warm fall days.

There are always hazards present on Green River but they are less consequential when gravel bars are shallow for re-entering boats and temperatures don't quickly cause the onset of hypothermia.

It is always preferable to paddle with more experienced paddlers in your group when starting out, as they can speed your learning of river skills and make trips safer and more fun.
Some experience paddling, able to steer boat quickly and effectively to avoid any hazards even in swift current. Able to assist others in getting capsized vessels to shore. Able to confidently self-rescue without assistance in the case of a capsize. Basic understanding of reading river features such as eddies, strainers, upstream and downstream "V"s.

Recommended River Conditions

River gauge heights from 9 to 18 feet, but can vary greatly for each paddler.

Year round depending on current and forecasted temperatures with appropriate clothing for the conditions.

It is always preferable to paddle with a group that has at least some experienced paddlers for safety and more enjoyable experiences.
Extensive experience paddling on a variety of river conditions. Able to easily control boat to paddle to any point of the river without fail. Able to easily "ferry" back and forth across the river without being pushed downstream, with boat pointed either up or downstream. Proficient at "bracing" to prevent capsize. If a canoer, able to do the "j" stroke, the draw and the pry stroke, to paddle and steer without changing sides in normal paddling and able to solo paddle the canoe. Practiced at emptying and re-entering canoes in deep water. Kayakers can roll or re-enter and pump out kayaks from deep water. Proficient at "reading" river features to interpret underwater hazards. Have adequate equipment properly stowed in vessel to independently solve problems that the group could be presented with on the river, from a leak in a boat to a boat stuck around or under a tree. Trained in the use of throw ropes for rescue. Comfortable with swift-water swimming and able to swim across the river in fast current. Able to start a fire and equipped to comfortably stay the night on the riverbank in an emergency.

Recommended River Conditions

Launching in the park is prohibited when the river gauge height is over 20 feet.

Experienced paddlers can paddle Green River year-round in any conditions that they are properly equipped for and comfortable with.
Leave it at Home
Alcohol is prohibited on the rivers inside the park. Don't drink or use drugs – alcohol and drugs impact your judgement and coordination. Operating a vessel (boat, kayak, etc.) while under the influence is illegal.
Safety Considerations Around Green River Ferry
An auto ferry operates on the Green River at River Mile 197. The vessel lacks clear visibility and the ability to stop quickly. It can easily swamp a canoe or kayak. In a mishap, the risk of being pulled under the vessel by the current exists.

Extreme caution should be used when approaching the ferry crossing area:
When you encounter the ferry, stay back at the safest distance possible.
Make sure that the ferry operator has made eye contact with you prior to crossing its path to continue downstream.
Canoes and kayaks must utilize the canoe and kayak access ramp located just upstream from the ferry on the south side at the junction of the Green River and the small Echo River when putting in or taking out their vessels.
Boats should never be docked along the bank upriver of the ferry to avoid the risk of being pulled under the ferry vessel.
The ferry cannot approach the vehicle ramp to pick up passengers until all boats moving downstream have completely cleared through the area – please don't unnecessarily delay them.
Swimming
Swimming in park waters is not recommended. At normal stage, the Green River flows at a relatively brisk 4.3 knots, about 5 miles per hour, which is too strong to swim against. There is no designated swimming area in the park and no lifeguards on duty.

Wading in shallow water can also pull you off of your feet. Stay far enough back from moving water so that an accidental trip or slip on wet rocks will not cause you to fall into the current and be swept away.
Swimming, wading, or bathing within 200 feet (61 m) of the Green River Ferry crossing is prohibited.
The use of tubes, inflatable pool toys, or pool rafts to float the rivers is prohibited.
Boating Regulations
All boat passengers must wear a U.S. Coast Guard-approved personal floatation device.

River use is prohibited when river levels are at or exceed 20 feet (6 m) on the park's water level gauges. Canoe liveries with permits to operate in the park are prohibited from renting or providing canoes during these times.

Never dump or discharge refuse in the water.

Do not leave boats unattended for longer than 24 hours without written permission from the Chief Ranger.

Boating accidents resulting in property damage, personal injury or death must be reported to a park ranger as soon as possible.

Operating a jet ski or any other 1 to 2-person motorized watercraft with a total length of 8 feet (2.4 m) or less is prohibited upon all navigable waters of the park. The use of this type watercraft on navigable park waters is hazardous due to submerged obstructions within river channels. The noise created by use of these types of watercraft is also incompatible with other park uses.

Tubing on the rivers inside Mammoth Cave National Park is prohibited.

Motorized vessels may not be operated above idle speed within 100 feet (30.4 m) of the Green River Ferry. The area at Green River Ferry is generally recognized as docking and or moorage area. Vessels operating above idle speeds in this area pose a threat to themselves and other boaters/visitors.

All other U.S. Coast Guard and Kentucky state boating regulations apply.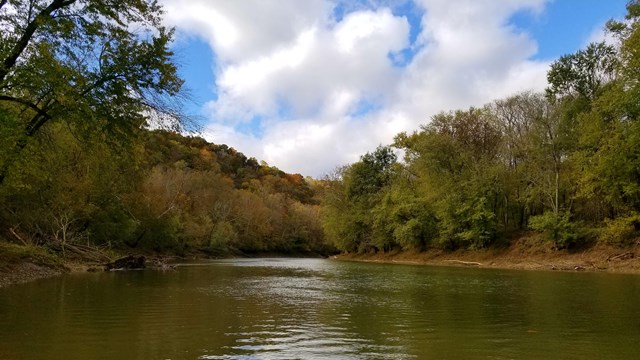 Canoeing, Kayaking and Boating
Plan your river trip in the park.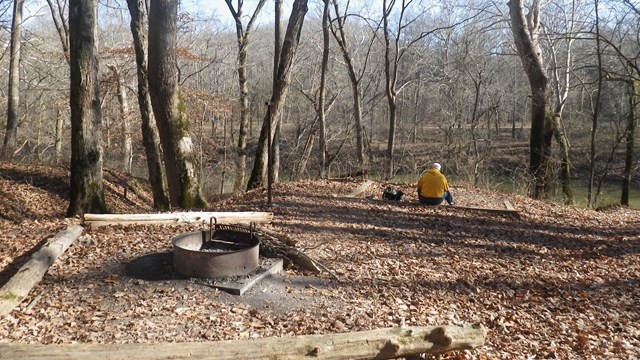 Backcountry and Riverside Camping
Learn more about backcountry camping in the park.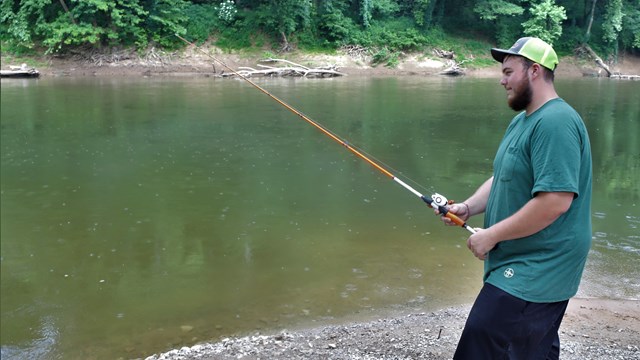 Fishing
Fishing regulations and more.
Last updated: June 30, 2020