Outdoor Activities
A variety of outdoor activities await you at the Obed Wild and Scenic River. Kayaking, canoeing, and rafting are popular seasonal activities. The 45 miles that comprise the river system includes whitewater runs that range from Class II to Class IV.
Rock climbing and boulder climbing are also available at the park. Dozens of climbing routes ranging up to 200 feet in length are offered.
For those who love to fish, the Obed is home to a variety of bass, bluegill, catfish, and muskie, among others.
Obed Wild and Scenic River also offers several different hiking trails at varying lengths throughout the park. Camping is offered at Rock Creek Campground, and picnic benches and grills are provided at the Nemo Picnic Area.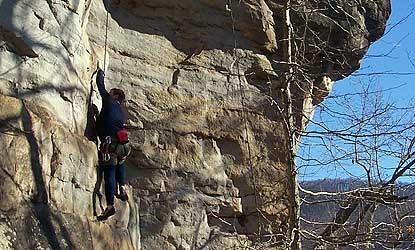 One particular group, the East Tennessee Climbers Coalition (ETCC), has for the past several years been a valued partner of Obed WSR. The ETCC spends many weekends climbing a variety of sport routes in the park. They are on hand each year to help out with the Adopt-A-Crag event and the Climbers Expedition event.
Click on the above link to find out more about the ETCC through their Facebook page.


Last updated: February 14, 2016