Outdoor Activities




Beaches
The seashore has undeveloped beaches and limited services. There are no designated picnic areas, phones, food, or drinking water. The beaches have restrooms and boardwalk access. Boardwalk access for visitors with disabilities are at Playalinda Beach: Eddy Creek and Parking Area No. 2, 8, 10; and at Apollo Beach: Areas No. 1 and No. 5. First aid and drinking water are at the Apollo Beach information center.
You may reach Klondike Beach only by foot (a back country permit is required). Seashore areas may close if parking areas are full or during rocket launches at the Kennedy Space Center. For recorded information on closures at Playalinda Beach, call 321-867-4077. To contact the Apollo Visitor Center, call 386-428-3384 ext. 0.
Scenic Drive
The five-mile self-guided driving trail, Biolab Road, connects Merritt Island Wildlife Refuge to Canaveral National Seashore. It meanders through pine flatwoods and impounded marsh and provides excellent views of many species of wildlife.
Primitive island camping is permitted at the Apollo Beach end of the park which is located near New Smyrna Beach in Volusia County. Visitors can make reservations by calling 877-444-6777 or online at
www.Recreation.gov
.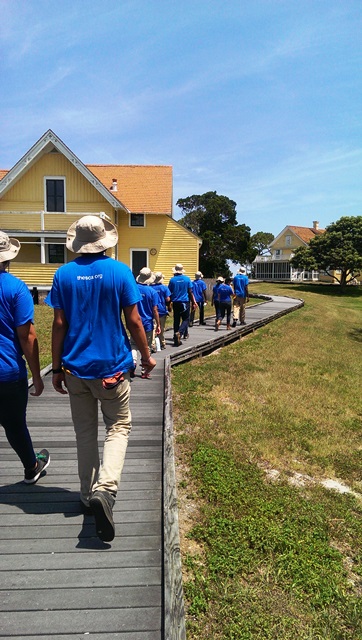 Canaveral National Seashore offers many short self guided walks. Seminole Rest, Castle Windy and Turtle Mound trails have shell middens left by Timucuan Indians. The Eldora, Turtle Mound and Castle Windy paths are located in the Apollo District.
Turtle Mound Trail boasts a view of the ocean and Mosquito Lagoon and is approximately an 1/8 of a mile boardwalk path up to the top of the mound.
Castle Windy Trail (1/2 mile long) winds through a dense coastal hammock that is a rare gem. Pick up a Castle Windy brochure that provides an interpretive plant guide for the trail at the Apollo Visitor Center, 7611 S. Atlantic Ave., New Smyrna Beach, FL 32169.
Eldora Hammock is an (1/8 mile long) unpaved road. The Eldora State House historic home and a fishing dock are located at the end of this trail. The trail loops back to the parking lot on a separate trail behind the Eldora State House.
Seminole Rest Historic Site is locates in Oak Hill Florida along the west side of Mosquito Lagoon. There is a paved trail that is a 1/2 mile loop trail. There are interpretive displays along the trail. The Seminole Rest address for directions only: 210 River Rd. Oak Hill, FL 32759.
Hunting
Seasonal hunting of migratory water fowl is allowed in our sister park
Merritt Island Wildlife Refuge
and is part of the refuge's waterfowl management. Display or use of firearms, other than for authorized hunting activities, is prohibited.

Boating
Boat launch sites in Canaveral National Seashore provide access to Mosquito Lagoon a part of the larger Indian River Lagoon System. Airboat and jet ski use are prohibited in the park.
In the Apollo District there is one paved boat ramp located at the entrance of the park. Then in Apollo there is an unpaved ramp suitable for small flats boats or smaller located across from beach parking area number five. Inquire at the fee booth on the accessibility of either ramp, parking is limited. Kayak/canoe launch areas are located behind the Apollo Visitor Center and at parking area number seven in Apollo.

In the Playalinda District there is a boat ramp located at Eddy Creek. It is an unpaved entry point suitable for small flats boats or smaller. Parking is limited.
Fishing
Saltwater and commercial fishing are subject to size and possession limits and may require a license or special use permit; inquire at our park headquarters call, 321-267-1110.