Things To Do
SOMETHING FOR EVERYONE

Little River Canyon National Preserve offers visitors a wide variety of activities - join a ranger for an informative hike, take a ride in the Wildlife Management Area, enjoy a picnic with the family at Canyon Mouth Park, or relax at one of the overlooks and and take it all in! See just some of the adventures which await you at Little River Canyon below!


---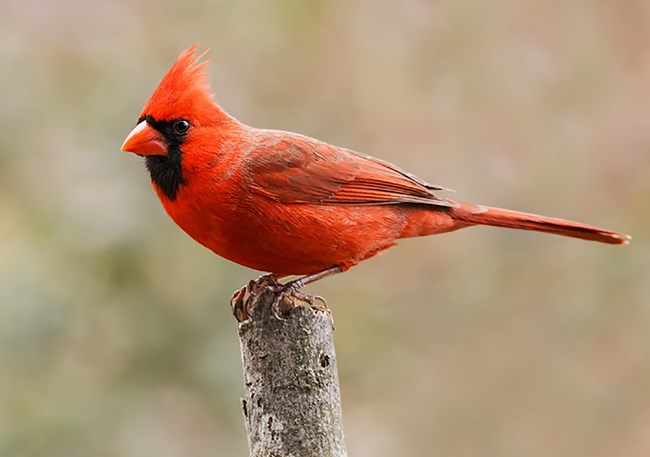 Bird Watching

Little River Canyon National Preserve is a bird watchers delight! Watch vultures and raptors soar in the canyon over the river from the many overlooks, enjoy birds thriving along the riverbanks, and birds chirp and tweet along the trails and backcountry roads throughout the year.

Download our bird checklist and see how many of the 142 birds found at Little River Canyon you can find!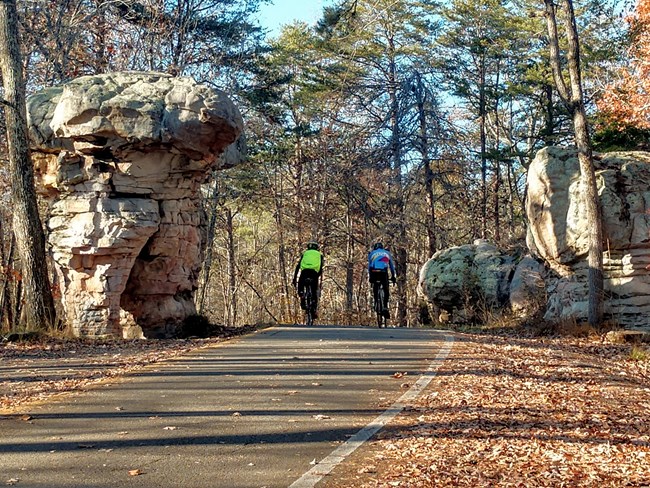 Bicycling
Road biking and mountain biking are both popular at Little River Canyon National Preserrve.

Road bicyclists are most often seen riding the scenic drive (Highway 176) - this is a narrow two-lane road with no shoulder or bike lanes, bicyclists and drivers should be aware of traffic ahead and behind them at all times for everyones safety!

Mountain biking is allowed in the Wildlife Management Area. There are 23 miles of dirt and gravel roads which are used by hikers, mountain bikers, horseback riders, and motor vehicles - be aware of your surroundings and other road users.

Bicycling is not allowed on the boardwalk at Little River Falls.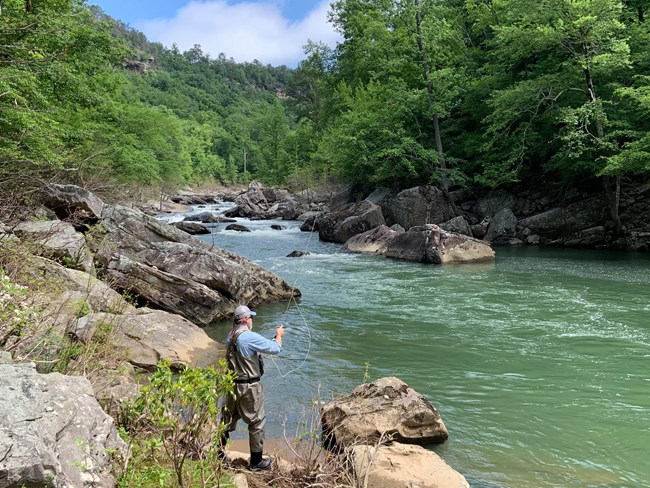 Fishing
Fishing is allowed anywhere along Little River inside the Preserve if you have a valid Alabama or Non-Resident Fishing License. Children under 16 and adults over 65 are exempt from a fishing license. You can find information on fishing licences on Outdoor Alabama, the website for Alabama Department of Conservation and Natural Resources.
Seine fishing or fishing with nets is not permitted. Use of live or dead bait fish, amphibians, non-preserved fish eggs or fish roe are not permitted. Dumping of bait is not permitted.
Canyon Mouth Park is the perfect place to fly fish. The clear water is easily accessible. A popular fish for fly fisherman is the Redeye Bass. It can reach up to 17" inches in length and has a small tooth patch on it's tongue. The most recognizable feature is the namesake red eye.
The use of motorized boats is not allowed within Little River Canyon National Preserve. This includes trolling motors on boats. This is in part because of the endangered species found in Little River called the Blue Shiner. The blue shiner is in the minnow family and has a blue stripe along the length of its body.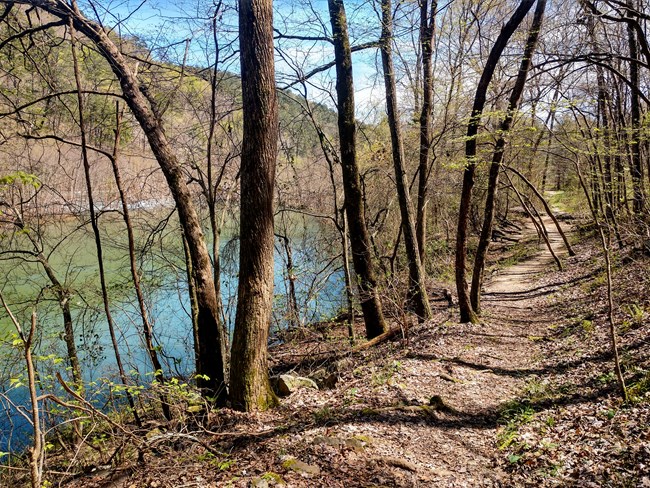 Hiking
Little River Canyon National Preserve features over 26 miles of trails and over 20 miles of backcountry roads for your hiking enjoyment!
From gentle strolls through woodlands and along the river, to strenuous hikes down into the canyon, Little River Canyon has a trail for just about anyone!
Click
here
to learn more about trails, their lengths, difficulties, and how to get to them.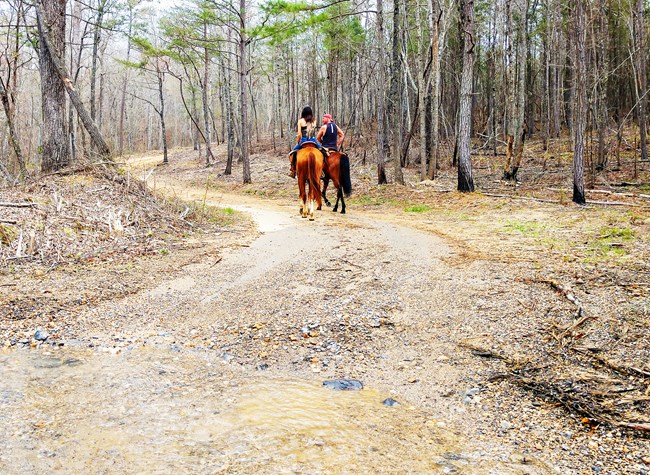 Horseback Riding
Welcome horseback riders! Little River Canyon National Preserve welcomes you to bring your horse and ride on the open numbered roads in the backcountry of the Wildlife Management Area). Approximately 23 miles of dirt, chert and gravel roads are available for you to ride on. The area is beautiful with lots of natural wildlife, edible seasonal fruits (do NOT eat anything you cannot positively identify), and creek crossings. No fee or permit is required for individual riders. Permits may apply for organized group rides.
BE AWARE: The roads are shared with licensed 4-wheel drive vehicles, bicycles and hikers. Hunting is allowed in this area. For your safety, please check gun hunt dates before you plan a ride in the Wildlife Management Area. Black bear are also in this area.
As a visitor to the Preserve you are required to follow certain rules designed to ensure the health and safety of everyone and to promote a pleasant and rewarding backcountry experience. We all have a responsibility to respect the environment.
PARKING
Hunters Check Station
From Highway 35 (You will see a sign "Hunters Check Station") turn onto Cherokee County Road 103. Turn into the first parking lot on your left. Unload your horse and start riding down Road 01. Horses are allowed to go around the gate.
County Road 295 Parking Lot
From Highway 35 turn onto DeKalb County Road 295. Just past the sharp turn, there will be a gravel parking lot on your RIGHT. Unload your horse and continue on Road 05.
Hunting
Little River Canyon National Preserve, in cooperation with Alabama Department of Conservation and Natural Resources, Division of Wildlife and Freshwater Fisheries, manages the Backcountry Area (Little River Wildlife Management Area - Cherokee and DeKalb Counties) for hunting.

Hunting License and Permit Required for the Little River Wildlife Management Area.
1. Hunting License - Available at any local license agent.
2. Management Area License - Available at any local license agent.
3. Management Area Permit - Free - available online only beginning 2020. The permit can be downloaded at www.outdooralabama.com.
4. Gun Deer Hunts Permit (Draw Hunts) - Free, available only on the day of the hunt at the Hunters Check Station (located at Cherokee County Road 103, one-half mile from the intersection with Highway 35). The station will open no later than 5:00 a.m.

5. Game Check is a Game Harvest App that can now be used to record data. Game Check requires that all hunters, regardless of age or license requirements, report deer and turkey harvests within 48 hours of the harvest.

For more information about hunting, click here for the Alabama Department of Conservation and Natural Resources website at (334) 242-3469.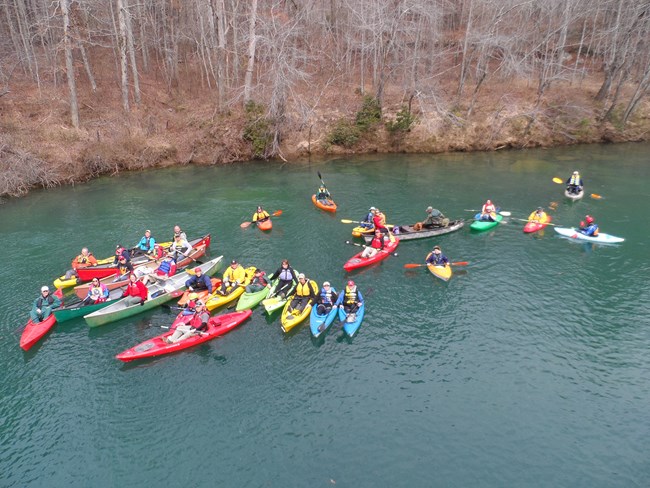 Kayaking
Little River Canyon National Preserve offers a variety of Winter and Spring river kayaking, from stretches of relatively gentle paddling (Class III rapids) in the miles of river above Little RIver Falls, to Class IV, V, and VI rapids from the falls and most of the river to Canyon Mouth Park.
Little River is an almost completely rain-fed river, with November through April being the typical portion of the year when rainfall makes the river navigable. Summer and Fall finds the river extremely shallow, even dry in severe drought years.
While the river in the Wildlife Management Area (above the falls) can be run by beginning and intermediate skilled kayakers and canoeists, the river below the falls is dangerous and for highly skilled kayakers only - U.S. Olympic kayak team members have trained on Little River!
To check the flow of Little River,
click here
to see the report from the U.S. Geological Survey river gauge.
* Please note that readings are taken every two hours at the bottom of the river, and readings may not accurately represent the current state of the river when you check. During sudden and intense downpours, the level of the river rises rapidly and with little warning!
Organized Group/Club Activities and Events
Little River Canyon National Preserve is a beautiful place to hold those most treasured life events (weddings, parties, and baptisms), to challenge yourself to an organized long-distance run or bike ride or race, and to explore the Preserve with your favorite Club or Group. The National Park Service welcomes these groups, but they do require a permit.

To help protect the Preserve from the impact of group event, a Special Use Permit is required. Please go to our Permits & Reservations page to learn more about what activities require a permit and how to go about obtaining one.
Photography

Little River Canyon offers photographers numerous opportunities throughout the year to capture the glorious sights to be seen! Each season provides it's own color and drama - Spring brings an explosions of colorful wildflowers, Summer verdant greens and wildlife galore, Fall a blanket of vibrant reds,yellows, and oranges, and Winter leaves the dramatic rock walls exposed to the eye. The overlooks offer stunning views of the canyon year-round.

The concept of "Take Only Pictures, Leave Only Footprints" truly resides here!

* Note to commercial photographers:
Commercial photographers must have a permit (subject to a fee). Commercial Photographers need to contact the Superintendent's office for more information for the permit application and approval prior to taking photographs/filming. There is a non-refundable application fee. Permit applications must be submitted 14 days prior to the event to Little River Canyon National Preserve, 4322 Little River Trail NE, Suite 100, Fort Payne, AL 35967. All permits are subject to approval.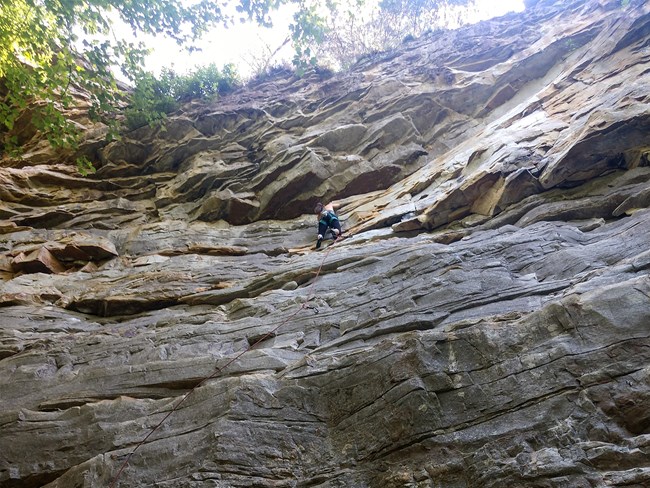 Rock Climbing
Little River Canyon National Preserve offers some of the most difficult and sought-after climbing routes in the South. The sandstone cliffs featured in Little River Canyon are accessible from many roadside pullouts along the Little River Canyon Rim Parkway (Highway 176). Bouldering is also very popular at Little River Canyon.
Come prepared with all of your equipment and your own transportation. You can rock climb from any of the cliffs. You
cannot
add or remove any bolts or have any equipment on your person that would allow you to do so.
Scenic Drive

Take the 11 mile (17.7 km) drive along the Little River Canyon Rim Parkway (Highway 176) and enjoy the eight overlooks, with views of waterfalls, dramatic rock walls, lush green trees in Spring and Summer or brilliant reds, oranges, and yellows in Fall, and the river carving its way through the canyon below. Bring a picnic lunch and eat at one of the picnic tables while watching raptors and vultures soar over the canyon.


Last updated: March 26, 2021