Things To Do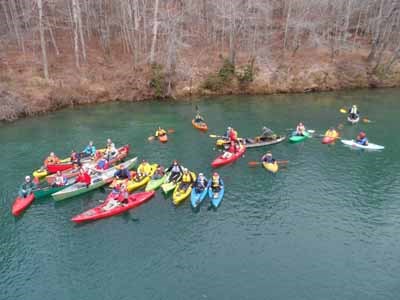 Little River Canyon National Preserve offers a variety of things to do; hiking, water activities, hunting, fishing are some activities you can do at the Preserve. Planned events like the one pictured to the left are always fun to attend.
Click on the links below for more information.

Bird Watching - Available anywhere in the park.
Bicycling - The scenic drive (Highway 176) is a narrow two-lane road with no shoulder or bike lanes. We do not recommend bikes on Highway 176. Mountain biking is allowed in the Backcountry Area. There are 23 miles of dirt/chert roads. Bicycling is not allowed on the boardwalk at Little River Falls.
Camping - Camping is not allowed in the park.
Family Reunions - We welcome you, but we do not reserve any picnic tables or pavilions.
Fishing - Allowed with valid State of Alabama license.
Hiking - Hike anywhere in the Preserve during daylight hours.
Canyon Mouth Park has a 2 mile hike (there and back).
Beaver Pond Trail provides a 1.5 mile loop trail.
Eberhart Trail (3/4 mile-one way) leads you to the bottom of the canyon. You can hike as far as you want but remember you have to hike back up the 3/4 miles to the top. The Eberhart trail is the most strenuous. There are no overnight backpack hiking trails in the Preserve. Camping is not allowed.
YCC Trail located in the Backcountry Area. First left on Road 05 (coming in from County Road 295).
Check out the facebook page for the Desoto Scout Trail-Project in the Backcountry Area.
Horseback Riding Trails - Available in the Backcountry Area.
Hunting - Allowed with state of Alabama License/permits.
Kayaking - Come prepared with all of your equipment and your own transportation. (Expert level, Class III+ to a VI). The find out the water level go to the folllowing website: https://waterdata.usgs.gov/nwis/uv?02399200
Photography - The overlooks offer beautiful views of the canyon for photography. Each season provides it's own color and drama.
Commercial photographers must have a permit (subject to a fee). Commercial Photographers need to contact the Superintendent's office for more information for the permit application and approval prior to taking photographs/filming. There is a non-refundable application fee. Permit applications must be submitted 14 days prior to the event to Little River Canyon National Preserve, 4322 Little River Trail NE, Suite 100, Fort Payne, AL 35967. All permits are subject to approval.
Rock Climbing - Come prepared with all of your equipment and your own transportation. You can rock climb from any of the cliffs. You cannot add or remove any bolts or have any equipment on your person that would allow you to do so.
Scenic Drive - Drive your car along Highway 176 for the eleven mile tour. Stop at the overlooks and enjoy the scenery. Bring a picnic lunch and eat at one of the picnic tables.


Last updated: October 5, 2019