Outdoor Activities
The Niobrara National Scenic River and surrounding area offers a wide array of outdoor activities. Besides river recreation, there are opportunities for hiking, biking, camping, lake fishing, and more. Visit Valentine Chamber of Commerce for area activity and event information.
Floating the River: Canoeing, Kayaking & Tubing
Most visitors to the Niobrara rent equipment from private businesses. Some bring their own boats and equipment and either contact an outfitter for a shuttle or plan to shuttle themselves.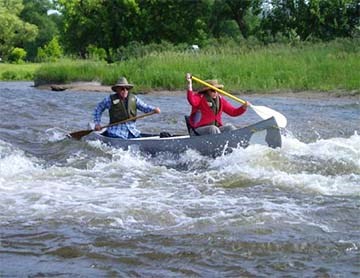 Hiking, Cycling, and Birding:
The Cowboy Trail, a rails to trails route from Norfolk to Valentine, Nebraska, is designed for hiking, cycling, and distance running in addition to equestrian use.
Nearby Attractions include wildlife refuges and recreation areas that offer opportunities for hiking and birding, and more.

Last updated: June 4, 2020