Outdoor Activities
Congress established Chickamauga and Chattanooga National Military Park in order to preserve and protect the battlefields here and to provide for the study of military history within the park. Today nearly 10,000 acres of preserved and uninhabited landscape encompass the park, making it one of the largest outdoor green spaces in the Chattanooga area. Much of the park can be explored through a variety of outdoor activities.
When exploring the park, be sure to "Leave No Trace," and always be alert for potentially hazardous situations. Never bike, hike, or paddle alone. Should you see an object of potential historic significance, please leave it in place and notify the park staff at 706-866-9241. In the event of an emergency call 911. Visit our
Safety Page
to learn more about ways to stay safe in the park.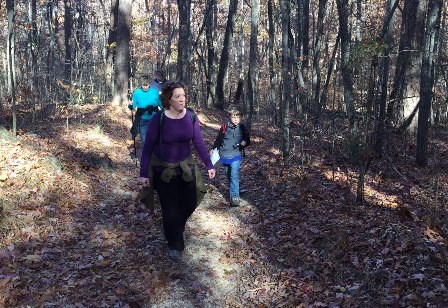 Hiking and Running
Chickamauga Battlefield contains around 50 miles of hiking trails, and the Lookout Mountain Battlefield has around 30 miles of trails. Many of these trails follow historic road traces that were present at the time of the battles, roads set up by the military in the early 20th century, or take you to monuments and markers located deep within the battlefield. As a result, hiking or jogging are great ways to explore the historic resources of Chickamauga and Chattanooga National Military Park. In addition the miles of hiking trails at Chickamauga and Lookout Mountain, there are two trails open within
Moccasin Bend National Archeological District
, and the
Signal Point Reservation
serves as a gateway for a variety of trails on Signal Mountain and along the Cumberland Plateau.

Trail Maps
Lookout Mountain Battlefield Trail Map
Chickamauga Battlefield Trail Map
In addition, the park has developed a series of recommended trail routes highlighting specific stories within Chickamauga Battlefield. These hike routes are especially popular with scouting and youth organizations.
General Bragg Trail (5 miles)
Confederate Line Trail (6 miles)
Memorial Trail (9 miles)
Historical Trail (11 miles)
Cannon Trail (14 miles)
Bicycling
Chickamauga Battlefield is a popular destination for bicyclists in the area. Be mindful of vehicle traffic, especially on LaFayette Road. Helmets are required for all bicyclists ages under the age of 16, but are strongly recommended for all riders, regardless of age or ability level.
Bicycling is permitted on all paved roads within the park. Bicycles are permitted on a limited number of trails at both Chickamauga Battlefield and Lookout Mountain Battlefield, as indicated on the trail maps.
Horseback Riding
During the Campaign for Chattanooga, both Union and Confederate armies utilized thousands of horses to pull wagons, ambulances, and cannon, while mounted troops fanned the countryside scouting for their respective armies. Today, some trails at Chickamauga Battlefield and Lookout Mountains are open to horseback riders. At Chickamauga, horseback riding is permitted on the Red, White, and Blue trails as indicated on the Chickamauga Battlefield Trail Map. The horse trailer area is located on the west side of the park along Chickamauga-Vittetoe Road, and is the only place where horses may be unloaded and trailers parked. On the Lookout Mountain Battlefield, horses may only be ridden on the Upper Truck Trail, as indicated on the trail map. Please note that the park does not have horses available for rent or public use.
Rock Climbing
Rock climbing is permitted at only two locations in Chickamauga and Chattanooga National Military Park - at Sunset Rock on the western bluff of Lookout Mountain and at Eagles Nest on the northern lower slope of Lookout Mountain. Both locations are marked on the Lookout Mountain Battlefield Trail Map.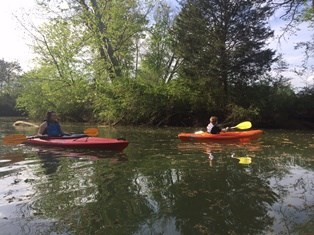 Paddling and Waterways
Two creeks are located within and along the park boundaries. The West Chickamauga Creek played a critical role in the Battle of Chickamauga, as Union forces contested the Confederate creek crossings at Alexander Bridge and Reed's Bridge. Confederate forces also crossed the creek at several fords at the south end of the battlefield. Today, West Chickamauga Creek can be explored by canoe or kayak, and provides a unique way to experience the waterway that gave the battle its name. Please note that currents on West Chickamauga Creek can be swift in places, depending on debris, rocks, and water height.
Lookout Creek, located in Lookout Valley west of Lookout Mountain, empties into the Tennessee River, and is a popular destination for paddlers. Sections of this waterway pass through the park boundaries near the Wauhatchie Battlefield, and where General Joseph Hooker launched his assault on Lookout Mountain during the November 24, 1863 "Battle Above the Clouds."
Paddlers can also explore the Tennessee River around Moccasin Bend, following the route of the Trail of Tears, as well as Union forces who floated the river in advance of the capture of Brown's Ferry in October 1863.
Please note that there are no public put-ins or take-outs located within the park boundaries at West Chickamauga Creek, Lookout Creek, or Moccasin Bend.
Park waterways are accessible only by paddling in from outside park boundaries. Additionally, the park does not offer canoes or kayaks for rent, nor does the park offer shuttle service for paddlers. For information about paddling in the area, including the location of public put-ins and take-outs, contact
Outdoor Chattanooga.
Motorized watercraft are not permitted within the boundaries of Chickamauga and Chattanooga National Military Park. Fishing is permitted within the park. All local fishing regulations are in effect, including requirements regarding fishing licenses.
Picnicking and Other Recreational Activities
It may be tempting to see the scenic beauty of the park as an ideal location to engage in recreational activities. However, please remember that this is a place were thousands of people were killed, wounded, or even forced from their homes. As a result, most recreational activities are prohibited except in designated areas.
At Chickamauga Battlefield there are four picnic areas - along Reed's Bridge near the park visitor center, at the intersection of Alexander Bridge Road and Brotherton Road, at the Recreation Field, and along Highway 27. At Point Park on Lookout Mountain, picnicking is only permitted in the grassy space just outside the park gates near the parking lot. Picnic areas are marked on the
park map.
Most recreational activities, such as kite flying, playing catch, or Easter Egg hunts are only permitted at the Recreation Field at Chickamauga Battlefield.
Drones or unmanned aerial vehicles are not permitted anywhere within the park, and the possession of a metal detector within park boundaries is a Federal crime.
Ranger-Guided Outdoor Activities
Periodically, the park offers ranger guided hikes, bike tours, and canoe or kayak tours. These programs are supported by the park's support group,
National Park Partners
, and are conducted with the help of Outdoor Chattanooga.
Check our calendar
for a schedule of these events.
Last updated: July 15, 2021