Outdoor Activities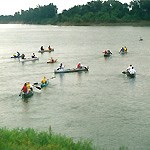 The Missouri River and surrounding area serve as an outdoor recreation mecca. Some of the more popular activities are:
Boating
- the Missouri National Recreational River offers scenic views and a variety of river opportunities for all boaters.
South Dakota
and
Nebraska
boating regulations apply.
Birding - The Missouri River is also the major North American migratory waterfowl flyway, making it a favorite destination for birders. Migrating species benefit from bottomland, which serves as wintering, feeding, breeding, and staging grounds.

Camping - the National Park Service only allows primitive camping on sandbars and some islands in the park. Our partners offer many nearby camping opportunities.

Canoeing & Kayaking - Exploring the "Big Muddy" by canoe or kayak is something you'll never forget. It is an adventure that is beginning to draw travelers from around the world. This recreational activity, however, is not for the novice paddler.

Fishing - Catfish, walleye, sauger, paddlefish, and many more game species await your angling skills in the two reaches of the Missouri National Recreational River, 20 miles of the lower Niobrara River, and 8 miles of the lower Verdigre Creek.

Hiking & Biking - Most of the state parks along the river corridor have a variety of recreational trails. Click on the following parks for more information:
Hunting is another popular year-round activity along the river. Both South Dakota and Nebraska state hunting regulations apply.
Duck blind permits for the upper end of Lewis and Clark Lake can be obtained from the U.S. Army Corps of Engineers. Please visit their Hunting Page for additional information including fees and deadlines.


Last updated: December 30, 2019