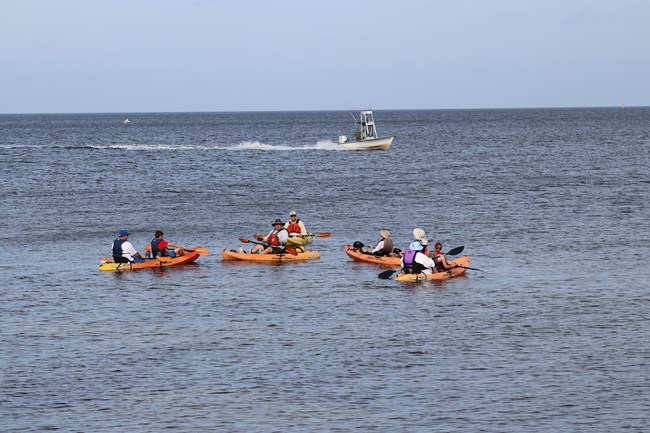 De Soto National Memorial Ranger Led Kayak Tour 2018 Season
Reservations

Starting Saturday, April 1st we will be accepting reservations for spots on our 2018 Ranger led kayak tours. These spots are first come first serve.The tours start Friday, May 11th and run through October 28th. Tours run on Friday, Saturday, and Sunday morning at 9:00AM. Please call 941-792-0458 to reserve your seat.
Kayak Tours
De Soto National Memorial is pleased to offer FREE ranger led KAYAK TOURS from May 11th through October 28th. Tours are scheduled for Friday, Saturday and Sundays. Equipment including Kayaks (2 person), paddles and personal floatation devices (vests) are provided by the park for participant use. Tours average 1.5 hrs. and are conducted from park grounds.

Kayak tours are offered for groups up to 10 people on tandem (2 person) kayaks. Community groups, scout groups, homeschool groups, or any large family of 6-10 can be scheduled independantly or regulaly scheduled tours. Children must weigh at least 50lbs. Children under 15 years of age must be accompanied by an adult. Tours are designed for all ages and all levels of skill from the first time beginner, to the seasoned pro. Participants are responsible for valuables. Tours are conducted for the safety and enjoyment of all participants.
Interested? Call 941-792-0458 or email
Tours can be cancelled due to weather and hazardous water conditions.
Reservations are on a first come basis. If your party does not call back to confirm by Friday afternoon your spots will be filled.