Outdoor Activities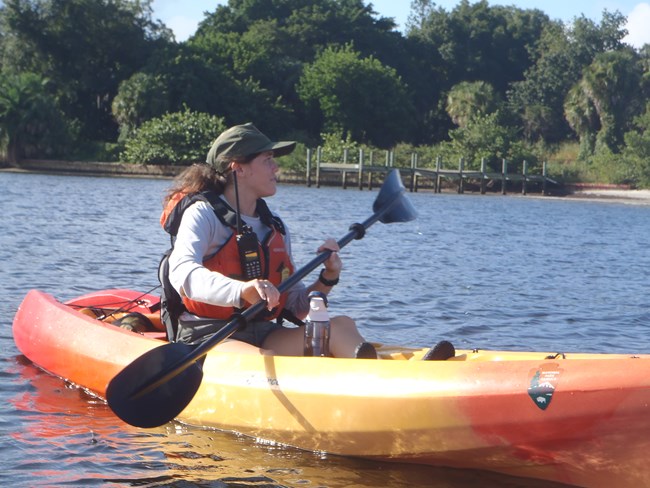 De Soto National Memorial Ranger Led Kayak Tours
Tours operate during the summer from June to October. All equipment including Tandem (2 person) Kayaks, Paddles, Personal Floatation Devices (PFD vests) are provided by the park for participant use. Tours average 1.5 hrs and are conducted from park grounds.
Kayak tours are offered for groups up to 10 people. Tour check-in is between 9:00-9:15am at the Visitor Center.
Children must weigh at least 50lbs and be at least 7 years old. Children under 15 years of age must be accompanied by an adult. Maximum weight load for the tandem kayak is 420 lbs. Participants will be divided up if tour guides believe this weight limit will be exceeded. Tours are designed for all ages and all levels of skill from the first time beginner to the seasoned Pro. All participants must be capable of paddling for at least an hour and a half. Participants must also be capable of commiting to a physical strenuous activity. Please be mindful of your limitations and any medical conditions. Tour guides are responsible for the safety of all participants involved and may request that participants stand down if they believe they are not able to preform the tour. Participants are responsible for thier valuables. Tours may be canceled due to weather and hazardous water conditions. Reservations are on a first-come basis and are booked through Recreation.Gov.


Pet Visits
De Soto National Memorial is pet friendly. We encourage visitors to bring their furry friends out to enjoy the park and its trails and water areas. While you are here, there are a couple of rules we ask for you to follow to respect everyone's use of the park:
All pets must be maintained on a leash at all times. It does not matter if your pet is friendly, some visitors do have a fear of pets; Also, another dog on a leash might not be friendly.

We ask that you please pick up your pet's waste. We love to preserve our nature and trails and pet waste can leach toxic substances into the ecosystem. It is also a health hazard for others. We do provide pet waste receptacles at several areas along the parks trails. Please dispose of the bagged waste in the proper receptacle and not the surrounding wetland estuary.

Please be considerate of others. While you and your pet may enjoy the park, other visitors may enjoy the park differently. Please refrain from any confrontation while in the park, feel free to contact Park Staff at 941-792-0458 and we will handle any situation.

De Soto National Memorial does work with Manatee County Animal Services and Florida Fish and Wildlife (FWC). If you are found in non-compliance of local, state or federal leash laws, these officers can issue up to a $300 fine for each infraction they find.
De Soto National Memorial treasures all its visitors and wishes everyone to have a safe and enjoyable National Park visit
Nature Trail
The Nature Trail winds along the shoreline and through several Florida ecosystems, including a mangrove forest like the one that De Soto's men would have encountered when they landed. Trails include interpretive signage and waysides that tell the story of the De Soto Expedition and the natural history of the area. Bicycling is allowed in the parking lot, but not on the sidewalks or trails.
Camp Uzita
Our Living History Camp is open January through April. Rangers and volunteers dressed in period clothing will present talks on a variety of historical topics related to the De Soto Expedition and Florida's Native Americans. There will also be weapons and Spanish and native craft demonstrations throughout the day. Please see the Plan Your Visit page for the latest updates.
Picnic Area
A picnic area is located adjacent to the parking lot and is available for visitors on a first come basis. Large groups and schools should call ahead to reserve seating. Grills and alcohol are not allowed within the park.
Bird Watching
The seasonal migration of birds brings many bird watchers to the park in the fall and early spring. The exact timing of migration is dependent upon weather. Come to our visitor center and inquire what new and rare birds have been sighted recently at De Soto National Memorial.
Camping
De Soto National Memorial has no facilities for camping. The park grounds are closed from sunset to sunrise.
Shorelines and Beach
Small beaches are located within the park. The De Soto Point Beach is located west of De Soto Point and northwest of the Visitor Center. This beach is exposed to the current of the Manatee River and the waves of Tampa Bay. The Cove Beach located on the south side of De Soto Point and is more popular because it is sheltered from most currents and waves. No life guards are on duty. Swimmers use park beaches at their own risk.
Fishing
Fishing with rod and reel is allowed within the park. You must posses a Valid Florida Drivers License and Valid State of Florida Fishing License. Fishermen are not allowed to stand on rip rap or to clear brush from any area in order to gain access to the water.
Boating
The Cove is a popular temporary anchorage for small pleasure boats. Canoes and kayaks that may be easily carried to the water by hand may be launched from the park beaches provided that vegetation, terrain, and wildlife are not disturbed. Loud motors and the creation of excessive wave action is prohibited.


Last updated: March 23, 2023