---
Survey of
Historic Sites and Buildings
DESCRIBED in the following pages are the principal buildings associated with the signers of the Declaration. They are comprised of three categories: National Park Service Areas, National Historic Landmarks, and Other Sites Considered.
The principal aim of the National Survey of Historic Sites and Buildings is to identify nationally important sites that are not National Park Service Areas, but no survey of historic places would be complete without including them. This is particularly true because many of them were designated as National Historic Landmarks before they became part of the National Park System. Further information about a particular area may be obtained by writing directly to the park superintendent at the address listed immediately following the location.
National Historic Landmarks are those sites judged by the Advisory Board on National Parks, Historic Sites, Buildings, and Monuments to meet the criteria of national significance in commemorating the history of the United States (pp. 270-271). They have been declared by the Secretary of the Interior to be eligible for designation as National Historic Landmarks. Final designation occurs when the owners apply for such status. They receive certificates and bronze plaques attesting to the distinction.
Other Sites Considered consist of those sites deemed by the Advisory Board to possess noteworthy historical value but not national significance. The list of sites included in this category does not purport to be exhaustive; it is merely a representative sampling, all that is possible because of space limitations.
Many sites in the Other Sites Considered category in all phases of history are listed on the National Register of Historic Places, maintained by the National Park Service's Office of Archeology and Historic Preservation. The register consists not only of sites in the National Park System and National Historic Landmarks but also those of State and local significance, nominated through appropriate channels by the various States. It is published biennally and distributed by the Superintendent of Documents, U.S. Government Printing Office, Washington, D.C., 20402.
For the convenience of users of this volume, sites and buildings are listed alphabetically by State. The following code indicates site categories:

Site Categories
| | |
| --- | --- |
| | National Park System unit |
| | National Historic Landmark |
| | Other Sites Considered |
NOTE: The following descriptions indicate sites that are open to the public. Before visiting any of them, inquiry should be made to the owners or custodians concerning dates and hours of access and admission costs, usually nominal. Special permission should be obtained to visit privately owned sites. Web Edition Note: Since the publication of this document (1973) the status of some of these properties may have changed during the ensuing years. Where available, links are provided from each site to current Web pages that contain up-to-date information on these sites, including visitation information. While most of the sites are open to the public, some sites remain closed to visitation.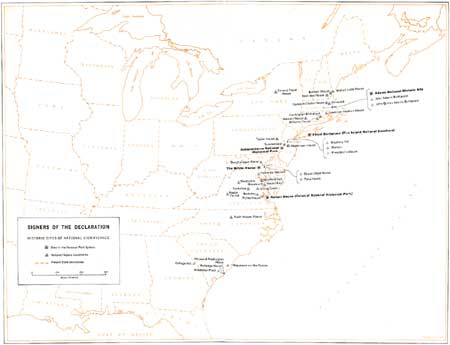 Signers of the Declaration: Historic Sites of National Significance (as of 1973) (click on image for an enlargement in a new window)
| | |
| --- | --- |
| | |
---
http://www.cr.nps.gov/history/online_books/declaration/sitea.htm
Last Updated: 04-Jul-2004