---
Survey of
Historic Sites and Buildings
Wythe House
Virginia

Wythe House

Location: On the west side of the Palace Green, between Duke of Gloucester and Prince George Streets, Williamsburg.
This house in Colonial Williamsburg is a superb example of a Georgian brick house. It was the residence of George Wythe from around 1755 until 1791, a period that spanned some of his most active years in politics and jurisprudence. His father-in-law, the noted Virginia architect Richard Taliaferro, designed and built it for him and his second wife about 1755. When Taliaferro died two decades later, Wythe inherited it and resided in it until 1791, when he moved to Richmond. A decade earlier, the house had served as Gen. George Washington's headquarters prior to the siege of Yorktown.
The outstanding aspects of the little-altered early Georgian structure are its good lines and fine brickwork, in Flemish bond. It is two stories high over a basement and has a hip roof and two interior chimneys. Smaller windows on the upper level create an illusion that the modestly sized house is larger than it actually is. The simple facade is enriched mainly by the broad muntins and wide frames of the windows and a fine paneled double door with rectangular transom. The flat window arches are constructed of gauged brick. Windows, doors, and house corners have rubbed dressings, and a modillioned cornice decorates the eaveline.
Each floor consists of four rooms bisected into pairs by a central hall. Chimneys between each of the pairs afford fireplaces for all eight rooms. The handsome but unpretentious stairway contains the only elaborate woodwork. Plaster dadoes, however, are found in every room, with chair rails on plasterboard, and single molded cornices. On the first floor are study, parlor, students' room, and dining room; on the second, four bedrooms. The existing mantels are replacements. Furnishings are of the late 18th century or earlier and represent American craftmanship. Extending behind the house is the formal garden; along the north, the kitchen, smokehouse, laundry, lumberhouse, and stable.
In 1926, when Bruton Parish acquired the residence, it was in poor condition. By 1931 the parish had repaired and restored it, and utilized it as a parish house for 6 years. Colonial Williamsburg then acquired it, and in 1939-40 accomplished additional restoration. Today the building is one of the main attractions at Colonial Williamsburg and is part of Williamsburg Historic District, a National Historic Landmark.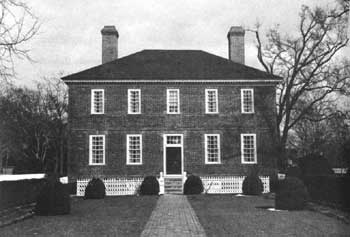 Wythe House. (National Park Service, Snell)
---
http://www.cr.nps.gov/history/online_books/declaration/site56.htm
Last Updated: 04-Jul-2004