---
Survey of
Historic Sites and Buildings
Thomas Stone National Historic Site
(aka Habre-de-Venture)
Maryland

Habre-de-Venture

Location: Charles County, on the west side of Rose Hill Road, which connects Md. 6 and Md. 225, about 1 mile north of Port Tobacco.
In 1771 Thomas Stone built this plantation house near the busy riverport town of Port Tobacco, Md. He lived in it during his most politically active years, and on his death in 1787 was buried in the adjacent family graveyard.
A Georgian structure of brick and frame, Habre-de-Venture consists of five parts: a central house connected to two wings by two covered passageways, or "hyphens." The hyphens and wings extend southward to form a semicircle. The main building is a 1-1/2-story structure over an elevated basement. It has a dormered gambrel roof flanked by external end chimneys. The brick walls are laid in Flemish bond with glazed headers. Center doors and full-length, one-story porches are located at the front and rear of the house.
A center hall, with stairs set against its west wall, divides the central unit into dining and living rooms. In 1928 the Baltimore Museum of Art removed the elaborate hand-carved paneling in the living room; it was subsequently replaced with a replica. The fireplace wall in the dining room protrudes out into the room, and the flue curves back to the wall and up to the ceiling.
To the west of the central house is the kitchen wing, a low, two-story, gable-roofed structure with brick ends and frame sides. Its second story, added about 1820, contains two bedrooms. The connecting hyphen, originally gabled roof and one story in height and containing a breakfast room, was increased to 1-1/2 stories by the addition of a gambrel roof with dormers to provide bathrooms for the second floor of the main house. The east wing, a gambrel-roofed, low, 1-1/2-story frame structure that has one room on each floor, served as Stone's law office. A one-story gabled brick hyphen connects it to the main house.
Except for the alterations mentioned above, Habre-de-Venture has changed but slightly through the years. In excellent condition and carefully restored, it now serves as a private residence and is not shown publicly.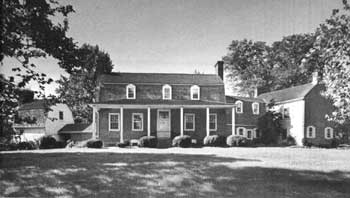 Habre-de-Venture. (Photographer, William L. Klender.)
---
http://www.cr.nps.gov/history/online_books/declaration/site16.htm
Last Updated: 04-Jul-2004