---
Survey of
Historic Sites and Buildings
Huntington House
Connecticut

Huntington House

Location: New London County, 34 East Town Street, Norwich.
Samuel Huntington erected this house in the years 1783-85 and lived in it until his death in 1796. Since that time, the frame dwelling has been extensively modified on both the exterior and interior and a major addition made at the rear.
Originally the residence was a large, two-story, rectangular structure with a gable roof, two interior chimneys, tall corner pilasters, and triangular pediments above the first-story windows. By the middle of the 19th century, however, the structure had been remodeled in Greek Revival style, including the construction of a two-story portico across the entire front, or north, side, and in the center of this facade a central two-tiered porch. Later in the century, the portico and the two interior chimneys were removed. Sometime during the century, a large two-story section was added to the rear of the house, and a projecting two-story bay on the west side.
The present two-tiered porch at the entrance is a modern replacement whose design differs considerably from the earlier one. Four large Doric columns support it, and a railing runs around the second-story level. The east entranceway consists of a one-story portico with an elliptical plan and Doric columns. Other modern features include clapboarding and window sash.
The central hall, extending from the entranceway through the rest of the house and rear addition, has always dominated the floor plan, which otherwise has been completely obliterated. Interior partitions have either been removed to create larger rooms or added to make smaller ones. Stairs are located in the front and rear of the hall. Little, if any, of the original interior finish remains.
The house, also known as the Governor Huntington House, in excellent condition, is owned and occupied by a charitable organization and is not open to the general public. Huntington's remains rest in the adjacent Old Burial Ground.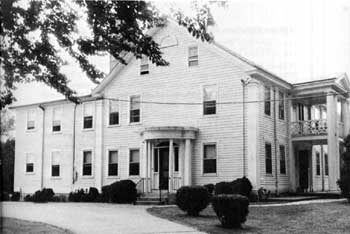 Huntington House. (National Park Service, Wrenn)
---
http://www.cr.nps.gov/history/online_books/declaration/site2.htm
Last Updated: 04-Jul-2004